These easy Lemon Pepper Pork Chops are tender, juicy and super quick. From start to finish just 20 minutes.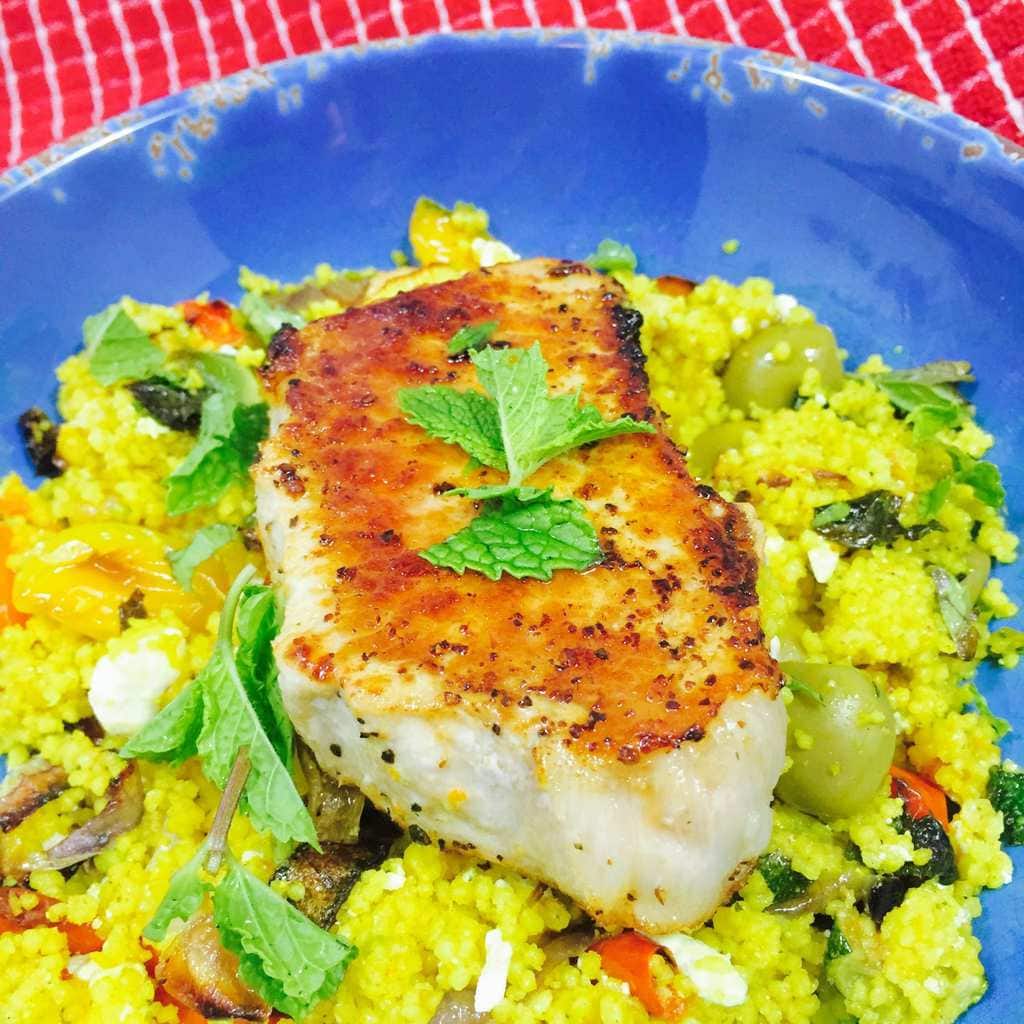 Years ago Cooks Illustrated had a recipe for Juicy Weeknight Pork Chops.  
That word "juicy" caught me. 
You have to understand  when I first started cooking I avoided making pork chops because every time I made them, they always turned out dry and tough – kind of reminiscent of shoe leather.  
So when I saw that recipe, I thought I'd give them one more try.  I'm not really a fan of brining because of all the extra salt, but I have to say they were right, those pork chops were juicy.  
Still, a bit salty though, but good.  
Recently though I ran across a recipe from Anne Burrell on the Food Network.  She was making Pork Chops and Apples.  
It looked great but what caught my attention was her really easy method of cooking pork chops.  
Searing, in the oven for only 10 minutes and then just letting them rest.  
Couldn't believe it could be so quick.  
I was concerned they would be underdone, but no.  These came out juicy and tender.  The way pork chops were meant to be.  
Let's make them.
Ingredients for Lemon Pepper Pork Chops
Pork chops
Lemon Pepper
Olive oil
How to Make Lemon Pepper Pork Chops
It doesn't get any more simple than this.  Only 3 ingredients.  pork chops, lemon pepper seasoning and olive oil. I know I could make it a lot more complicated but the lemon pepper makes these pork chops perfect.  
The interesting thing about lemon pepper is that it's so much more than lemon and pepper.  I used Mrs. Dash's Lemon Pepper and the ingredients are amazing.  
Other than lemon juice powder and pepper, it also has lots of wonderful spices  like garlic, oregano, onion, basil, savory, thyme, mustard, rosemary, cumin and coriander.  
The blend is so perfect you don't even miss the salt.  
So to begin,  I sprinkled about a Tsp of Lemon Pepper evenly over both sides of the pork chops.  You certainly could use more if you really want to spice it up.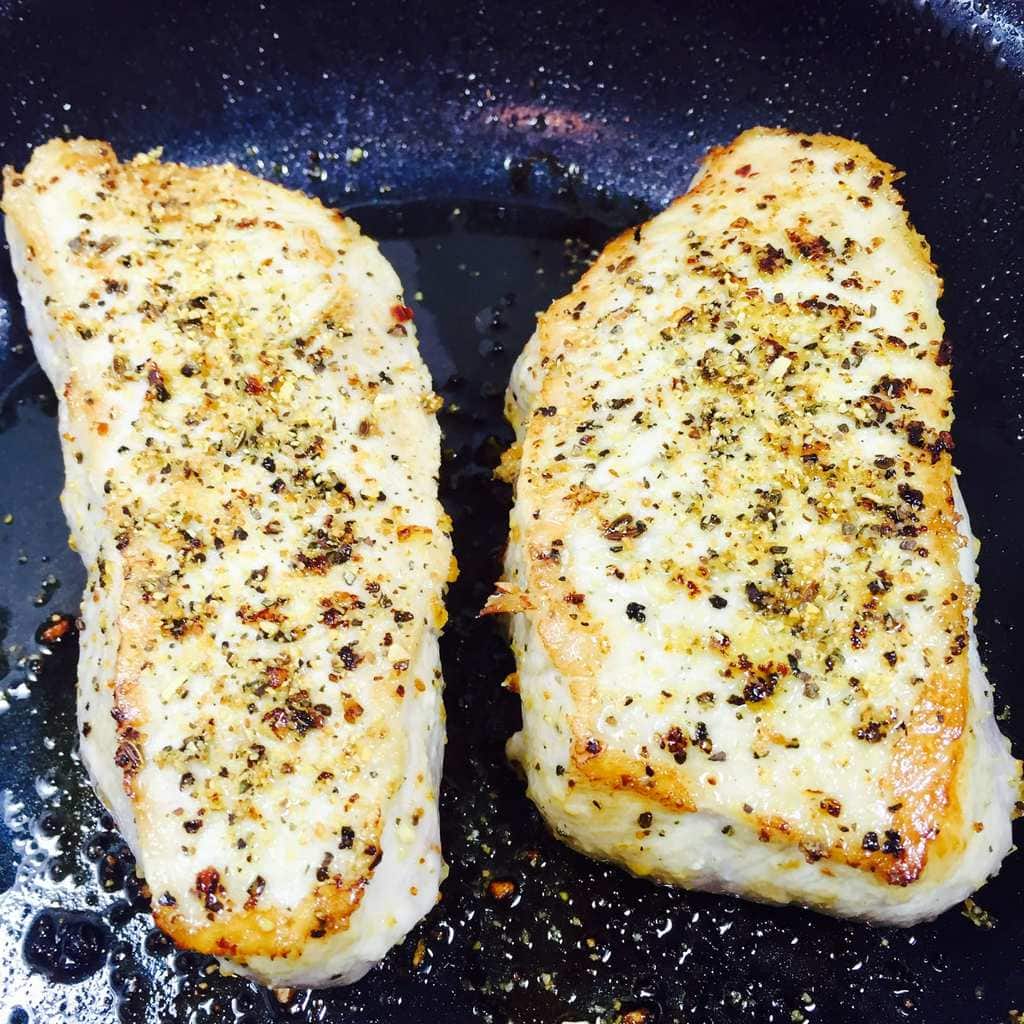 Then slide the pan into a preheated oven and bake for 10 minutes.  
When time is up, just remove the pan from the oven.  Leaving the pork chops in the pan, cover them with foil and let them rest for 10 minutes.  
And that's it.  Perfectly juicy, tender Lemon Pepper Pork Chops without a lot of fuss or stress. Just a lot of delicious flavor.  
And if you're into Healthy Recipes, each serving of Lemon Pepper Pork Chop is only 192 calories and 6 grams of fat.
For a complete meal, I served them on top of Curry Couscous with Roasted Vegetables.  
 If you like this recipe, please leave a comment below and pin this on Pinterest!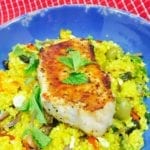 Print Recipe
Lemon Pepper Pork Chops
These easy Lemon Pepper Pork Chops are tender, juicy and super quick. From start to finish less than 20 minutes.
Ingredients
2

Boneless pork chops

1/2" thick

1

Tsp

Lemon Pepper

Prefer Mrs. Dash Lemon Pepper

1

Tsp

Olive oil
Instructions
Preheat oven to 375 degrees F

Generously sprinkle both sides of pork chops with lemon pepper.

Coat an oven proof frypan with olive oil and bring heat up to medium high. When hot add pork chops and sear 1-2 minutes. Then turn and continue searing 1 minute more.

Place pan in preheated oven and bake 10 minutes.

Remove from oven, tent with foil and let them rest 10 minutes before serving.
Nutrition
Calories:
192
kcal
|
Protein:
30
g
|
Fat:
6
g
|
Saturated Fat:
1
g
|
Cholesterol:
88
mg
|
Sodium:
65
mg
|
Potassium:
518
mg
|
Calcium:
7
mg
|
Iron:
0.8
mg