Halibut with Lemon with Lemon Cream Sauce is rich, moist and creamy. The sauce with a touch of fresh dill compliments the flakiness of the flaky halibut.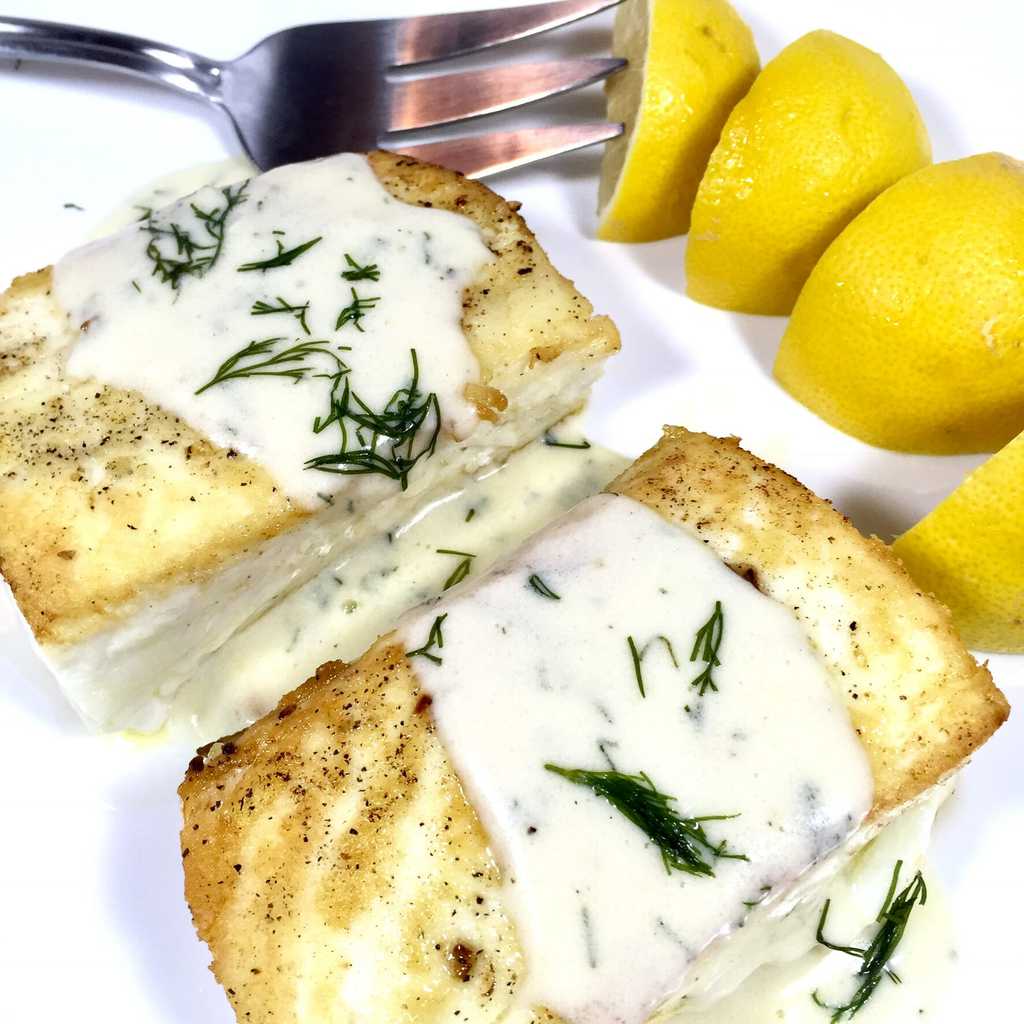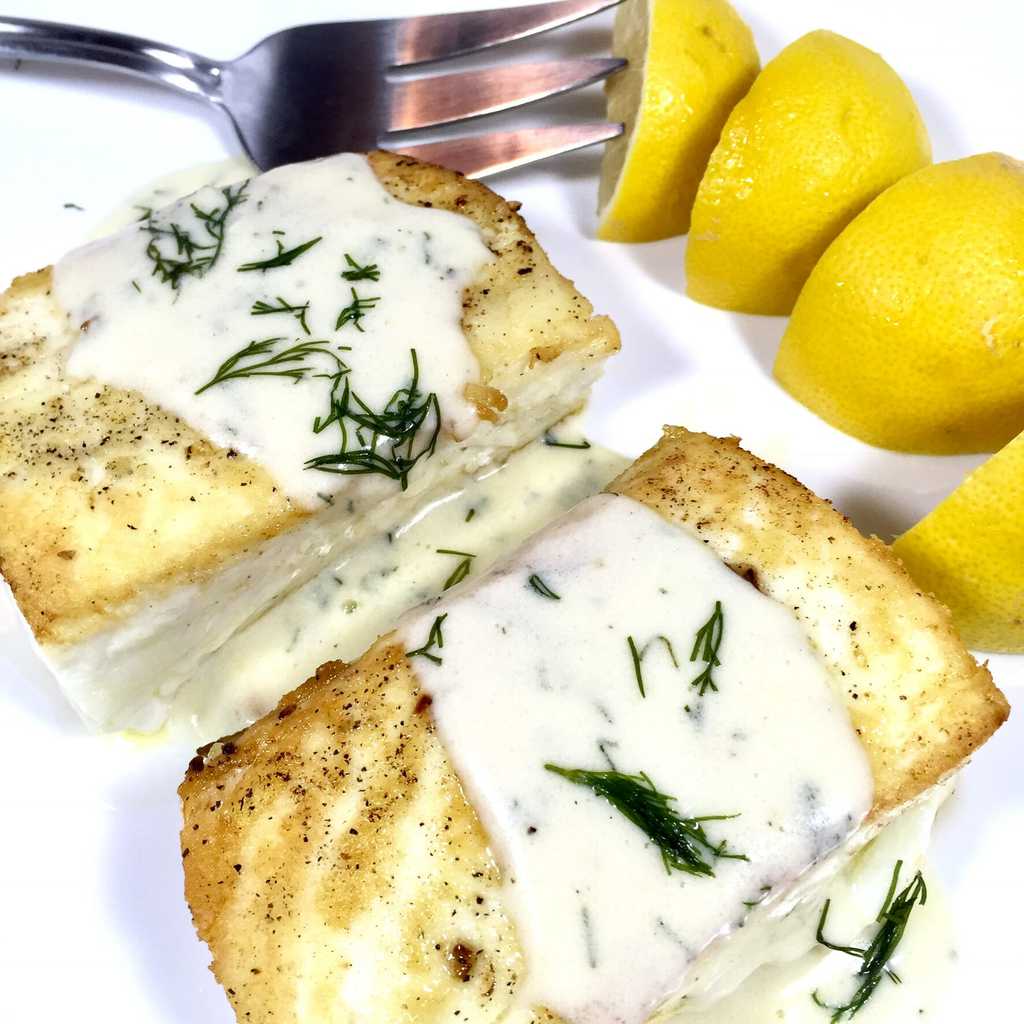 Halibut with Lemon Cream Sauce
Halibut is wonderful fish served in countless ways…broiled, grilled, baked, sautéed, it's all good.
When thinking of how to cook this wonderful fish, I thought back to how my Mom used to cook fish.
She almost always finished whatever fish she cooked with a creamy sauce.
I mean, who wouldn't love that?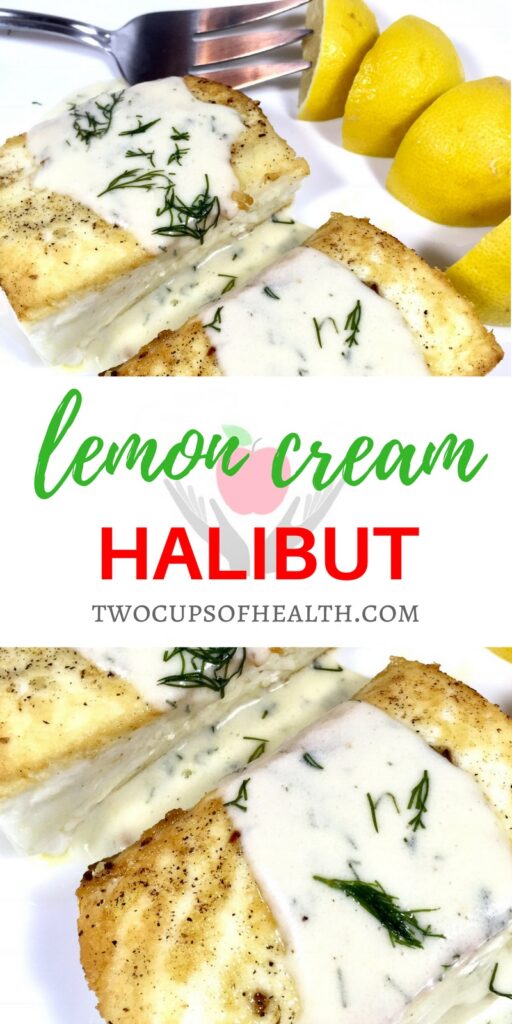 Recently, we headed out to the Newport, Oregon for some really fresh fish.
How fresh?
Well, you can buy it right off the boat in the morning only a couple of hours old.
Now that's fresh!
Newport has a great fishing fleet that goes out at dusk so they reach the perfect fishing spots and then fish all night returning back to the docks early the next morning where they put up signs such as Fresh Crab, Chelsea Rose, Dock 3.
You can't get fresher seafood than that.
And if you ask, the fishermen, they will even clean and filet them for you and pack them in ice
We've been fortunate to get fresh tuna, salmon, halibut, lingcod, flounder, rockfish, mussels, pink shrimp and the sweetest crab anywhere.
Our anniversary was coming up and we were on the hunt for halibut.
Unfortunately no one brought in any that morning so we turned to our other favorite seafood source.
There is a restaurant/fish market there right across the street from docks by the name of Local Ocean Seafoods.

Their restaurant is great and their food is spot on perfect, but they also have a fish market that is the freshest anywhere.
I love going to a fish market where all you can smell is the clean fresh breeze of the sea.
The fisherman of Newport keep the market well supplied.
But Local Ocean Seafoods also has a connection with Alaska fishermen who daily air freight fish from Alaskan waters.
That morning they received a beautiful supply of halibut.
Expensive? Yes. Worth it? Absolutely.
So we found the perfect pure white, almost 2" thick filet. The chefs there are so helpful and when I asked, they gave me exact instructions on preparation.
I still cook halibut that way. Normally I don't serve it with sauce because fresh halibut simply served is darn near perfect.
But this time I thought a sauce would be a wonderful finish.
Maybe a lemon sauce, lightened up with a bit of creme Fraiche – just a bit for a creamy lemon flavor. And maybe some fresh dill to finish it off.
What can be better?
Ingredients of Halibut with Lemon Cream Sauce 
Halibut
Salt
Pepper
Olive oil
Garlic
ButterFlour
Lemon
Creme Fraiche
Dill
How to Make Halibut with Lemon Cream Sauce 
Preheat your oven to 400 degrees.
Add salt and pepper to both sides of halibut and set aside. Over medium high heat, add olive oil to  an oven proof frypan.
When it comes to temperature,  add chopped garlic and sauté until lightly golden – no more than 1 minute.
Then add the filets, skin side up and allow to sauté 3 minutes. With a spatula, carefully flip filets over and immediately place in oven.
Bake 5-6 minutes until the filets flake easily. Then remove to a serving plate and cover with foil to keep warm.
In the same frypan you baked the filets, turn the burner heat up to medium and add butter.
Then add the flour and, with a whisk, stir 1 minute. Add  lemon juice and cream fraiche and stir to thicken.
Pour sauce over the halibut, add dill and serve.
Notes
The halibut used in the recipe was about 1 1/2" thick, so I baked for 6 minutes. For thinner filets, 5 minutes will be fine.
Be sure and sauté garlic no more than 1 minute because garlic burns quite easily.
This recipe with the Lemon Cream Sauce is finished in the traditional American style with the sauce on the top.
Another favorite halibut recipe is Baked Halibut with Tarragon Sauce, where it's finished in the more traditional French style with the sauce on the bottom.
Both wonderful and totally delicious.
If you like this recipe, please leave a comment below and pin on Pinterest!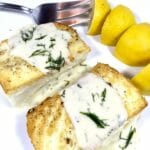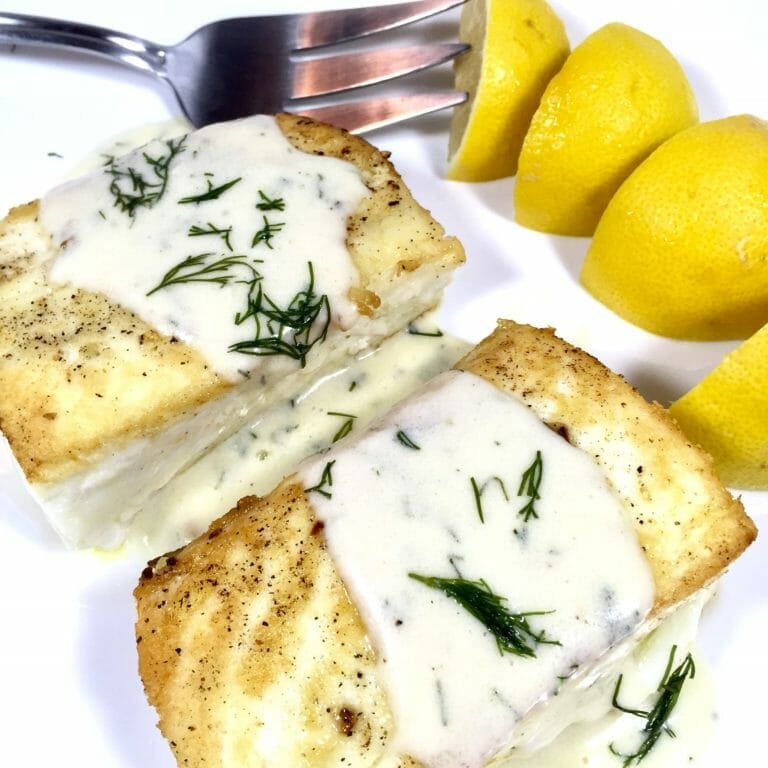 Print Recipe
Halibut with Lemon Cream Sauce
Halibut with Lemon Cream Sauce is rich, moist and creamy. The sauce with a touch of fresh dill compliments the tender flakiness of the halibut.
Ingredients
2

4 oz

Halibut filets

1/4

Tsp

Salt

1/4

Tsp

Pepper

1

Tbsp

Olive oil

2

Cloves

Garlic

2

Tbsp

Butter

1

Tbsp

Flour

Wondra

1

Lemon

Juiced

2

Tbsp

Creme Fraiche

1

Tsp

Dill

Fresh
Instructions
Preheat oven to 400 degrees F

Salt and pepper both sides of Halibut filets and set aside.

Add oil to ovenproof saute pan over medium high heat. When hot, add garlic and saute 1-2 minutes. Add Halibut filets and allow to cook, skin side up, 3-4 minutes until browned on bottom. Flip filets over and immediately place in oven and continue to cook 5-6 minutes until fish flakes easily with a fork. Remove from oven and place on serving plate. Cover the filets with foil to keep warm

In same saute pan you cooked halibut, melt butter and then add flour. Stir 1 minute. Add lemon juice and creme fraiche and stir to thicken.

Top halibut with Lemon Cream Sauce and add fresh dill.
Nutrition
Calories:
222
kcal
|
Carbohydrates:
9
g
|
Protein:
1
g
|
Fat:
21
g
|
Saturated Fat:
9
g
|
Cholesterol:
37
mg
|
Sodium:
404
mg
|
Potassium:
74
mg
|
Fiber:
1
g
|
Sugar:
1
g
|
Vitamin A:
430
IU
|
Vitamin C:
29.5
mg
|
Calcium:
33
mg
|
Iron:
0.5
mg
You may also like:
Baked Halibut with Tarragon Sauce