Best Ever Smoked Chicken Salad is smoky, sweet, creamy, crunchy, and just about perfect with almonds, celery, and grapes.
About Best Ever Smoked Chicken Salad
There's a fabulous market and bakery in Dallas called Eatzi's.
This is truly a Foodie Paradise.
As you walk in, you view an open kitchen where the chefs are hard at work preparing specialties such as Chicken Salad with Grapes, offered in the Chef's Case for your grab and go lunch or dinner.
It's fascinating to watch these masters at work.
They generously give you samples and this is where I came up with the idea of my Best Ever Smoked Chicken Salad.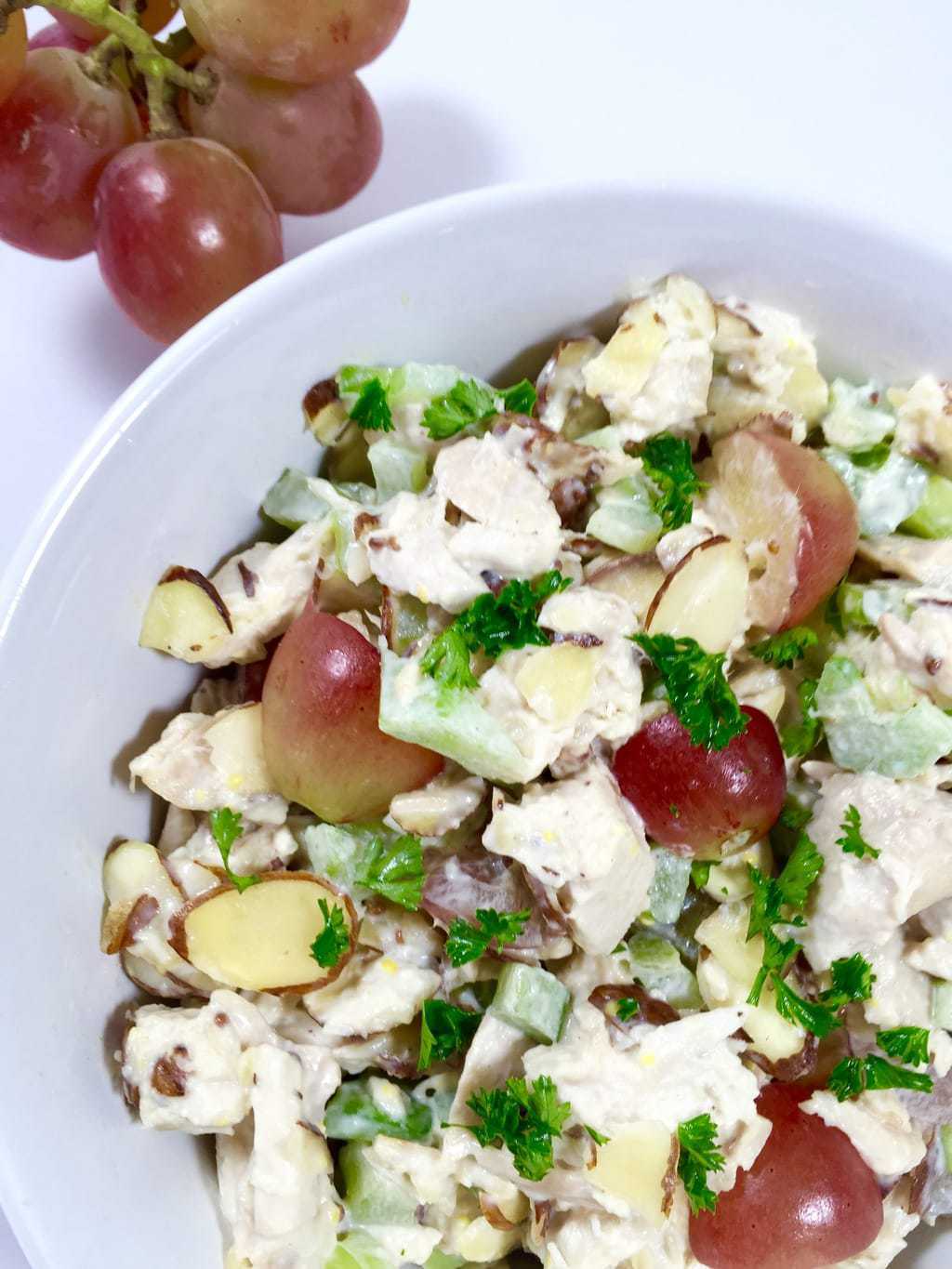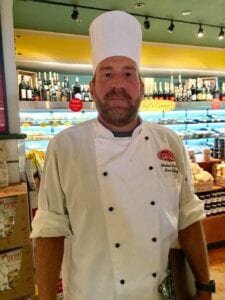 Recently I stopped by the window when I saw this chef wrapping a huge pork loin.
He looked up and happily explained what he was doing.
In this case he was preparing a Porchetta, which is basically a pork loin with garlic and herbs that in encased in a pork belly and then roasted.
I had never made Porchetta before and the presentation was impressive.
You walk a little further in the store and you pass a wonderful bakery with samples everywhere.
They make over 45 different kinds of breads and everything is made fresh daily.
Further on is the pastry shop where imaginative chefs made wonderful pastries and cakes. And then you have the sandwich shop.
Name a sandwich. It's in there and all fresh.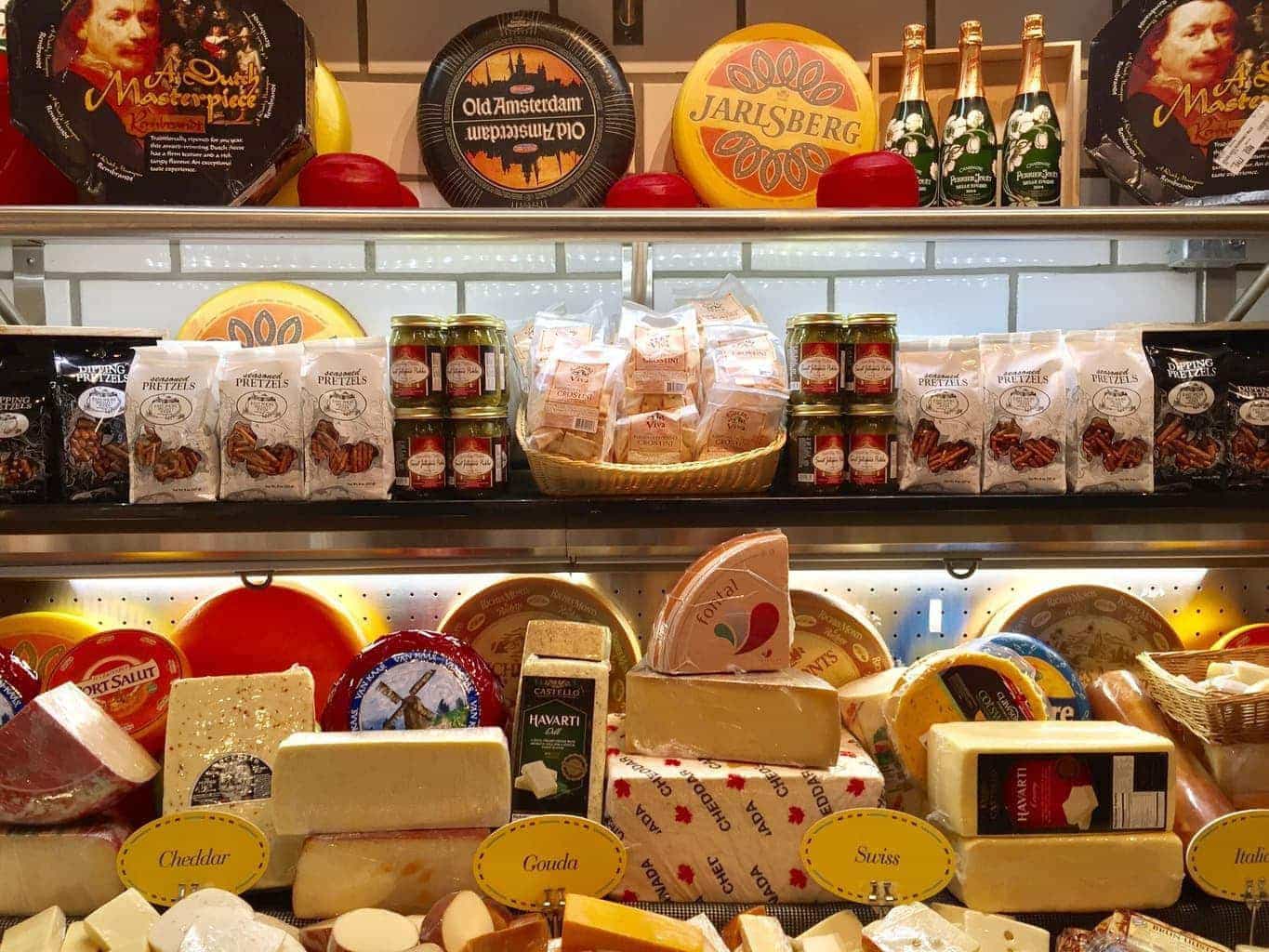 This place has everything including huge array of cheeses, quiches, chef made hummus in all flavors, as well as an impressive wine selection.
But my favorite area is the Chef's Case.
This is where all those Chefs showcase the fabulous meals they've prepared and the people behind the counter invite you to try anything, and everything, they have. So we did.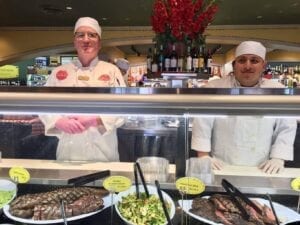 We started with Chicken Salad with grapes.
Oh yes, we said and bought a pound.
Then tried the Basil Coucous.
Another winner. So we bought another pound.
Would have bought more but since we just shopped, there would be no more room in the refrigerator. Ah well, another time.
Caught up with the Head Chef as we were leaving and I complimented him on everything and especially the Chicken Salad.
I asked him if he could share the recipe.
He smiled and said the recipe was proprietary.
And then he added that he would give me a hint. That there was honey in the recipe.
What a gift!
That would have been an ingredient I would have missed. And in this chicken salad recipe it makes all the difference.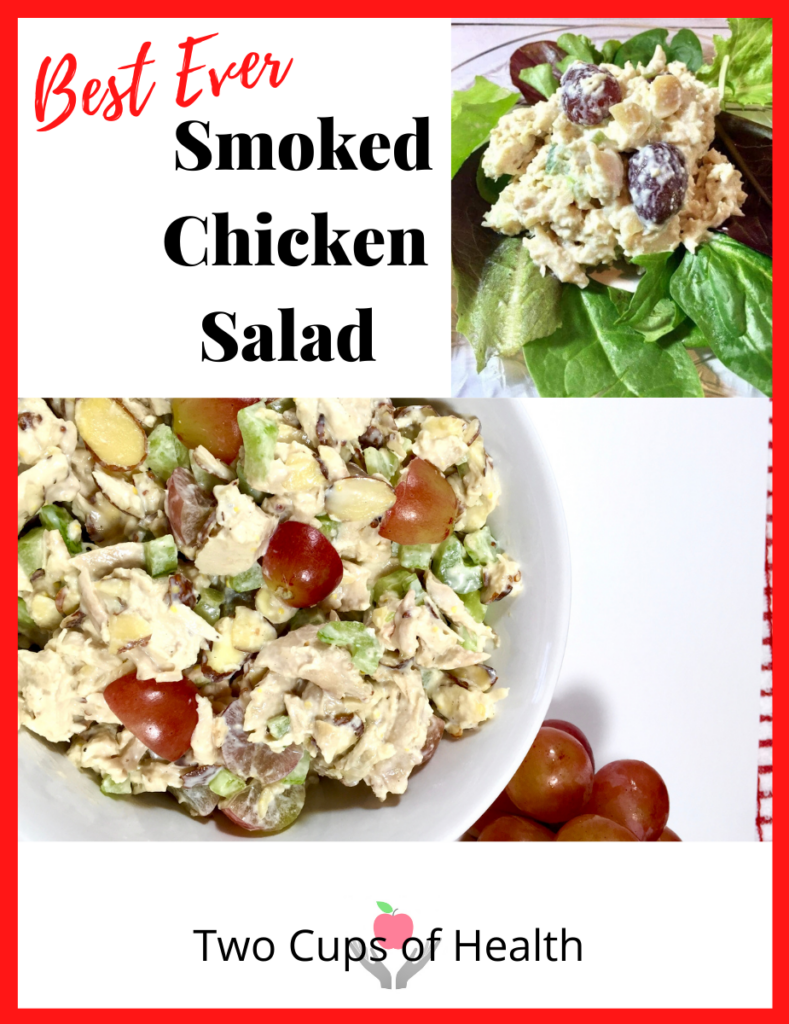 So back in my kitchen, I came up with what I thought might duplicate it.
My husband said I nailed it.
Good, I thought, so let's go one step further.
I added hickory powder for that great smoked chicken taste. Hope you enjoy my recipe for this Best Ever Smoked Chicken Salad.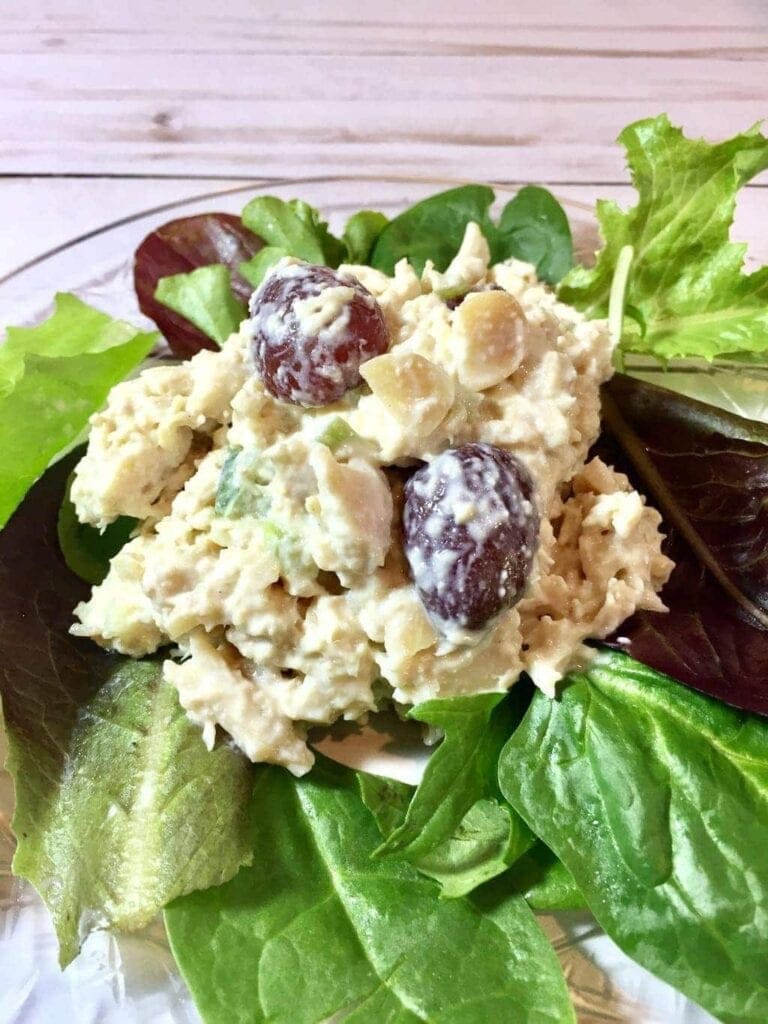 Ingredients of Best Ever Smoked Chicken Salad
Chicken
Celery 
Sliced Almonds
Grapes
Mayonnaise
Creme Fraiche
Honey
Dijon Mustard
Hickory Powder
Salt 
Pepper
How to Make Best Ever Smoked Chicken Salad
In a large bowl add diced chicken, almonds, celery and grapes.
Then in a separate bowl add mayonnaise, creme fraiche, honey, Dijon mustard, hickory powder, salt and pepper. Whisk together until smooth.
Pour over chicken and mix to coat all ingredients.
Transfer to serving bowl and serve immediately.
Can be made ahead and refrigerated until ready to serve.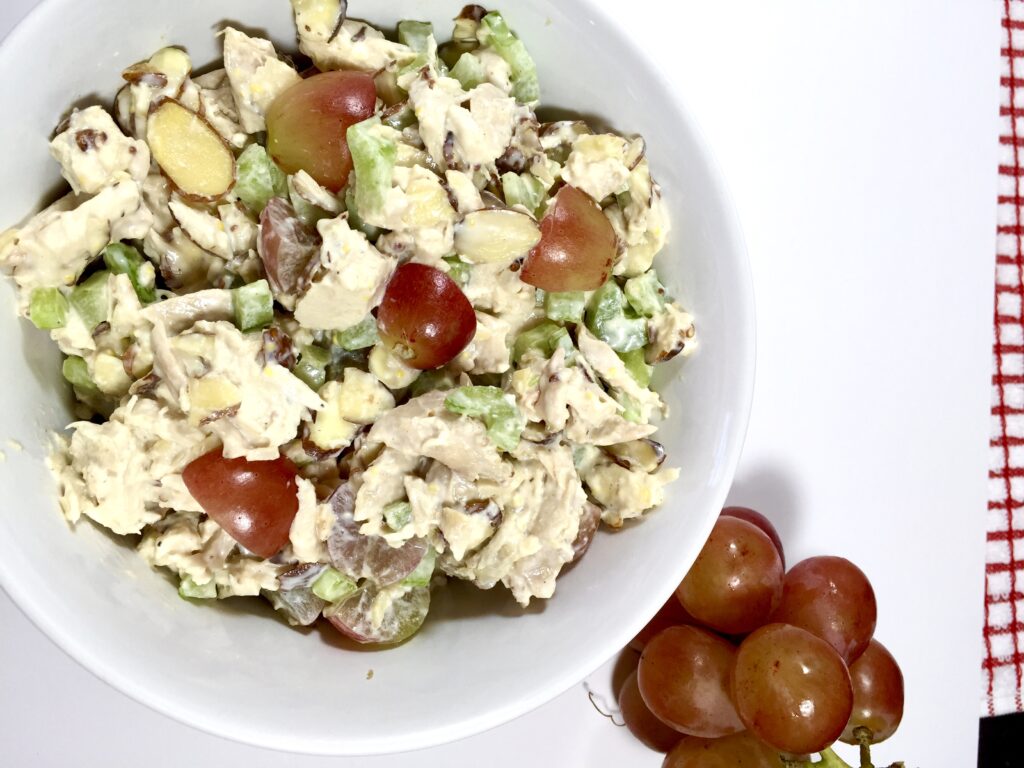 Notes 
Health note:  Chicken salad with grapes absolutely go together. In fact, the addition of grapes in this recipe helps keep this dish more heart healthy.
According to the Linus Pauling Institute at Oregon State University, the compound resveratrol have been found to exert a number of potentially cardioprotective effects.
So how much resveratrol is found in grapes or a glass of wine? They state that one cup of red table grapes provide between .24 and 1.25 mg of resveratrol – similar to one 5 oz glass of red wine, which provides between .30 and 1.07 mg.
Wine, grape juice or table grapes, this fruit is definitely heart healthy.
Also try Thai Chicken Salad.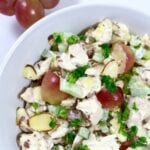 Print Recipe
Smoked Chicken Salad
Smoked Chicken Salad tastes like chicken smoked over a campfire. This easy, creamy salad is filled with grapes, sliced almonds and celery.
Ingredients
2

Cups

Cooked chicken

Chopped

1/2

Cup

Celery

Chopped

1/2

Cup

Sliced Almonds

Toasted

1/2

Cup

Grapes

Sliced in half

2

Tbsp

Mayonnaise

2

Tbsp

Cream Fraiche

1 1/2

Tsp

Honey

Add more if you like it sweet

1/2

Tsp

Dijon Mustard

1/4

Tsp

Hickory powder

1/4

Tsp

Salt

1/4

Tsp

Pepper
Instructions
In a large mixing bowl add chicken, celery, almonds and grapes.

Sauce:

In separate bowl whisk together mayonaise, cream Fraiche, honey, mustard , smoked hickory powder, salt and pepper. Add sauce to mixing bowl with chicken. Mix thoroughly.

Transfer to serving bowl and serve immediately or refrigerate.
Nutrition
Calories:
226
kcal
|
Carbohydrates:
6
g
|
Protein:
17
g
|
Fat:
14
g
|
Saturated Fat:
3
g
|
Cholesterol:
56
mg
|
Sodium:
257
mg
|
Potassium:
216
mg
|
Sugar:
5
g
|
Vitamin A:
115
IU
|
Vitamin C:
1
mg
|
Calcium:
13
mg
|
Iron:
1
mg