Mediterranean Grilled Artichokes are not only easy, but so delicious with the infusion of olive oil, lemon juice, garlic, thyme, oregano and rosemary.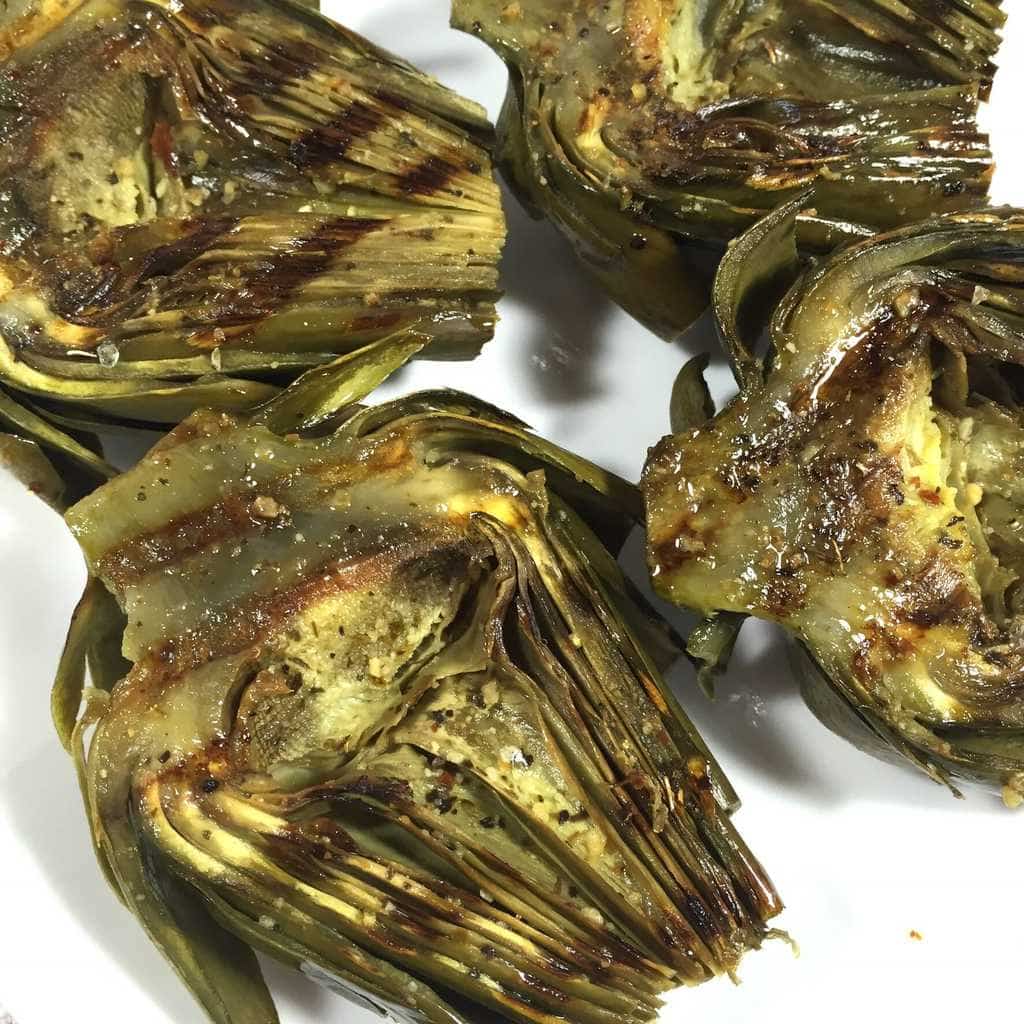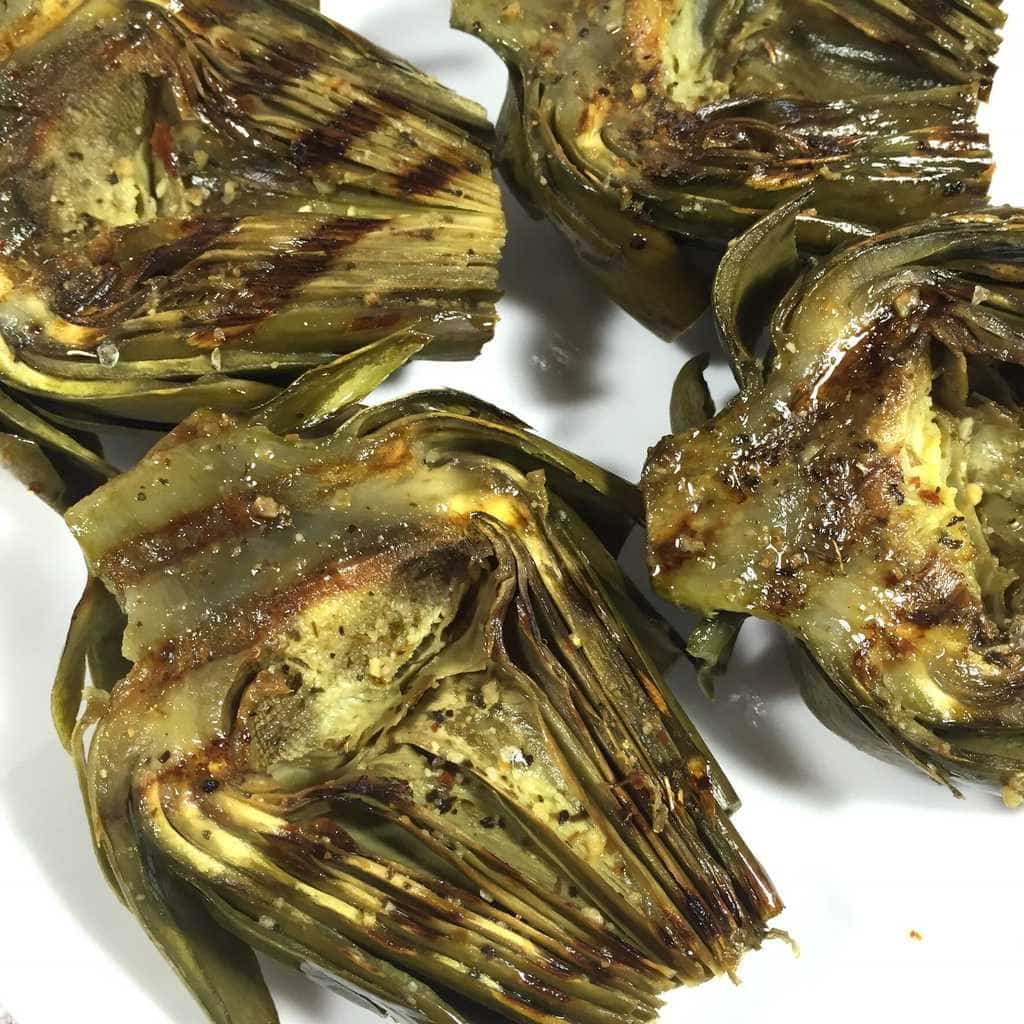 About Mediterranean Grilled Artichokes 
I have been in love with Artichokes for…like…ever.
We lived in California where produce was abundant and we even grew apricots, walnuts, avocados and fresh herbs in our yard.
But coming from Arizona, my parents didn't even know what Artichokes were.
So one day as Mom was at the market, she saw Artichokes on sale. My mother has never resisted a sale in her life, so of course she picked up a couple for herself and Dad
Unfortunately, Dad wouldn't have anything to do with them, so she split the other one between my sisters and me. I think I was about 3 at the time and I couldn't believe how wonderful they were.
I wanted more!
My sisters felt the same way, so Dad watched the rest of us loving every bite. Finally he said to my Mom, "Let me try a leaf." From then on Artichokes became a staple in our house.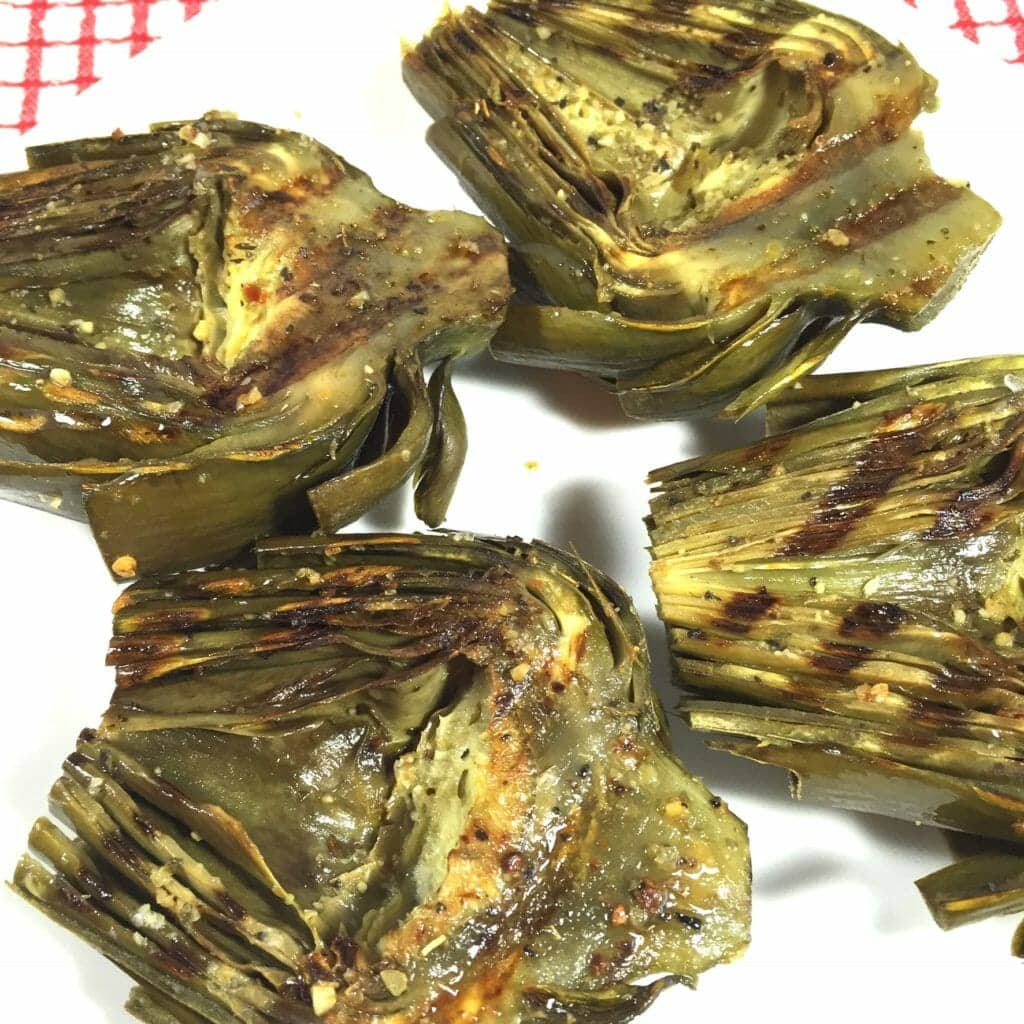 Mom usually served them with mayonnaise.
I mean, what could be better, right?
So that's how I served them for years.
Then I discovered there were people who ate them with melted butter or even lemon butter.
My husband loves his with Wasabi mayonnaise for a real kick.
That is, until recently.
When I made Mediterranean Grilled Artichokes, we both agreed they were perfect without anything else.
So this is my new…lower cal and much healthier…way to cook and serve Artichokes.
And the best thing about them is that they are so easy to make.
Ingredients of Mediterranean Grilled Artichokes 
Olive Oil
Lemon
Oregano
Thyme
Rosemary
Garlic Salt
How to Make Mediterranean Grilled Artichokes
Artichokes at first may seen to be intimidating, but don't let that stop you.
First, thoroughly rinse the artichokes.
Then with a sharp knife cut 1/2 off the tops and 1" off  the stems.
Next trim the artichokes of all the thorns.
Then, cut them in half vertically and scoop out the furry and feathery choke leaving just the leaves and that fabulous heart.
I used to use a spoon to do this, but I discovered that a melon baller works so much better.
And because Artichoke's flesh turns brown quickly when they're exposed to air, rub them with a cut lemon.
Next, add the cleaned artichoke halves to a steamer over 2" of water. Cover and steam them for 25-30 minutes until a leaf pulls easily out.
Then add olive oil and lemon juice to a plate along with the Mediterranean spices of oregano, thyme, rosemary and garlic salt. Swirl with a spoon to mix in the spices.
Then add the hot artichokes to the plate cut side down to soak up all the wonderful flavors and flip them over to flavor both sides.
Finally, heat your Griddler to high. Add the artichokes and close the lid.
In 4-5 minutes they will be grilled perfectly.
Note
To learn more about how to prepare just the heart of the artichoke, which is really the main prize of the artichoke, check this article out by Serious Eats.
If you like this recipe, please leave a comment below and pin us on Pinterest!
Also try Mediterranean Lemon Butter Chicken.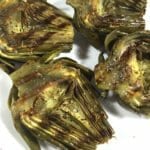 Print Recipe
Mediterranean Grilled Artichokes
Mediterranean Grilled Artichokes are not only easy, but so delicious with the infusion of olive oil, lemon juice, garlic, thyme, oregano and rosemary.
Ingredients
2

Artichokes

1

Tbsp

Olive oil

1

Lemon

Cut in half

1/4

tsp

Oregano

1/4

tsp

Thyme

1/4

tsp

Rosemary

1/4

tsp

Garlic salt
Instructions
Thoroughly rinse artichokes. Cut 1/2" off top and 1/2" - 1" off stem. With scissors trim off thorns. Cut the artichoke in half lengthwise and using a melon baller, scoop out choke and feathery thistle leaving the leaves and the heart. Rub the cut sides with 1/2 lemon.

Add the trimmed artichokes to a steamer over 1 1/2" to 2" of water. Cover and steam approximately 25 minutes.

Add olive oil and 1/2 lemon juice to a plate. Then add oregano, thyme, rosemary and garlic salt to the olive oil/lemon juice mixture and swirl with a spoon to make sure all ingredients are are evenly mixed.

Add the steamed artichokes to the plate cut side down and heat up the Griddler.

When Griddler is hot add artichokes and close lid. Cook 4-5 minutes until grill marks appear.
Nutrition
Calories:
138
kcal
|
Carbohydrates:
18
g
|
Protein:
4
g
|
Fat:
7
g
|
Saturated Fat:
1
g
|
Sodium:
412
mg
|
Potassium:
548
mg
|
Fiber:
8
g
|
Sugar:
2
g
|
Vitamin C:
43.6
mg
|
Calcium:
70
mg
|
Iron:
2
mg