This easy delicious Lite Potato Salad cuts the calories and the fat in regular potato salad without losing any of the flavor.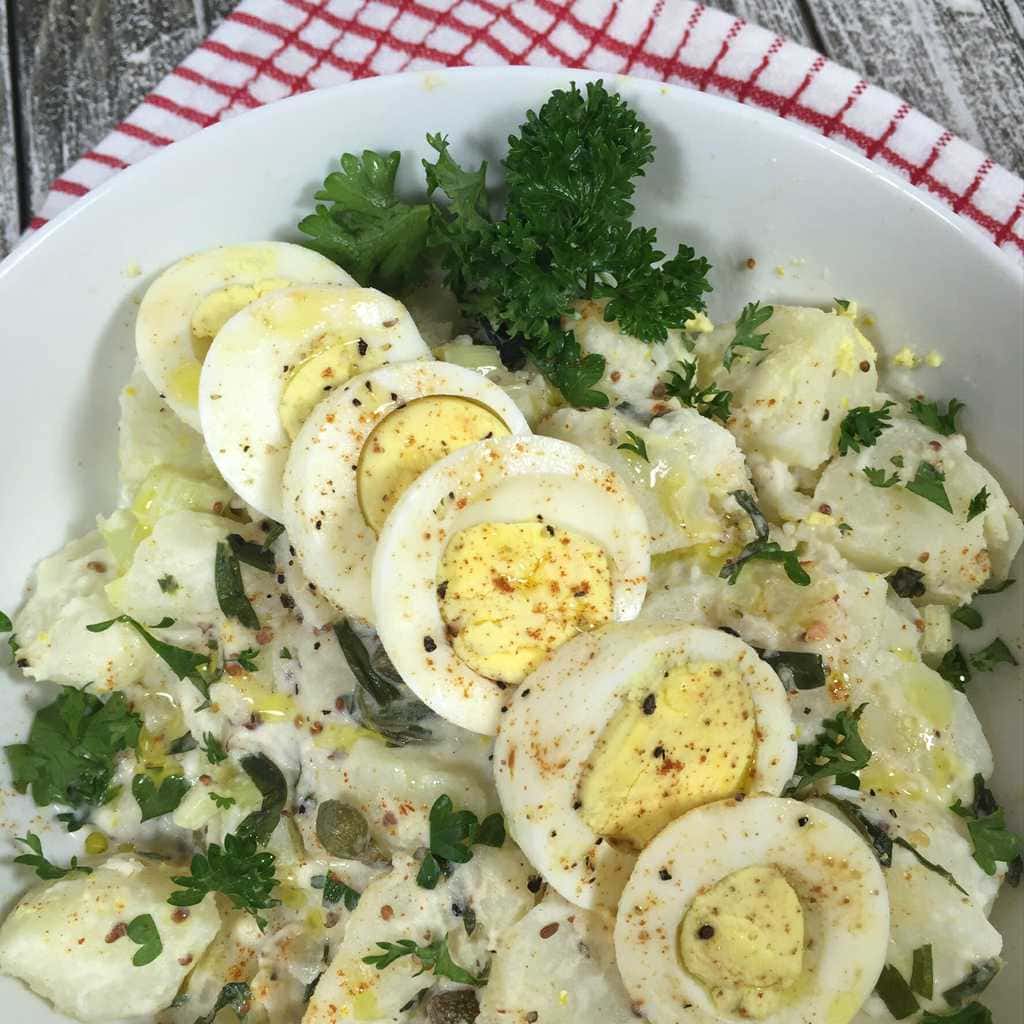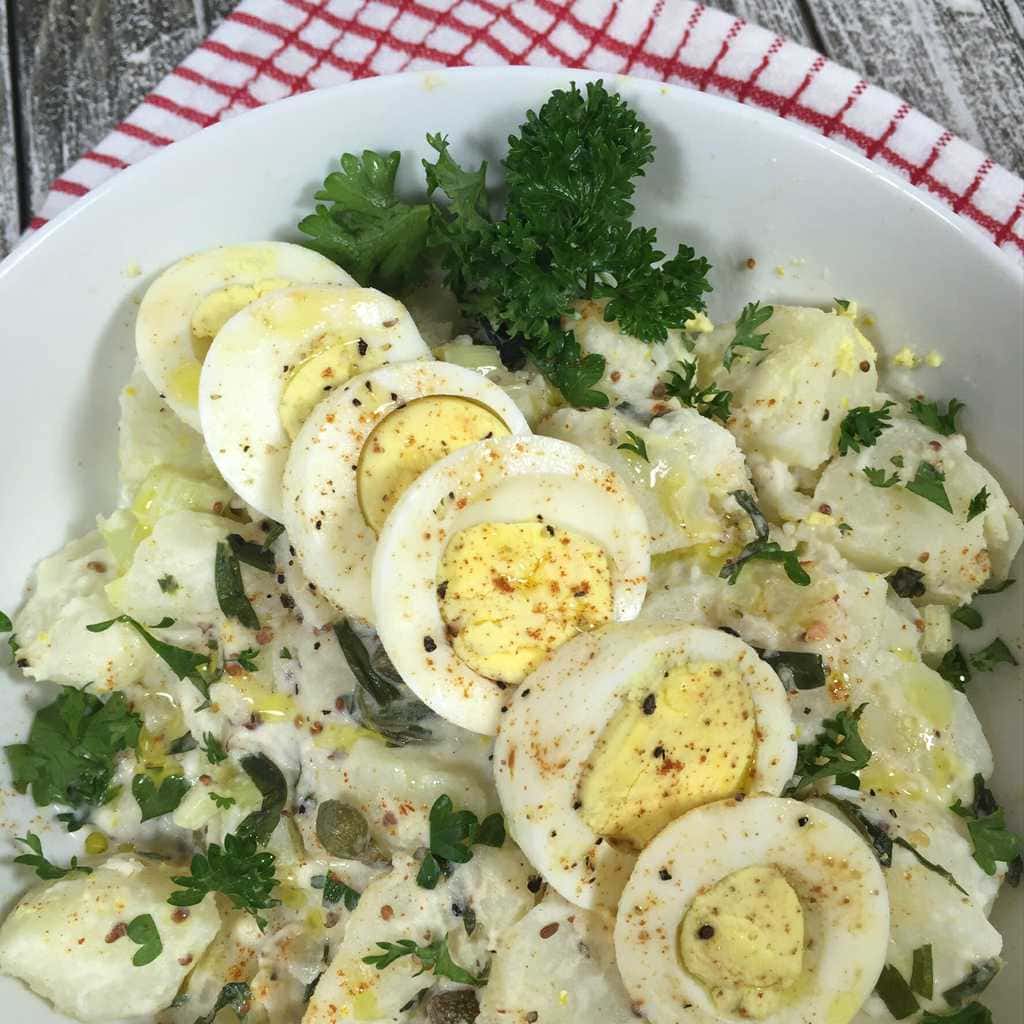 Lite Potato Salad
There are two schools of thought on potato salad. First there's the creamy, church picnic kind of potato salad that is a perfect accompaniment to hot dogs and hamburgers or, of course, crispy fried chicken. You know the type with lots of mayonnaise and mustard, celery, pickles, onions, and almost always hard boiled eggs. Is it good? Oh yeah. This is the kind of recipe that's been handed down generation after generation. This, because of the mayonnaise, is always served very cold and it really hits the spot on a hot summer day.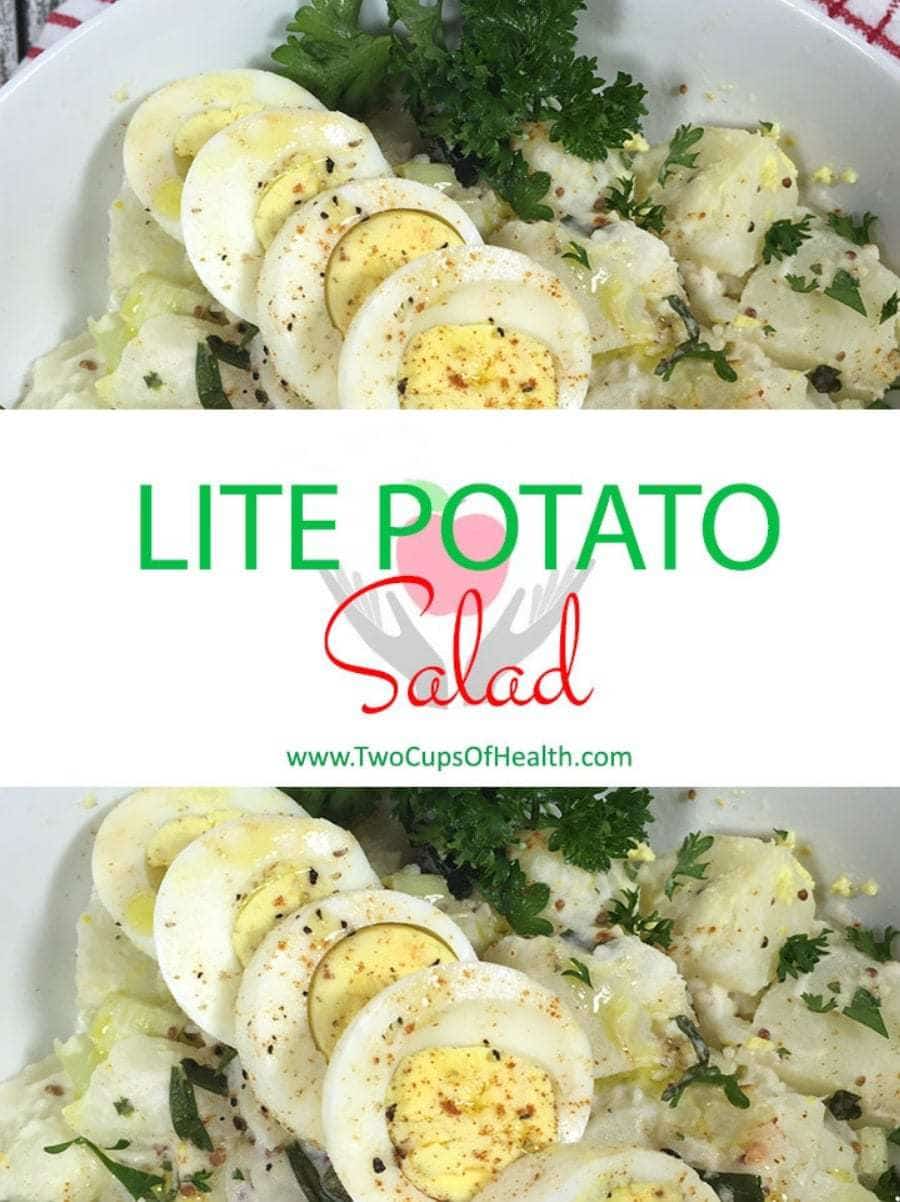 Then there's the German type of potato salad. This one is made with bacon and vinegar, plus a grainy mustard and it also has sugar to give it sweetness. This is the Oktoberfest kind of potato salad that is served hot with bratwurst and Braised Red Cabbage. It's good too, but totally different than the creamy version.
So as I was getting ready to make potato salad the other day, I was debating which type to make. In the past I've mostly made the creamy type that my mother and aunt used to make. But when you realize how much fat there is in that version with 1 1/2 Cups! of mayonnaise which equals 2243 calories,248 grams of fat and 39 grams of saturated fat, I just couldn't do it anymore. I knew there had to be a better way.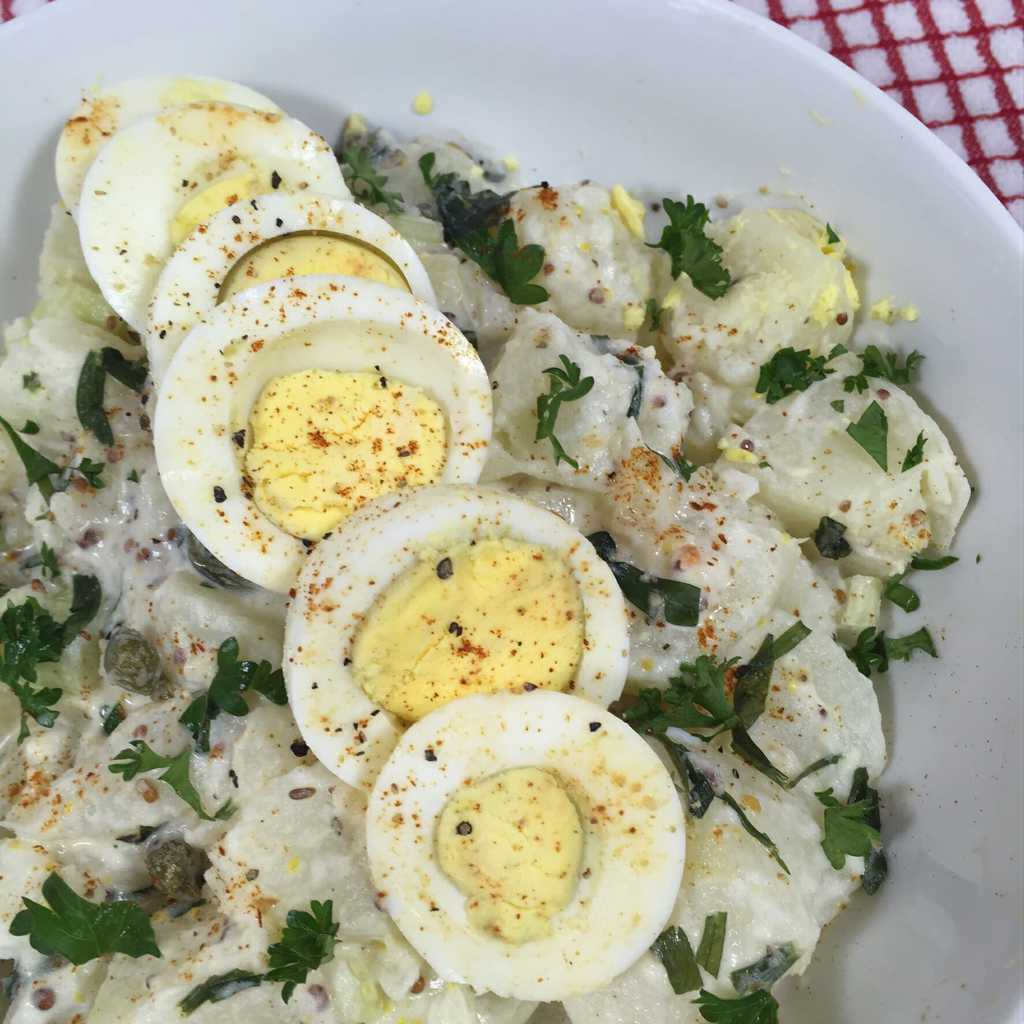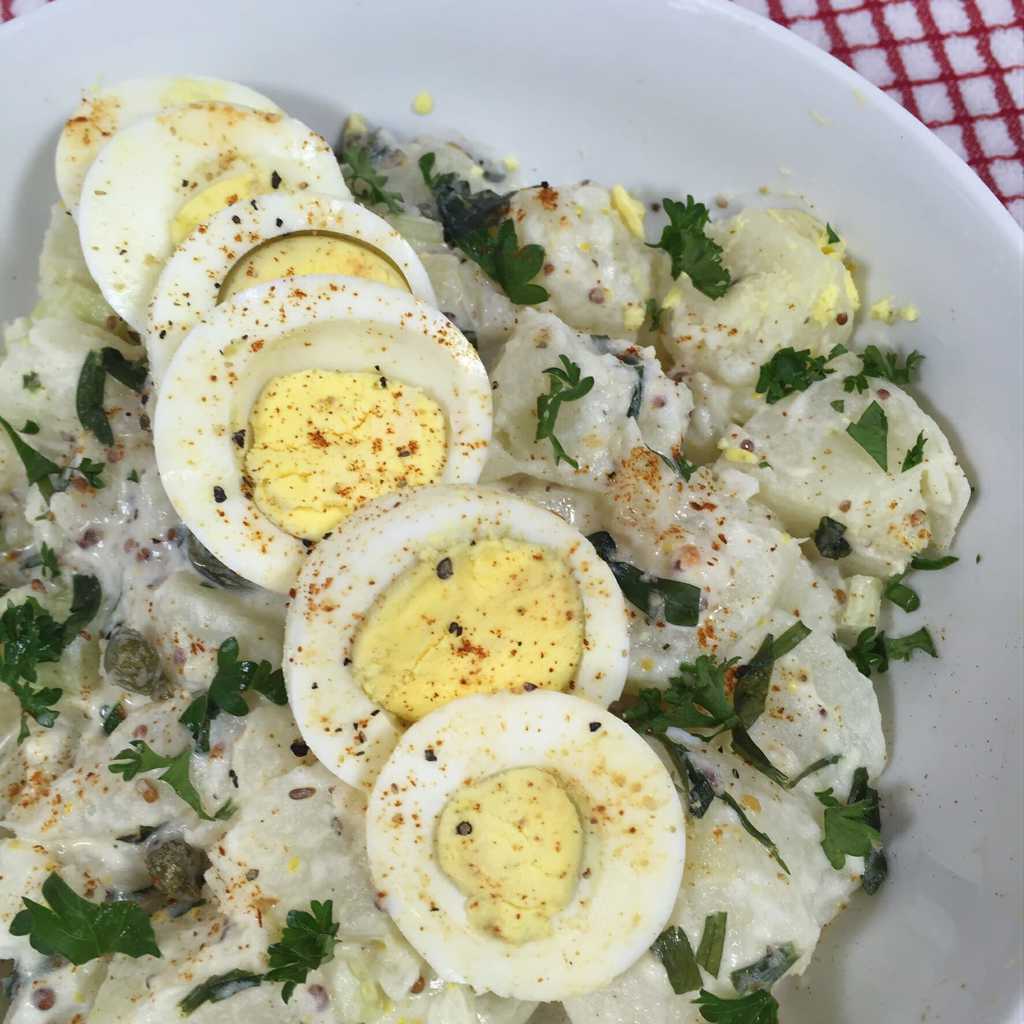 Although the German version is good, I'm not really into a sweet potato salad and to tell the truth, I think potato salad isn't really potato salad without some creaminess, so I added 3 Tbsp of mayonnaise for a more sensible calorie count of 282 plus only 4.8 grams of saturated fat. Had to add the old favorites of celery, onions, mustard and hard boiled eggs as well, but the real flavor came from adding the vinegar and the capers as well as the fresh tarragon. You could certainly use dried, but the flavor of fresh is so much better. Give this new version a try. Even though it's not Mom's Recipe, I think you'll like it.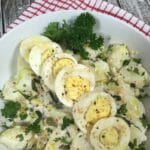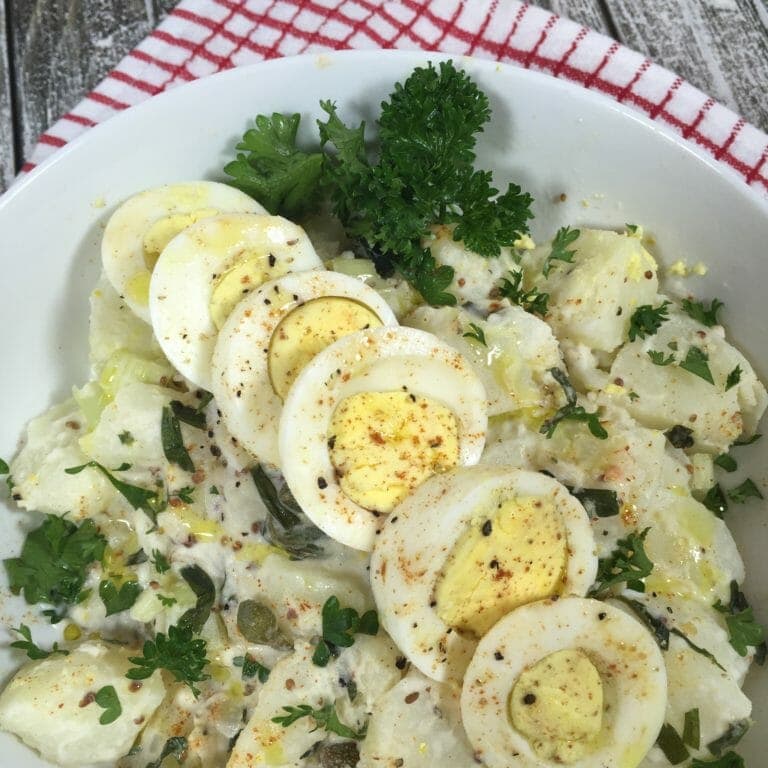 Print Recipe
Lite Potato Salad
Lite Potato Salad cuts the calories and the fat in regular potato salad without losing any of the flavor. The result is a tangy, slightly creamy, delicious salad.
Ingredients
6

Medium

Red Potatoes

Peeled

2

Eggs

4

Tbsp

Rice Vinegar

3

Tbsp

Mayonnaise

1 1/2

Tbsp

Dijon Mustard, whole grain

2

Tbsp

Shallots

Diced

1/4

Tsp

Salt

1/2

Tsp

Pepper

1-2

Tbsp

Capers

Depending on taste

2

Tbsp

Tarragon leaves

1/2

Tsp

Smoked Paprika
Instructions
Cut peeled potatoes into bite sized pieces.

Bring large pot of water to a boil. Add the potatoes as well as 2 thoroughly washed eggs to the pot. Continue to boil 15 minutes until potatoes are just tender.

Remove eggs and immediately drain potatoes. Add vinegar to hot potatoes and let sit as you peel the eggs.

In a small bowl mix the mayonnaise, mustard, salt, pepper, shallots, capers and fresh tarragon leaves.

Gently fold the sauce into the cooled potatoes and add salad to serving bowl. Decorate top with sliced eggs. Finish with smoked paprika.
Nutrition
Calories:
75
kcal
|
Carbohydrates:
1
g
|
Protein:
2
g
|
Fat:
6
g
|
Saturated Fat:
1
g
|
Cholesterol:
57
mg
|
Sodium:
202
mg
|
Potassium:
49
mg
|
Vitamin A:
185
IU
|
Vitamin C:
0.6
mg
|
Calcium:
15
mg
|
Iron:
0.5
mg