This Smoked Turkey Panini with Spinach and Peppers is not delicious and healthy, but quick and easy to make.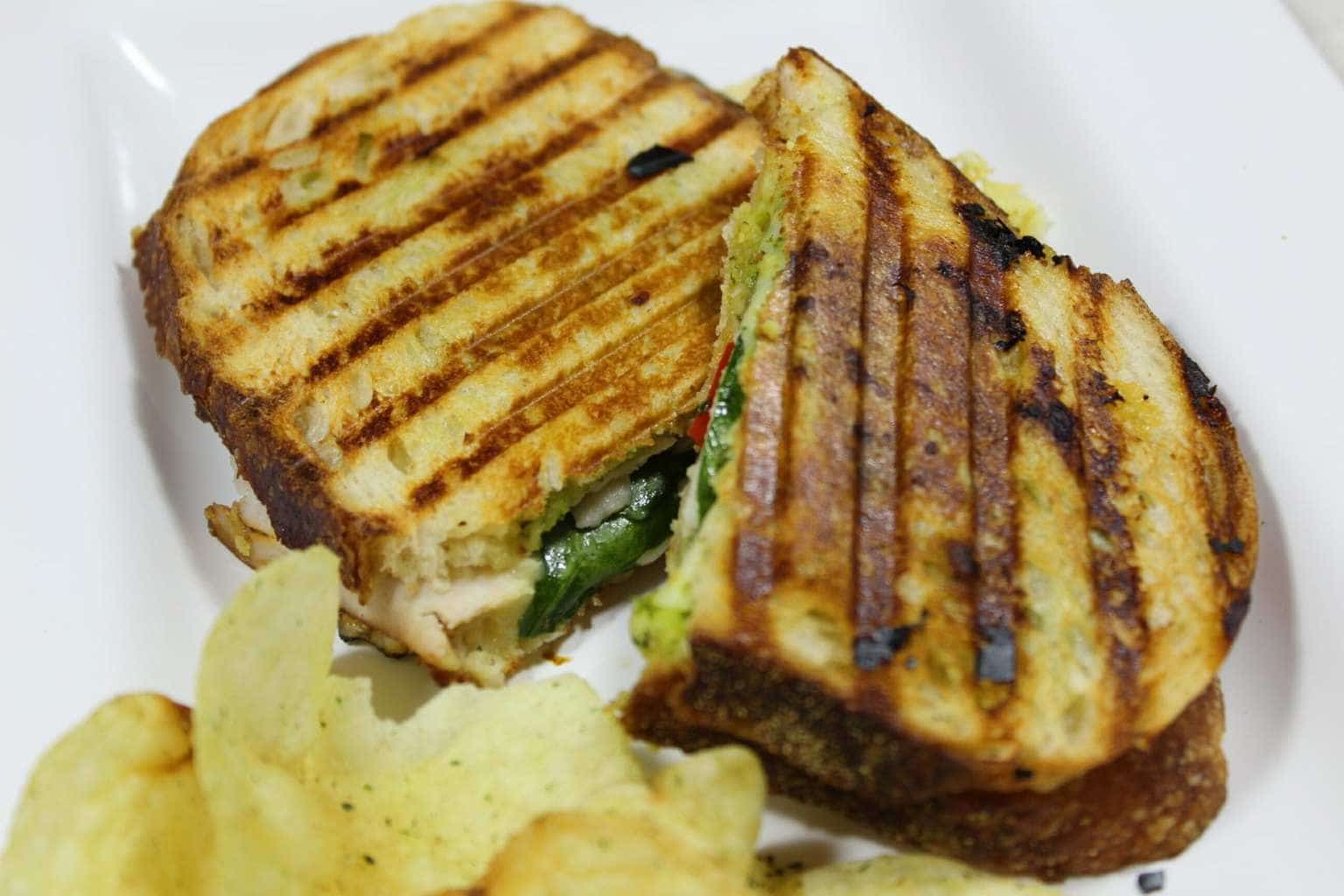 About Smoked Turkey Panini with Spinach & Peppers
Several years ago I discovered paninis.
It was on a vacation at the Oregon coast.
The weather was typically cool and rainy, and we found a warm restaurant to escape the drizzle.
We ordered soup and sandwiches, which was incredibly comforting.
But instead of a normal grilled sandwich, it included a panini.
This flattened, grill marked, crispy sandwich was the best sandwich I ever had.
So of course, I wanted to duplicate it at home
As soon as I returned I bought a panini maker.
Plugged it in, added the sandwich, put the lid down and waited.
When time was up, I lifted the lid.
Hmm, I thought, it didn't look the same.
So I put the lid back down and waited again.
It still looked the same, maybe a touch browner.
It was OK, but not great.
Certainly not what we had in Oregon.
No definite dark grill marks and the sandwiches came out just short of soggy.
Certainly not the fabulous panini I had eaten in Oregon.
So I gave the panini maker away.
For Mother's Day this  year, my daughter brought me a Cuisineart Griddler.
My oh my, I love this new toy.
They say it's three appliances in one, a griddle, a grill and a panini press.
And if you spring for the extra money, it's also a waffle iron.
4 in 1…Not bad.
The best thing is that it doesn't take up much space, which is a very good thing especially since space is at a premium in my kitchen.
I looked my my new appliance and thought, let's give it a try.
I had some smoked turkey, and some Swiss cheese and thought fresh spinach would be perfect with it.
I also keep pesto frozen as well as peppers in the freezer, so I thought I'd add that.
Wondering if all those ingredients, would once again result in a soggy sandwich, I forged on and I plugged in my Griddler.
Cooked it for no more than 3 minutes and opened the lid.
And there it was, the same sandwich I had in Oregon.
The color was right and then I took a bite.
It was perfect.
Melted cheese on the inside and crispy on the outside.
I'm in love with paninis again.
Ingredients of Smoked Turkey Panini with Spinach and Peppers
Sourdough Bread
Pesto 
Smoked Turkey
Spinach Leaves
Sweet Peppers
Light Swiss Cheese
Olive Oil
How to Make Smoked Turkey Panini with Spinach and Peppers
Preheat your Griddler or Panini Press.
Spread Pesto evenly on all 4 slices of bread.
Add Smoked turkey, spinach, sliced peppers and Swiss cheese two bread slices.
Then top each with the second slice of bread.
Brush the olive oil on both sides of the Griddler or Panini Press.
Add the sandwiches, close grill and press handle firmly  for 1 minute.
Then let go of the handle and let the appliance continue to cook for 2 minutes.
This panini can make a great lunch but also a light dinner.
Slice each Panini in half and enjoy!
Notes
For the Pesto I love Rosie Daley's Pesto .
Rosie Daley was a personal chef to Oprah Winfrey when Oprah wanted to have healthier meals.
As a result, Oprah's weight loss was amazing.
Together, they wrote a cookbook of some of Oprah's favorite dishes that Rosie made for her and called it In the Kitchen with Rosie.
I bought the cookbook and absolutely agree with Oprah, I love the recipes.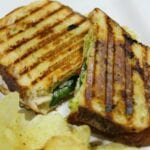 Print Recipe
Smoked Turkey Panini with Spinach and Peppers
This Smoked Turkey Panini with Spinach and Peppers is a super healthy way to start your year. This sandwich is packed with vitamins.
Ingredients
4

Slices

Sourdough bread

2

Tbsp

Pesto, prepared

4

Oz

Smoked turkey

About 4 thin slices

1/4

Cup

Spinach leaves

Washed and dried

1/3

Cup

Sweet Peppers

Sliced into long strips

4

Oz

Light Swiss Cheese

About 4 thin slices

1

Tsp

Olive oil
Instructions
Spread pesto evenly on all 4 slices of bread. Add smoked turkey slices, spinach, sweet peppers and cheese slices even between two slices of bread and top each with second slice.

Brush olive oil on Panini Press. Add sandwich, close lid and press firmly for 1 minute. Let go and let the weight of the press cook the sandwich for 2 more minutes.
Nutrition
Calories:
398
kcal
|
Carbohydrates:
73
g
|
Protein:
15
g
|
Fat:
4
g
|
Sodium:
660
mg
|
Potassium:
237
mg
|
Fiber:
3
g
|
Sugar:
4
g
|
Vitamin A:
1130
IU
|
Vitamin C:
32.8
mg
|
Calcium:
56
mg
|
Iron:
4.9
mg