This Mediterranean Lentil Soup is a warm, comforting hug on a cold day.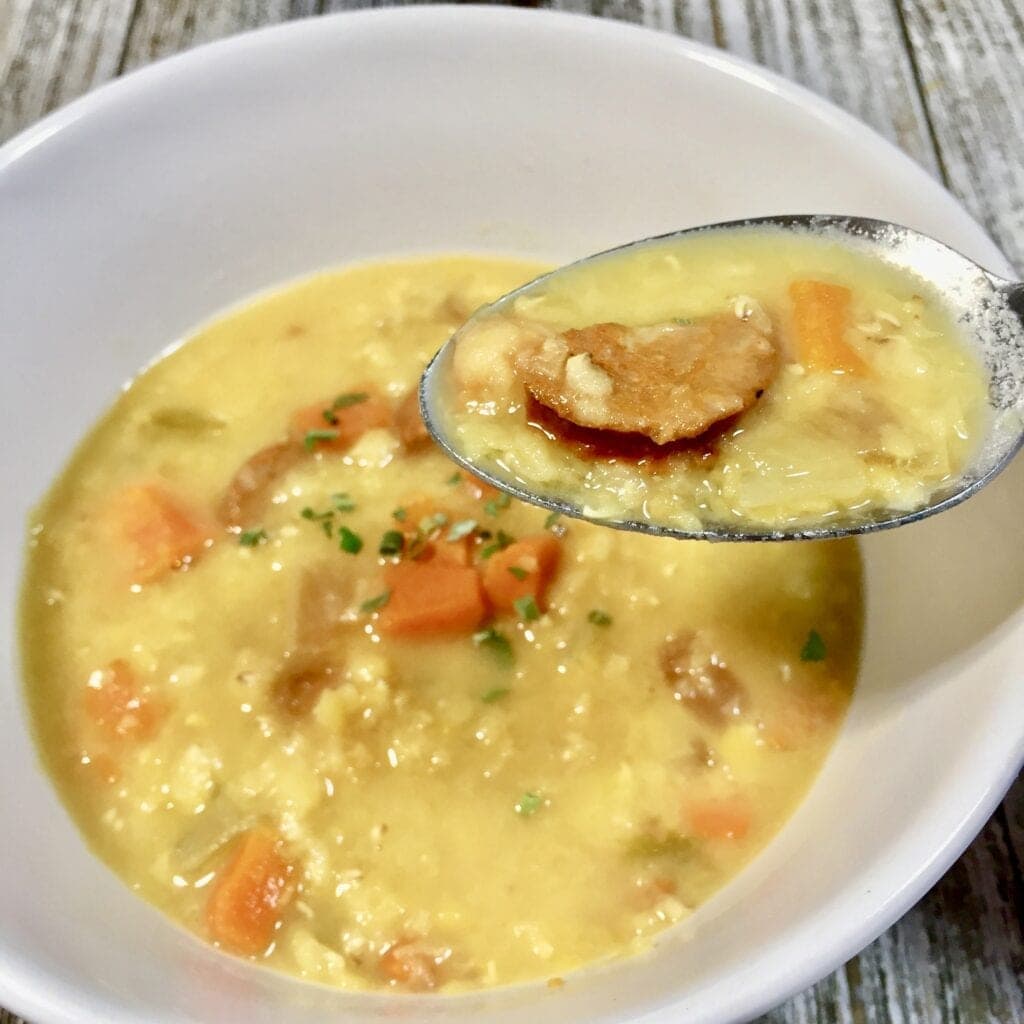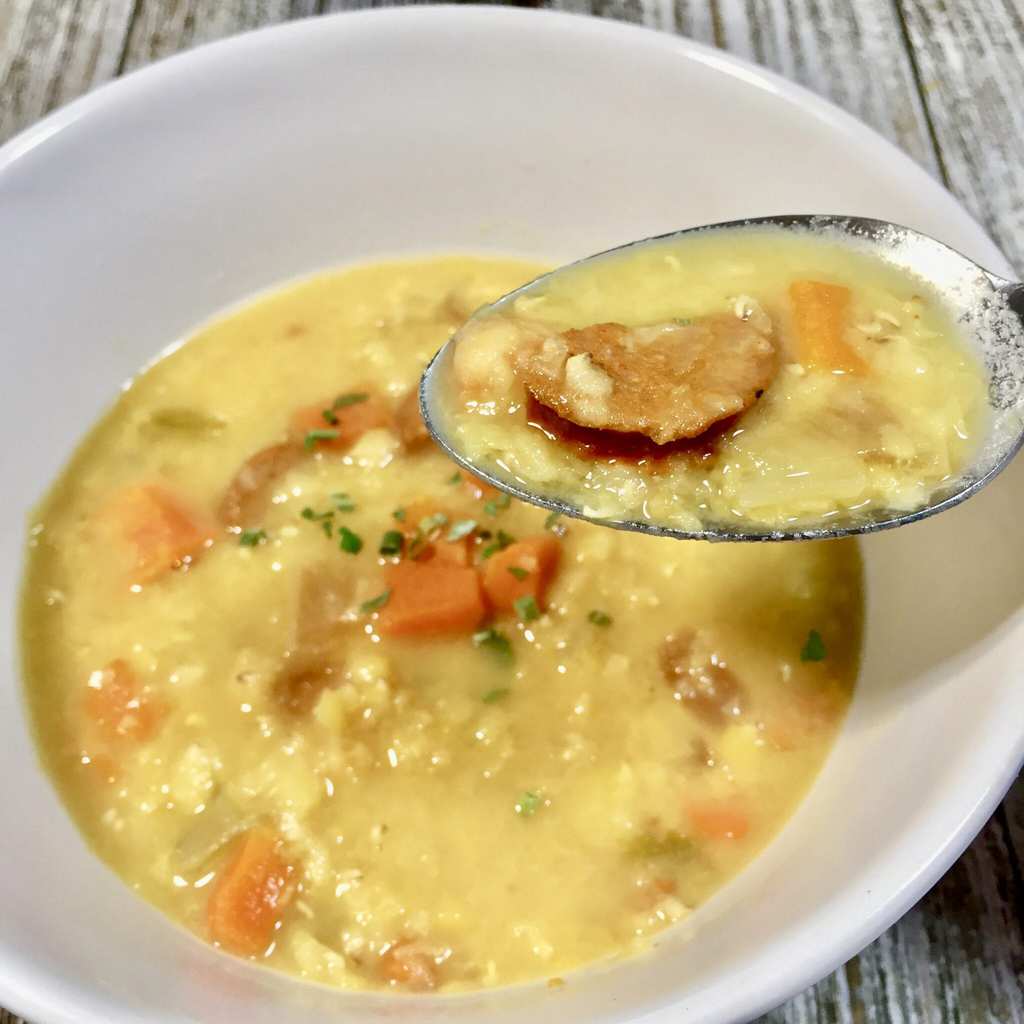 Want to add an extra special dose of health to your family?  Start with this Mediterranean Lentil Soup.  
I've been a fan of lentil soup for as long as I can remember. Maybe it's the rich taste or creaminess, but I've always loved it. And now there's even one more reason to love it. According to Newsmax, eating lentils help you lose weight! I mean, does it get any better?  
Actuually, yes. Many people around the world believe that having lentils for New Years is a sign of money luck. So, what are you waiting for?
Something so delicious…that brings you good fortune and actually helps you lose weight. Wow!
Plus it's so easy to make and only has 7 ingredients.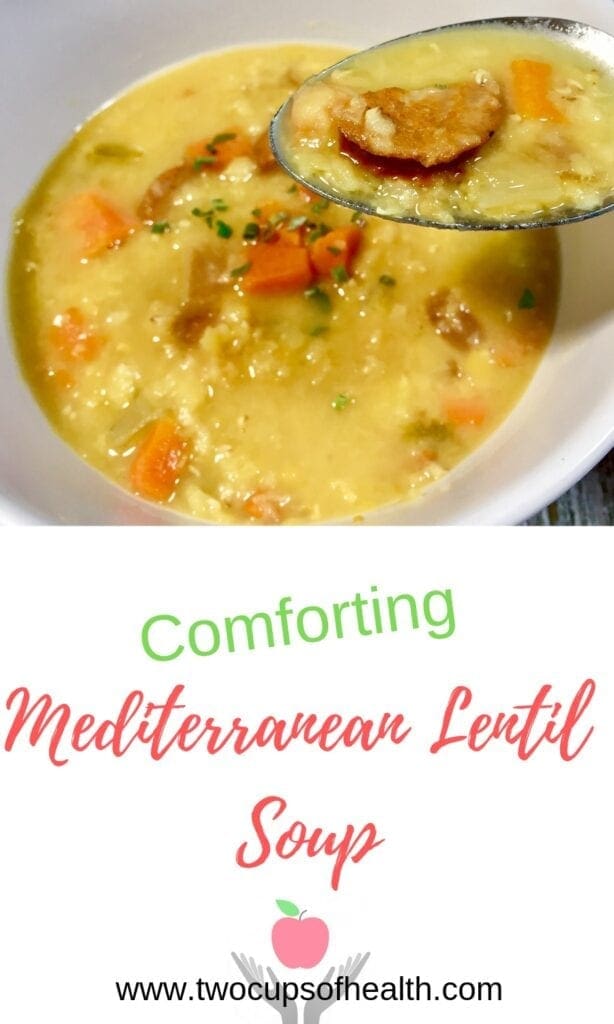 Ingredients for Mediterranean Lentil Soup
Olive oil: For health and flavor.  
Onions: The 1st ingredient of the classic Mirepoix
Celery: The 2nd ingredient of Mirepoix
Carrots: The final ingredient of Mirepoix 
Chicken Andouille Sausage: For spiciness,  just 1 sausage flavors the whole soup! 
Red lentils: I really love the red, which turns golden when cooked
Chicken broth: Low Sodium Chicken broth is best for this recipe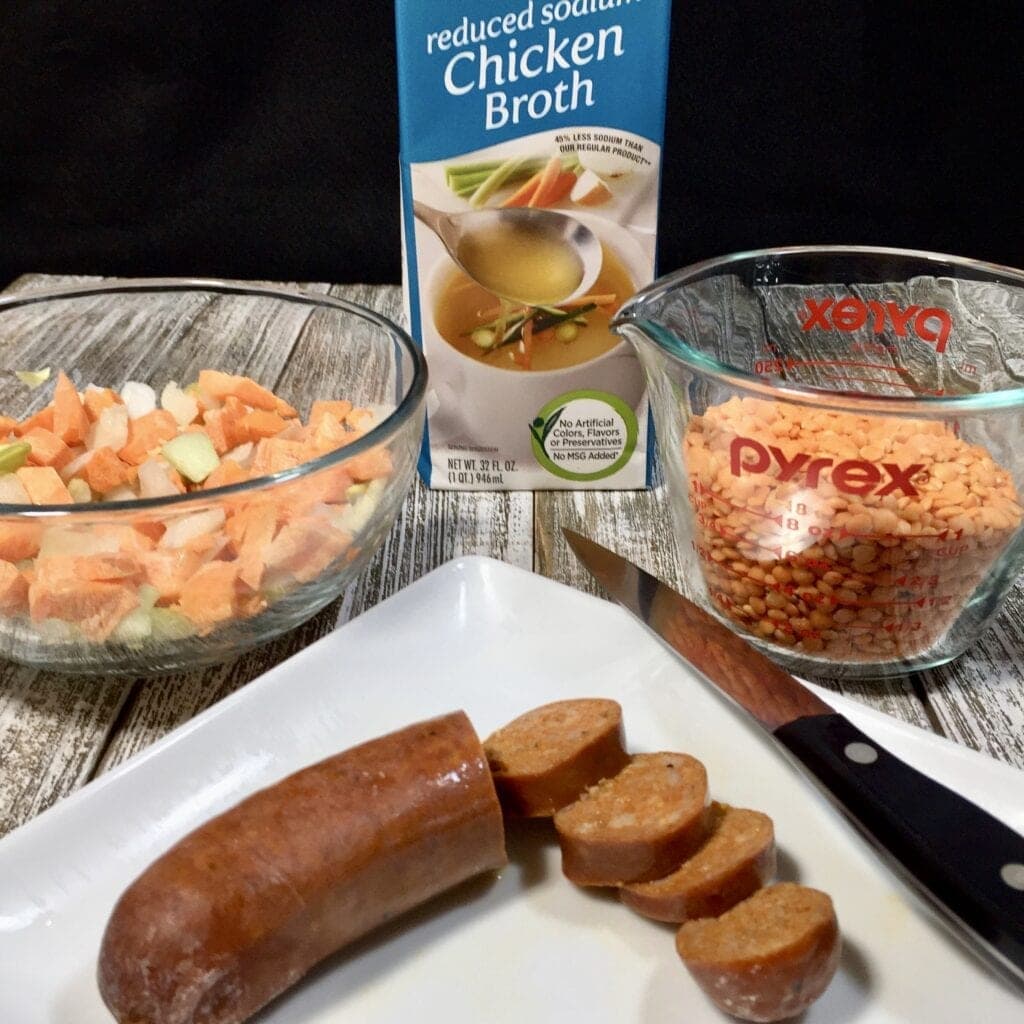 How to Make Mediterranean Lentil Soup
This lentil soup recipe begins with the French classic Mirepoix – onions, carrots and celery
 It is said to have been created in the 18th century by the chef of Charles Pierre Gaston Francois de Levis, who was an ambassador to Louis VX with the title of the Duke of Mirepoix.
Mirepoix was in Southwestern France in the Occitanie, Langedouc region.
The Duke's Chef de Cuisine was the original creator of the sautéed three vegetable flavor enhancer that is the basis for so many wonderful sauces and dishes today.
To honor his employer, the chef named the vegetable medley "mirepoix".
At the end of the Duke of Mirepoix's life he lamented to his wife that he had but one claim to fame. He gave his name to a sauce. 
But what a sauce. Where would French cooking be without it?
In his original French recipe dating back to the 18th Century, Mirepoix called for 50% onions and 25% of carrots and celery.  
But in this recipe we have 33% of each ingredient, mostly because I love carrots and celery and I think it balances the recipe better with the lentils. 
And even more flavor comes out when the vegetables are first sautéed to caramelize them a bit. 
So the first step in Mediterranean Lentil Soup is to add some olive oil to a soup pot over medium high heat and add the chopped  onions, carrots and  celery. Let them cook about 2 minutes undisturbed.  Then stir and let cook another 2 minutes.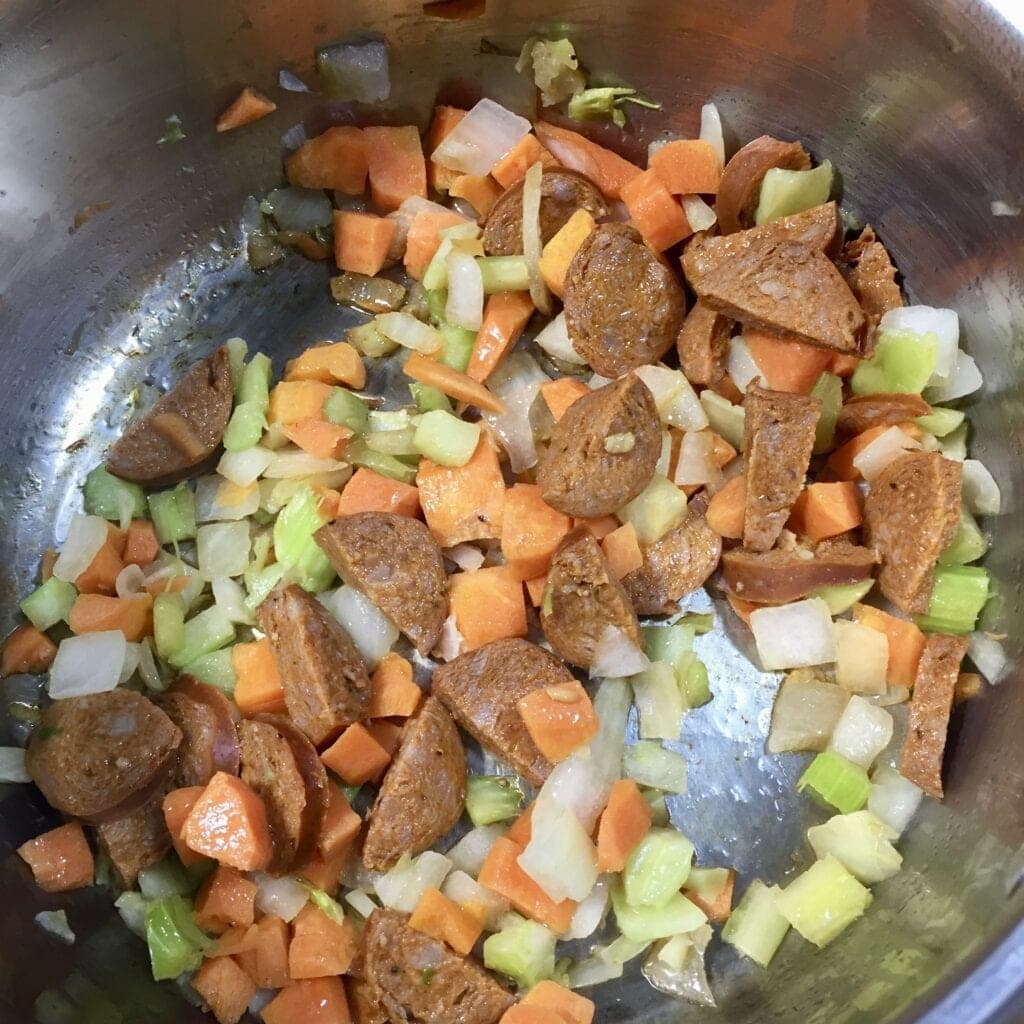 Next add the lentils and chopped sausage and stir. The Chicken Andouille Sausage is from Trader Joe's.  I really love it because it has incredible spiciness and flavor.  And just 1 link flavors the entire soup.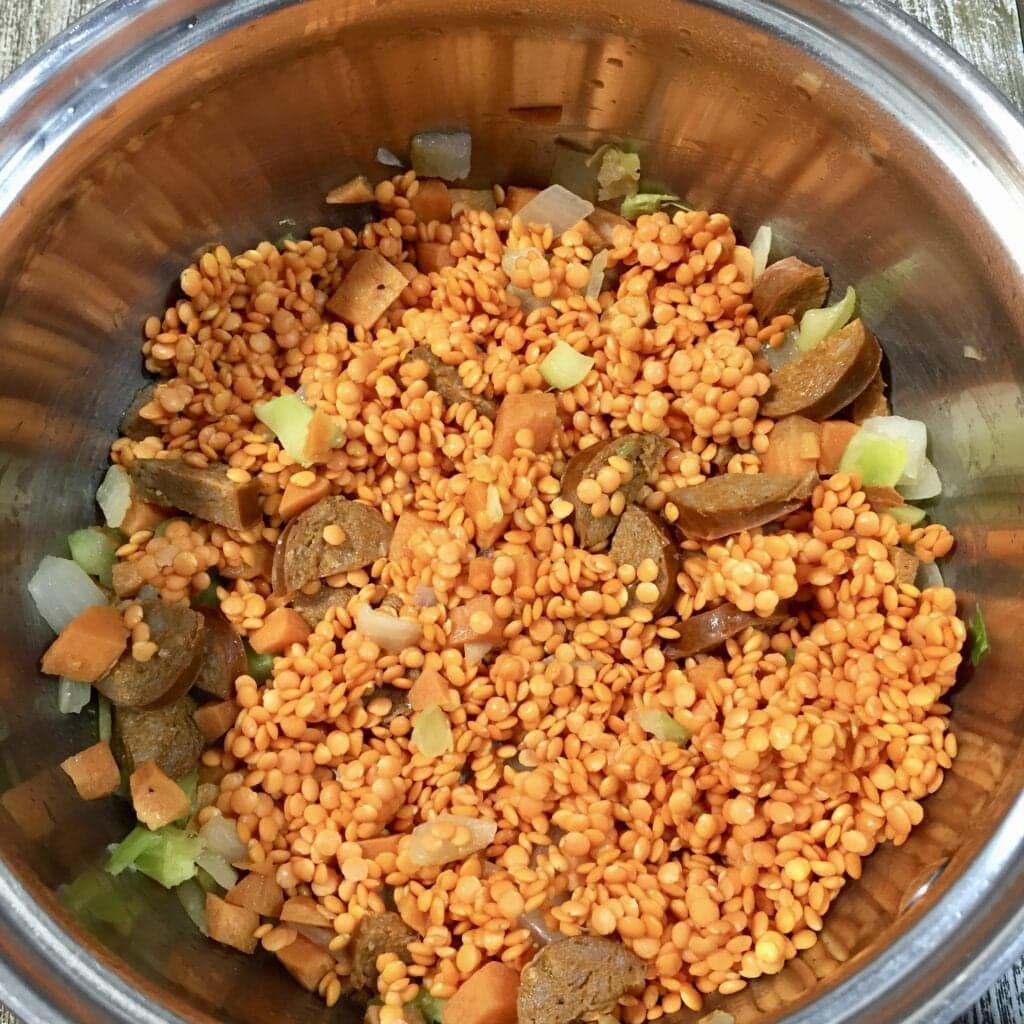 But if you're not near a Trader Joe's, you can substitute any sausage. You'll just need to correct the seasonings.  
At this point, add the chicken broth. I use Manischewitz Low Sodium Chicken broth because it's the closest ready-made broth to one that been simmered all day long. It's that good.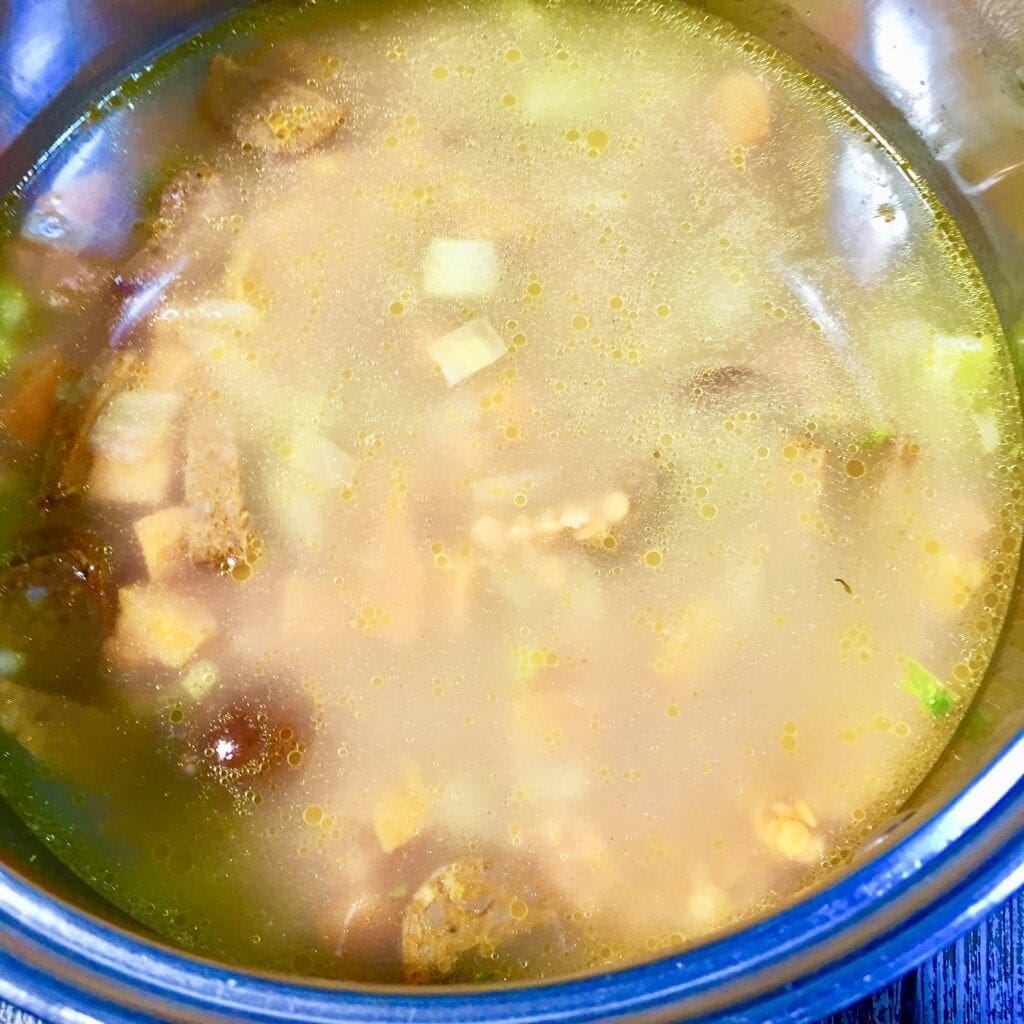 Next, cover the soup and turn down the heat to low. Allow it to cook for a minimum of 30 minutes, if you prefer more texture to the soup.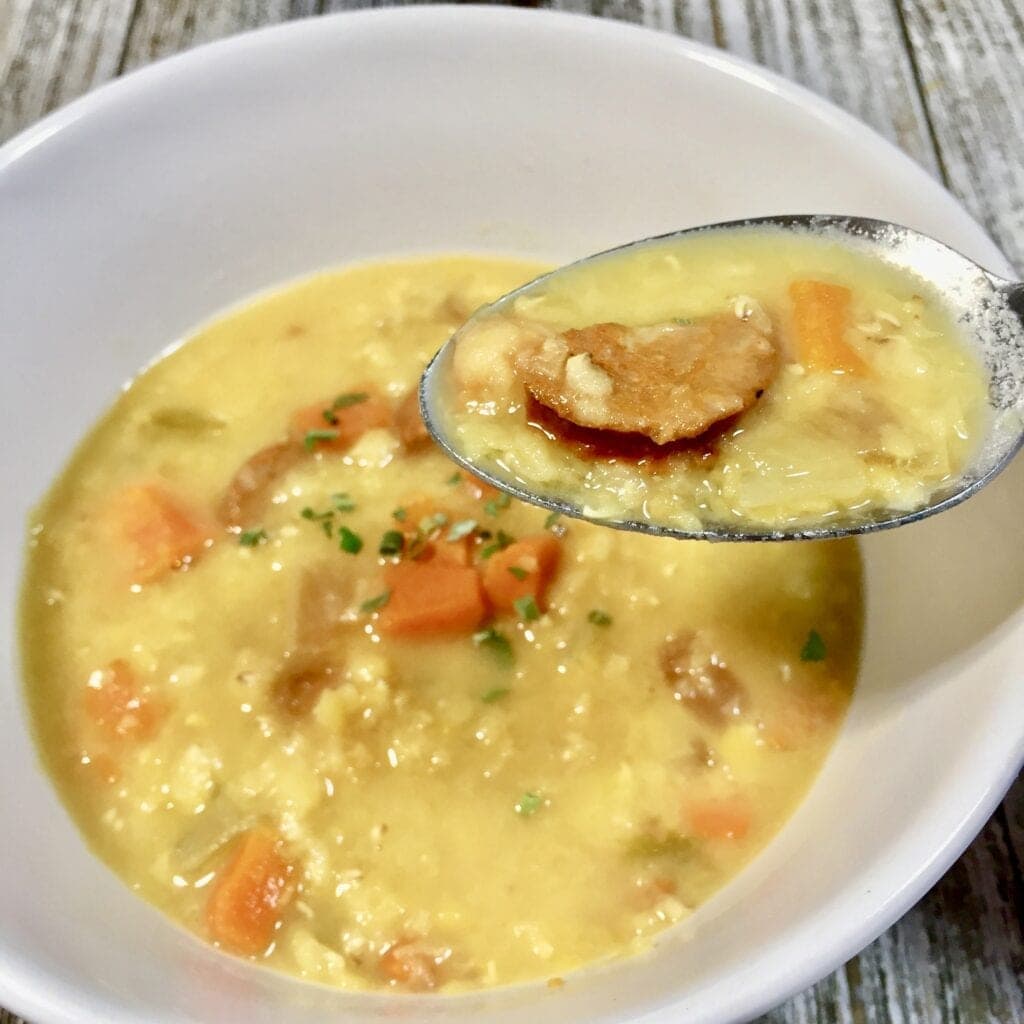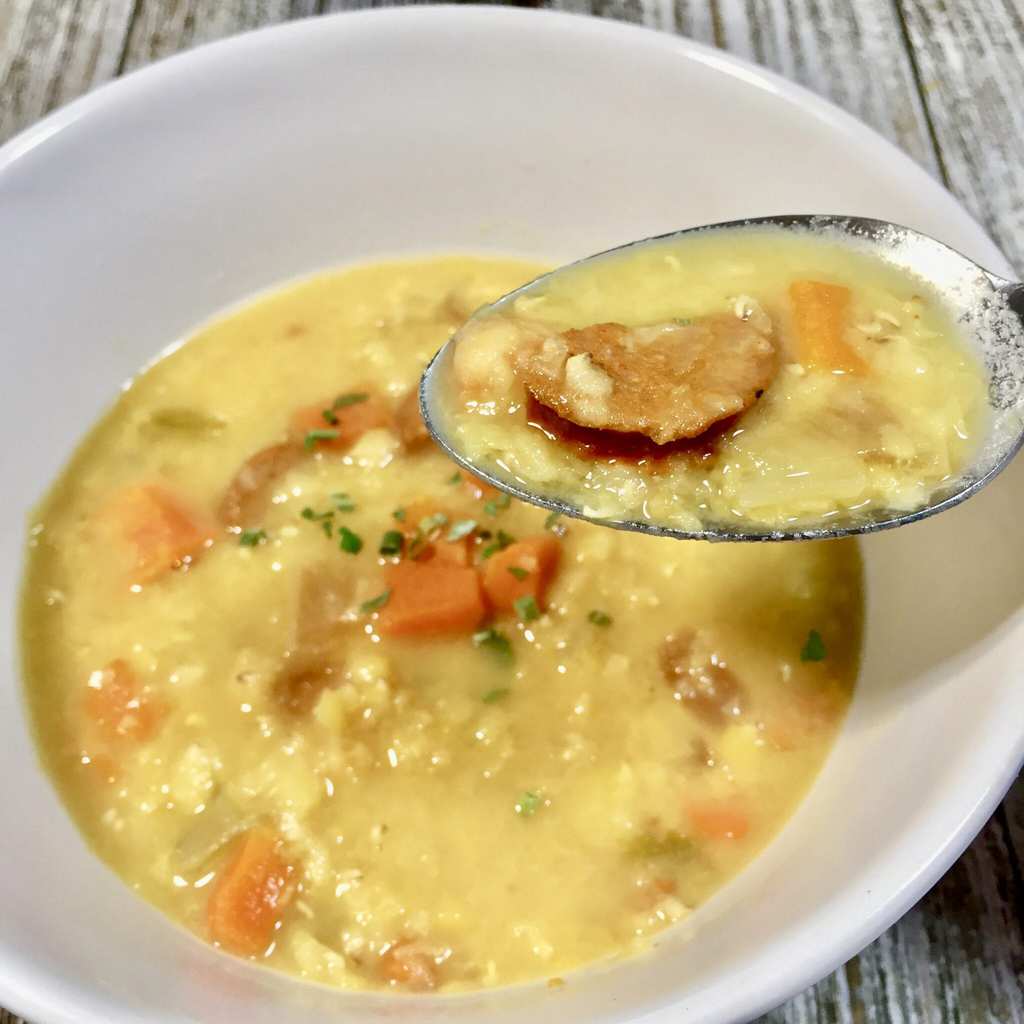 But if you like it more creamy like I do, let it simmer for 45-60 minutes.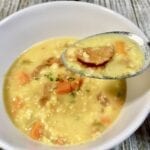 Print Recipe
Mediterranean Lentil Soup
This Mediterranean Lentil Soup is a warm, comforting hug on a cold day. It's smooth, creamy and full of healthy vegetables.
Ingredients
1

Cup

Red lentils

1

Tbsp

Olive oil

1/3

Cup

Onions

Chopped

1/3

Cup

Celery

Chopped

1/3

Cup

Carrots

Chopped

1

Link

Chicken Andouille Sausage

Sliced

3

Cups

Chicken broth

Low sodium
Instructions
Rinse lentils and set aside.

Add olive oil to soup pot over medium high heat. Add onions, celery, carrots and cook 3-4 minutes to slightly caramelize.

Add sausage and lentils and stir to combine.

Add chicken broth, turn the heat to low and cover. Allow the lentils to cook for 40-45 minutes.
Nutrition
Calories:
252
kcal
|
Carbohydrates:
31
g
|
Protein:
15
g
|
Fat:
7
g
|
Saturated Fat:
1
g
|
Cholesterol:
15
mg
|
Sodium:
579
mg
|
Potassium:
646
mg
|
Fiber:
14
g
|
Sugar:
2
g
|
Vitamin A:
1910
IU
|
Vitamin C:
16.5
mg
|
Calcium:
46
mg
|
Iron:
3.9
mg
If you like this recipe, please leave a comment below and be sure and pin it on Pinterest!
For Similar Recipes: