These Oven Smoked Dry Ribs are not only easy but tender and rival ribs in a smoker.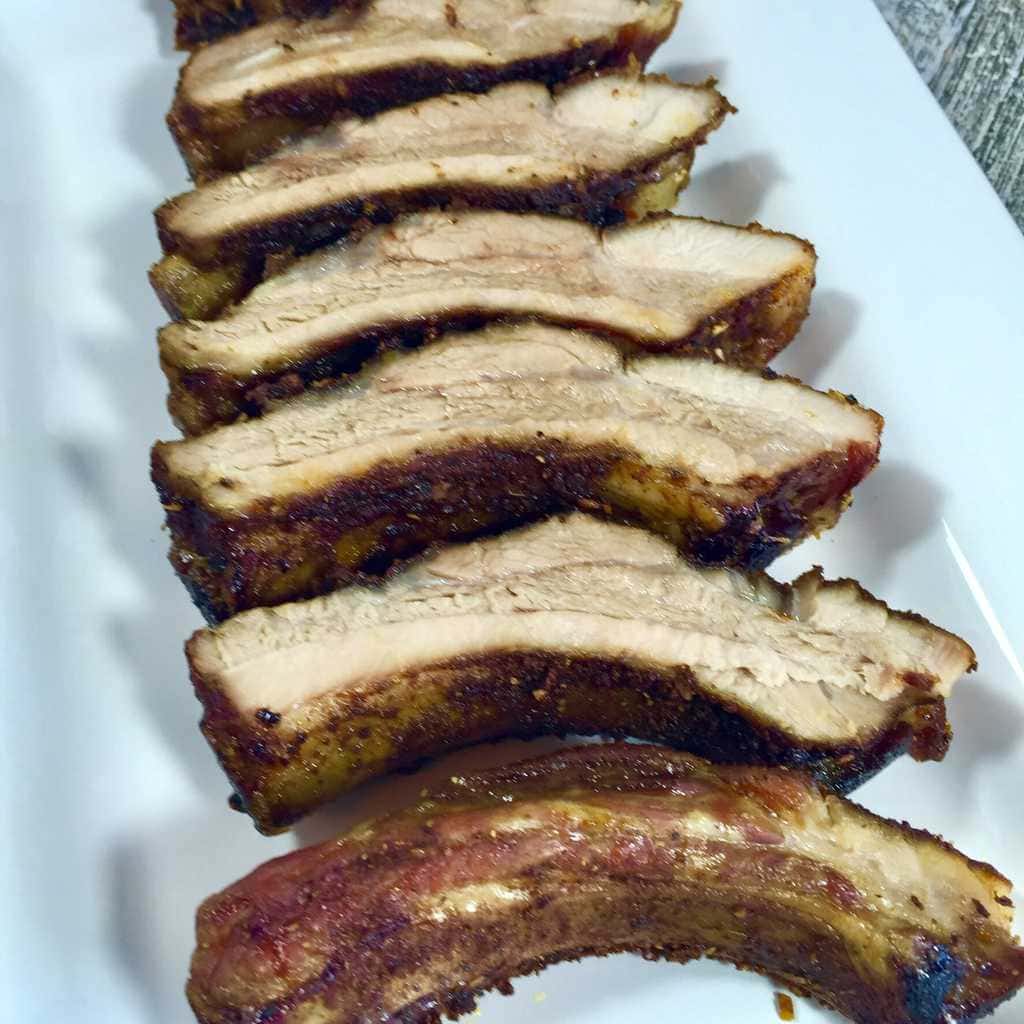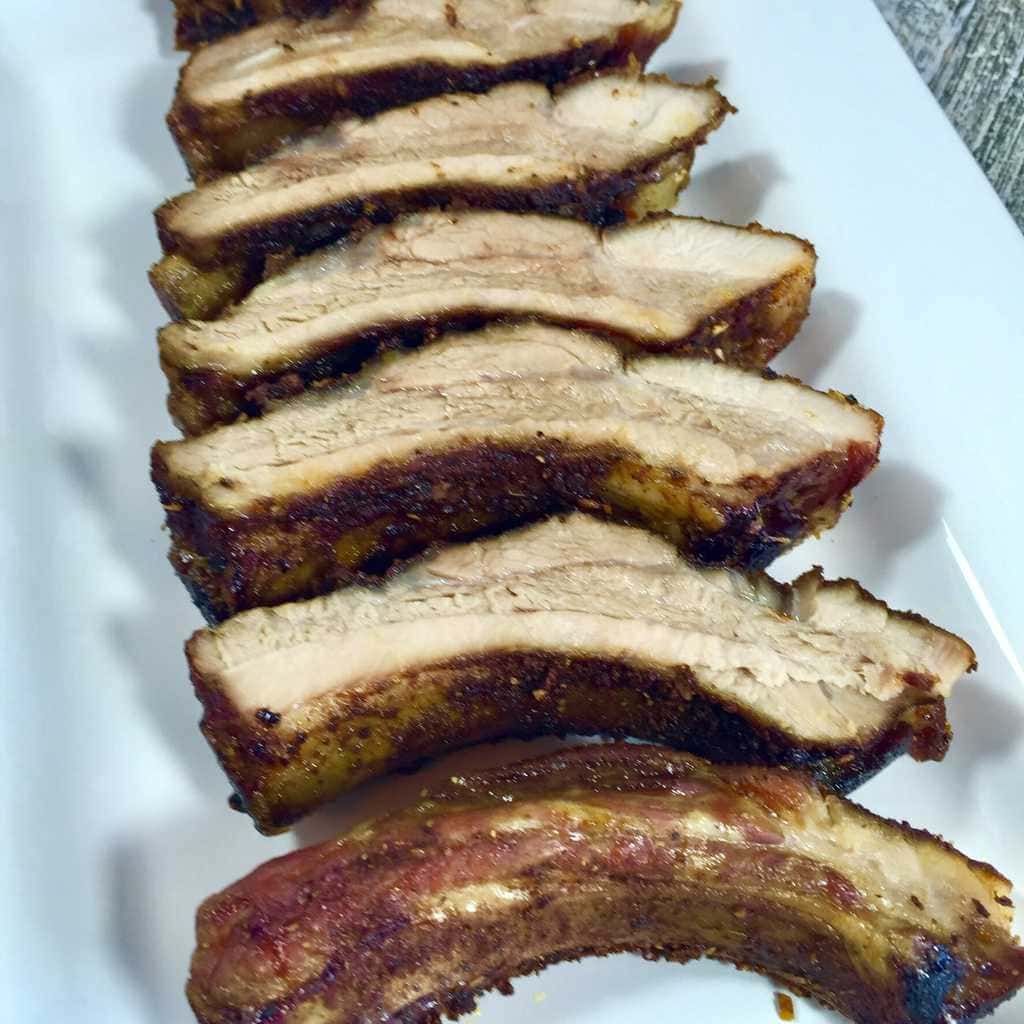 About Oven Smoked Dry Ribs
The question of whether people like their barbecued spare ribs slathered in a spicy barbecue sauce.
Then there are others who like their ribs dry roasted with a slightly crispy crust is still up in the air.
Having had ribs both ways, I favor the dry version.
There's just so much more flavor there.
Especially when you add smoky spices, which I did in these Oven Smoked Dry Ribs.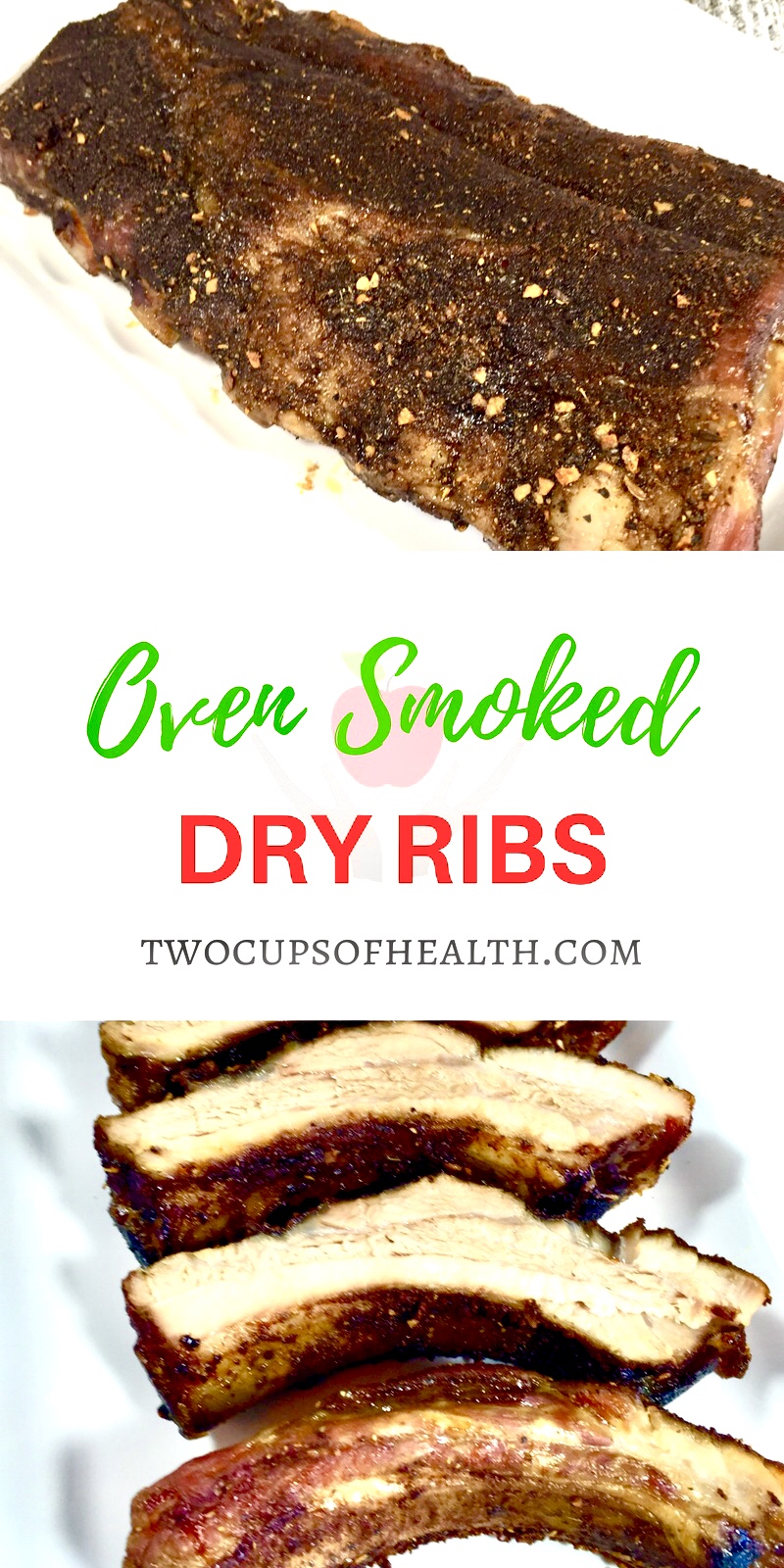 I first had dry ribs at P.F. Chang's with their version of Northern Ribs.
Fabulous taste in those ribs with Five Spice flavoring.
I do have to say that PF Chang's is a great restaurant with top notch service, but I can't go there very often.
The food is wonderful, but the calories, fat and sodium of my favorite dishes is far too high, like the Northern Ribs.
When I checked on their nutrition, the calories come in at a whopping 1130 per serving.
And then there's the fat of 63 grams.
But my real showstopper is 6360 mg. of sodium.
Whoa!
So, I went back to the kitchen to see how I can make Dry Ribs a whole lot healthier without missing the flavor.
When coming up for a Blend of spices for the dry rub, I wanted something like Five Spice, with its cinnamon and clove flavor.
But at the same time I didn't want the sweetness of the star anise and Fennel in the Five Spice, since I was thinking of having the rub be more of a smoky, almost Southwestern flavor.
I had Garam Masala and I thought that might be perfect.
Garam Masala is an Indian Spice with a blend of black peppercorns, mace, cinnamon, cloves, brown cardamom, nutmeg and green cardamom.
So it had the cinnamon and cloves, but the rest of the spices were rich tasting rather than sweet.
Smoked paprika and Hickory Smoke Powder were next.
After tasting, it definitely needed a touch more pepper, and salt…garlic salt…and cumin.
One taste and it was exactly what I was looking for.
The bonus is that when those ribs were slowly baking, the smoky barbecue aroma coming from my oven was heavenly.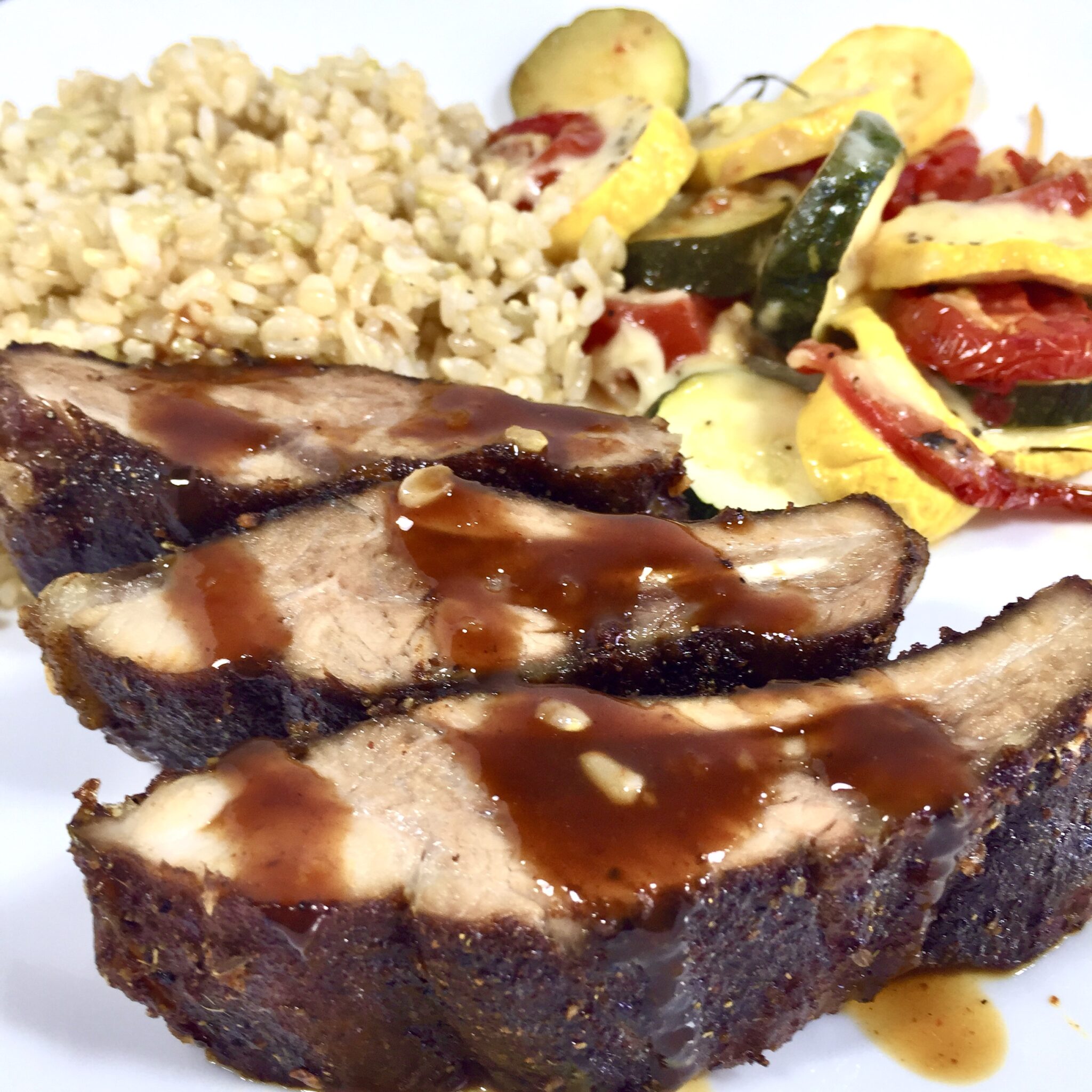 Plus these wonderfully tender dry smoky ribs are soooo much healthier for you.
So let's make them.
Ingredients in Oven Smoked Dry Ribs)
Baby Back Pork Ribs
Smoked Paprika
Pepper
Garlic Salt
Garam Masala
Cumin
Olive Oil
How to Make Oven Smoked Dry Ribs
First, preheat your oven to 225 degrees, Yep, these ribs cook long and slow.
Then on the back of the ribs you'll see an almost transparent membrane. Remove it.
Removing the membrane will make your ribs even more tender.
Next, mix all the spices together in a small bowl.
Then, brush both sides of the ribs with olive oil and generously sprinkle the spices on both sides.
Bake in the oven for 3 1/2 – 4 hours. The ribs will be brown and crispy
If you like this recipe, please leave a comment below and pin us on Pinterest!
Also try Korean Bbq Ribs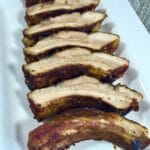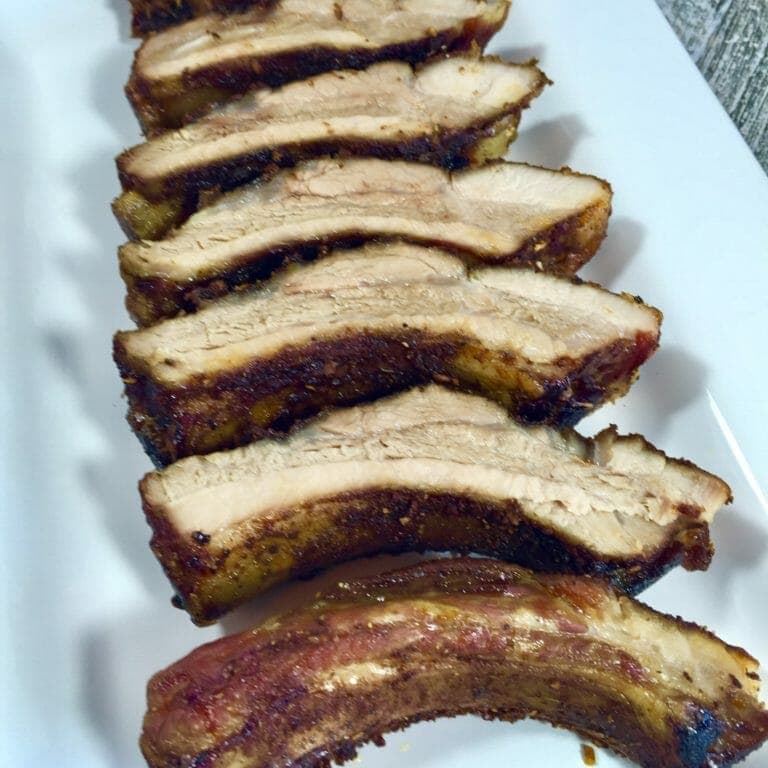 Print Recipe
Oven Smoked Dry Ribs
These Oven Smoked Dry Ribs are not only easy but tender and smoky delicious too. The slow baked method combined with special spices rivals ribs in a smoker.

Ingredients
1/2

Rack

Baby back pork ribs

approximately 6 ribs

1

tsp

Smoked paprika

1/2

tsp

Pepper

1/4

tsp

Garlic salt

1/2

tsp

Garam Masala

1/2

tsp

Hickory Smoke Powder

1/4

tsp

Cumin

1/2

tsp

Olive oil
Instructions
Preheat oven to 225 degrees F

Remove membrane from back of ribs.

Combine smoked paprika, pepper, garlic salt, Garam Masala, hickory smoke powder and cumin in a small bowl and mix to combine.

Rub both sides of ribs with spice mixture. Place on a rack in a baking pan and drizzle with olive oil. Bake slowly for 3 1/2 - 4 hours depending on the size of your ribs.
Nutrition
Serving:
3
ribs
|
Calories:
308
kcal
|
Carbohydrates:
1
g
|
Protein:
23
g
|
Fat:
21
g
|
Saturated Fat:
8
g
|
Sodium:
902
mg
|
Potassium:
1104
mg
|
Vitamin A:
520
IU
|
Calcium:
75
mg
|
Iron:
3.4
mg