Easy Yellow Squash Tian is not only beautiful and delicious but is also quick to make. Try this healthy dish and you won't even miss the meat.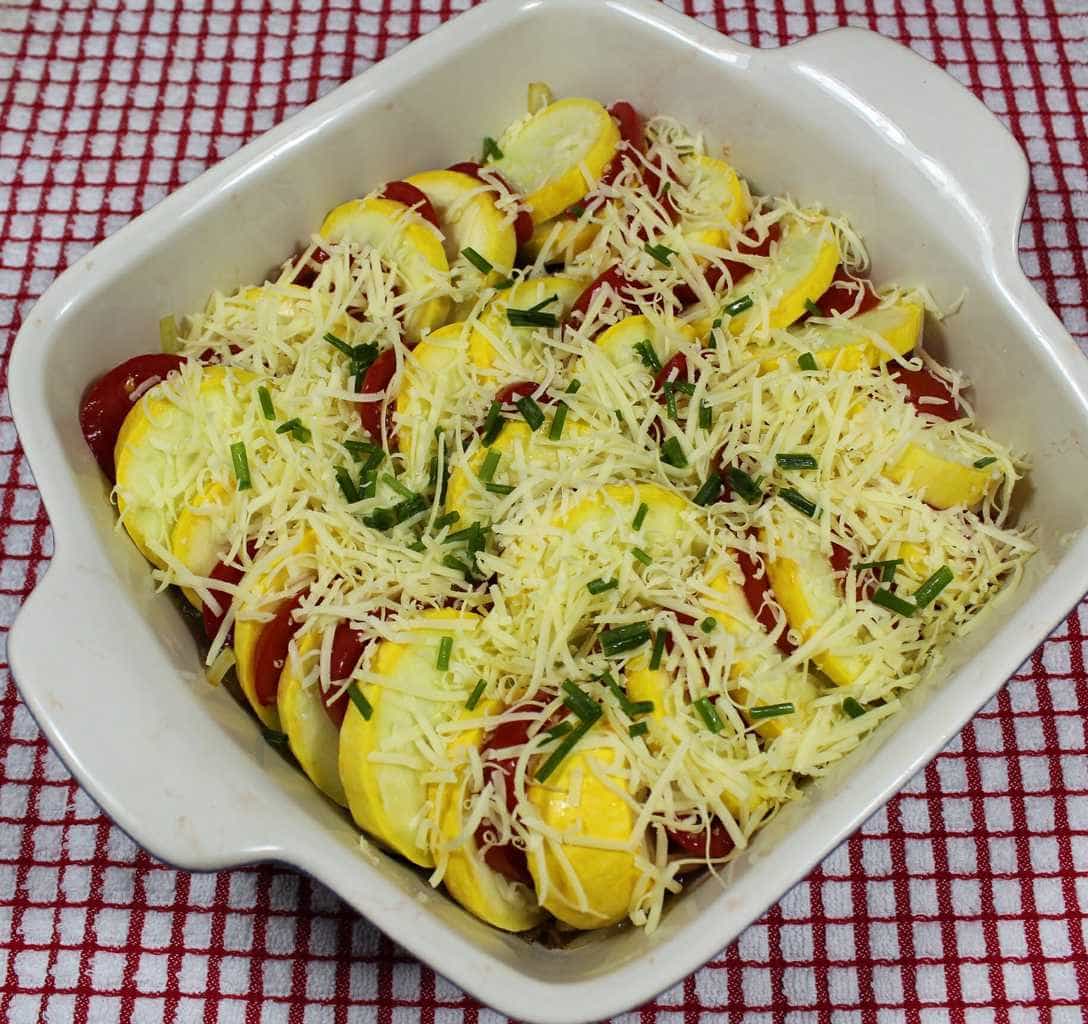 Easy Yellow Squash Tian
You may have seen some semblance of a tian if you saw the movie Ratatouille. It was right at the end when the nasty restaurant critic took one bite of a delicious layered vegetable dish…that they called Ratatouille …and immediately was reminded of his mother's cooking. With just one bite his whole disposition changed. Truth be told, the dish he was served was not Ratatouille, but a tian – a layered vegetable dish. I learned about tians years ago from Ina Garten and since then I have made many versions, because it usually depends on what vegetables I have on hand. My latest version contains an onion, yellow squash, tomatoes and white cheddar cheese. I call it Yellow Squash Tian and it's the easiest one I have ever made and I think one of the best.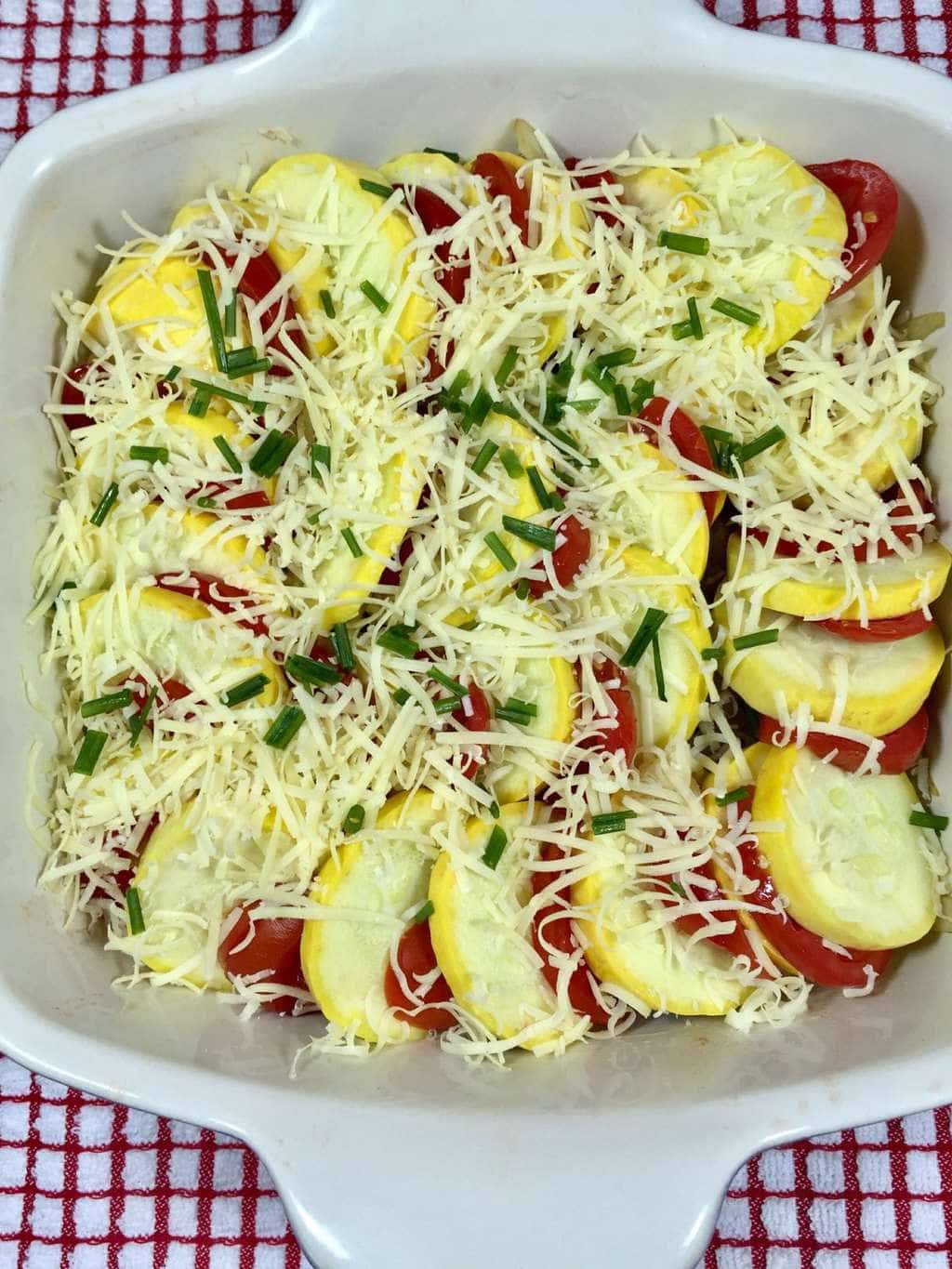 A typical tian contains eggplant, yellow squash, zucchini and tomatoes all layered according to color. How many times I've layered slices of purple eggplant, yellow squash, green zucchini and red tomato around the perimeter of my baking dish eventually meeting in the middle. Typically a tian is cooked in an earthenware vessel. My "earthenware vessel" is a cobalt blue, square Emile Henry. I absolutely love it because it cooks and cleans perfectly, but it also makes a beautiful presentation with the colorful layered vegetables.
No matter what combination of vegetables I've used, the foundation of my tians is always the same. Onions. I always caramelize the onions first to not only give the vegetables great depth of flavor, but the onions also lend sweetness and fabulous juiciness to the dish.
By the way, don't know if you know this or not, but Chef Thomas Keller was one of the consulting chefs on the Ratatouille movie. That's why the normally messy ratatouille turned into the beautifully presented tian that was served to the restaurant critic.
Health notes: Clinical studies have found that squash, onions and tomatoes all powerful foods that help block cancer.
"This  illustrates the need for modern medicine and science to turn its attention to the plant world once again to find new medicine that might cure cancer, AIDS, diabetes and many other diseases."
 Norman Farnsworth, PhD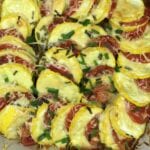 Print Recipe
Easy Yellow Squash Tian
Ingredients
1

Tbsp

Olive oil

1

Yellow onion

Chopped

2

Yellow Squash

Sliced 1/4" thick

3

Medium

Tomatoes

Sliced 1/4 " thick

3/4

Cup

White cheddar cheese

Grated
Instructions
Preheat oven to 375 degrees F

Add olive oil to sauté pan and cook onions over medium high heat until brown and caramelized, about 7-8 minutes. Add onions into an oven proof dish and spread evenly.

Cut yellow squash in 1/4 " slices. Layer slices around perimeter of dish, continuing to spiral to the middle.

Tuck tomato slices in between squash slices.

Sprinkle cheese evenly over top.

Bake 35-40 minutes until browned.
Nutrition
Calories:
160
kcal
|
Carbohydrates:
4
g
|
Protein:
8
g
|
Fat:
12
g
|
Saturated Fat:
6
g
|
Cholesterol:
31
mg
|
Sodium:
186
mg
|
Potassium:
263
mg
|
Fiber:
1
g
|
Sugar:
2
g
|
Vitamin A:
555
IU
|
Vitamin C:
14.6
mg
|
Calcium:
227
mg
|
Iron:
0.5
mg