This Creamy Chicken Soup recipe is a total meal in a bowl packed with healthy vegetables and wild rice. Rich, decadent and totally delicious.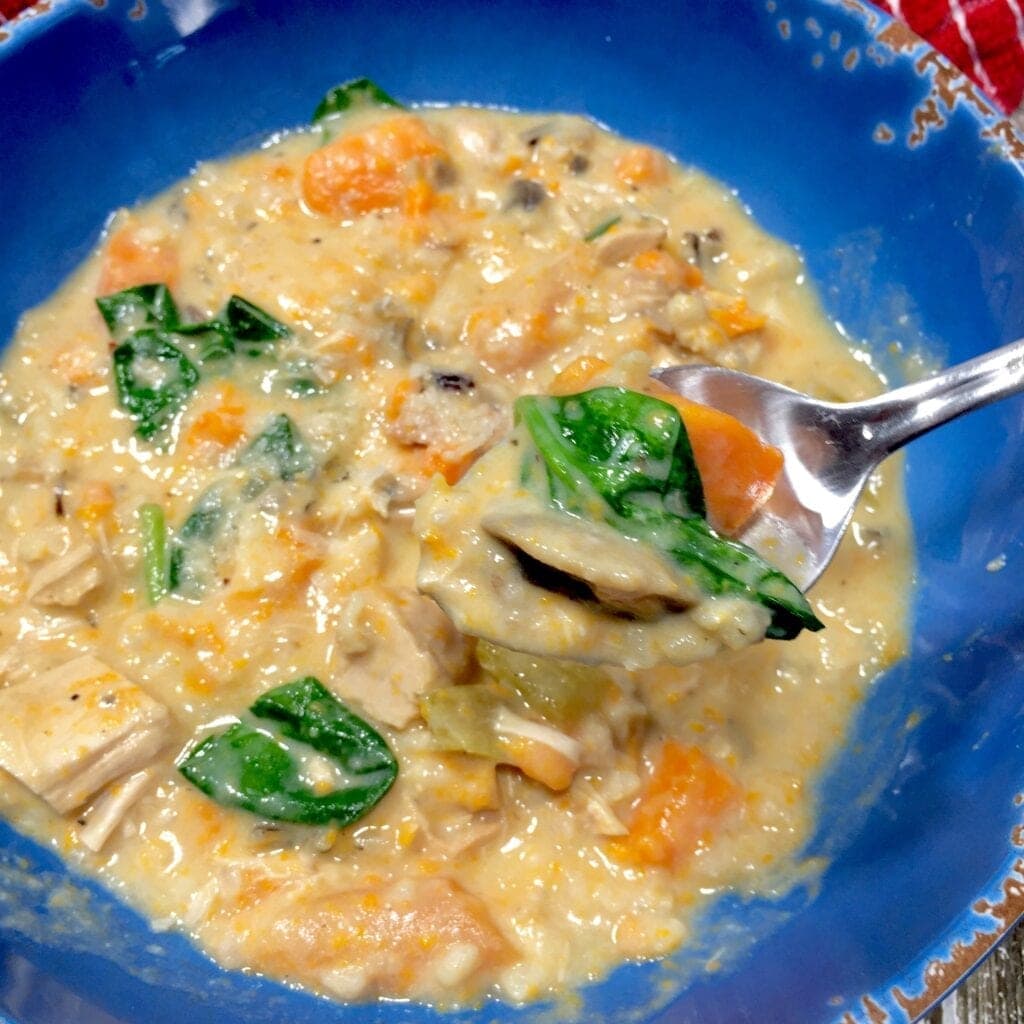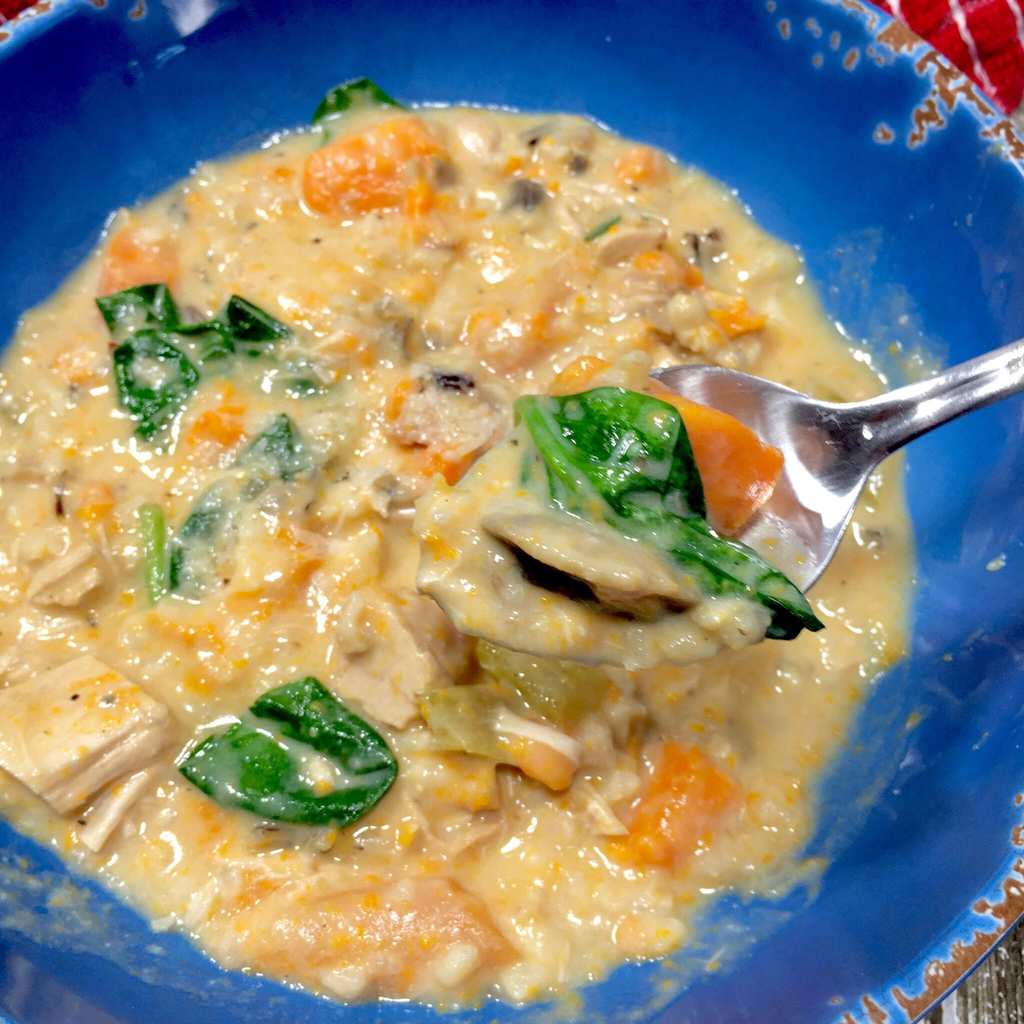 About Creamy Chicken Soup
Looking for a super delicious healthy soup? 
This would be it. 
It's the kind of soup you need when you've had a hard day and you just need to be calm, take a deep breath and have a big hug.  
With the first bite of this fabulous chicken soup, you'll know that the world is back in perspective again.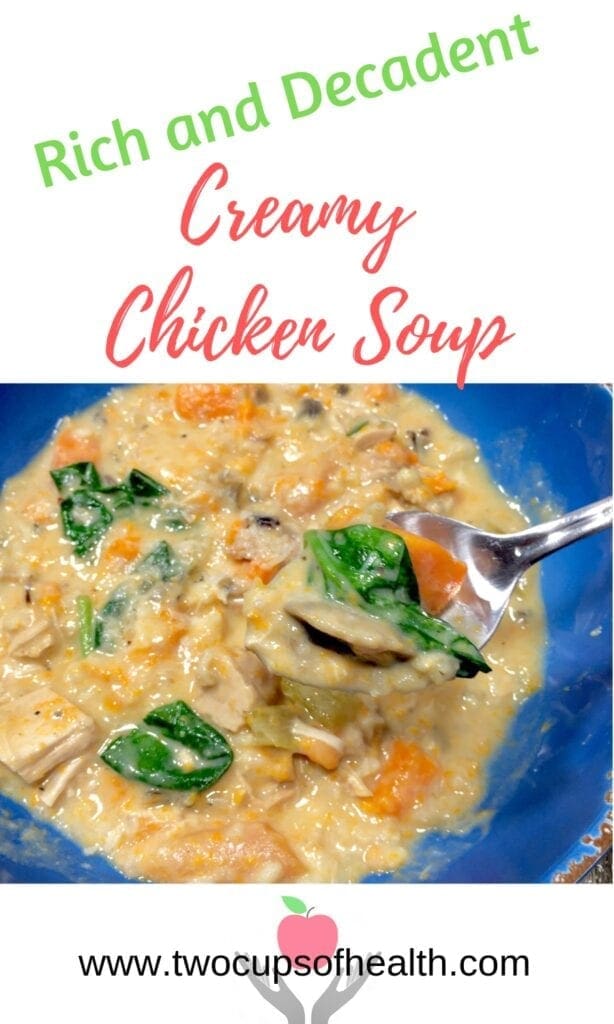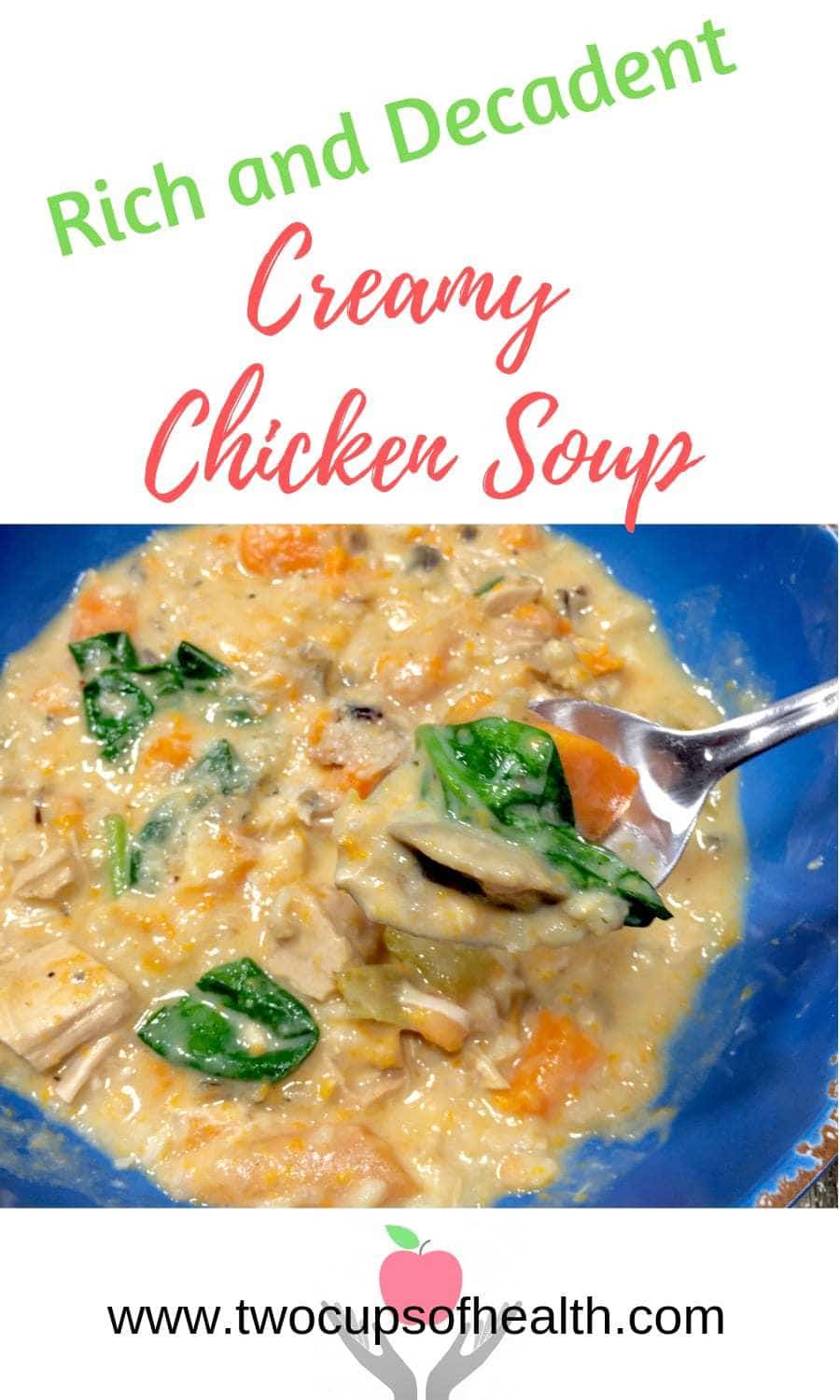 And the thing is, it's so easy to make! 
Yes, there's some prep time. 
But think of it this way: all that chopping is totally therapeutic. In the 10-12 minutes it takes to prep the vegetables, all tensions will be behind you. 
Then all you have to do is let this delicious soup happily simmer for 30 minutes – while you sit down, relax and, if you're into that sort of thing, pour yourself a glass of wine.  
Ingredients of Creamy Chicken Soup
Olive oil:

 

For health especially for heart health
Shallots: For flavor and helps build your immune system
Garlic:

 

For health – it helps to lower blood pressure, among other things
Carrots: Super high in vitamin C and it's great for your skin and hair
Celery: Calming and lowers blood pressure
Mushrooms:

 

For absolute flavor and they relieve tension
Sweet Potato:

 

High in vitamin C and so good for your heart
Chicken:

 

For flavor and substance
Wild rice/Brown rice mixture:

 

For flavor, plus it helps fight diabetes
Chicken broth:

 

Manischewitz Low Sodium Chicken Broth

 

Salt, pepper, thyme, bay leaf:

 

For perfect flavor
Flour: Wondra, to bind the cream sauce
Milk: Low fat milk for a healthier sauce
Spinach:

 

For color, taste and another winner with high vitamin C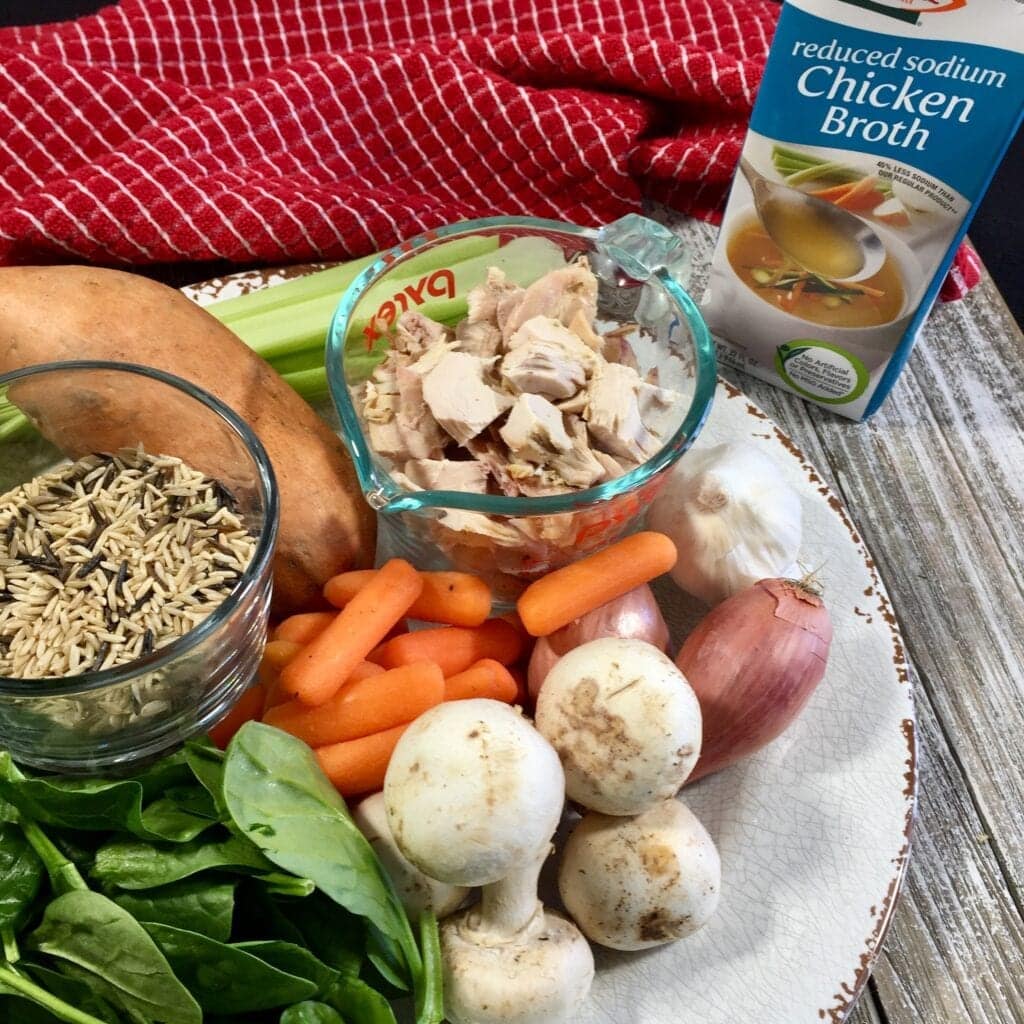 How to Make Creamy Chicken Soup

 
To begin, add the olive oil, shallots and garlic to a soup pot over medium high heat.
Stir and let it cook for a moment before you add the rest of the vegetables, then let them cook 2-3 minutes more to caramelize them a bit. 
It makes a big difference. You'll get a richer taste with this step.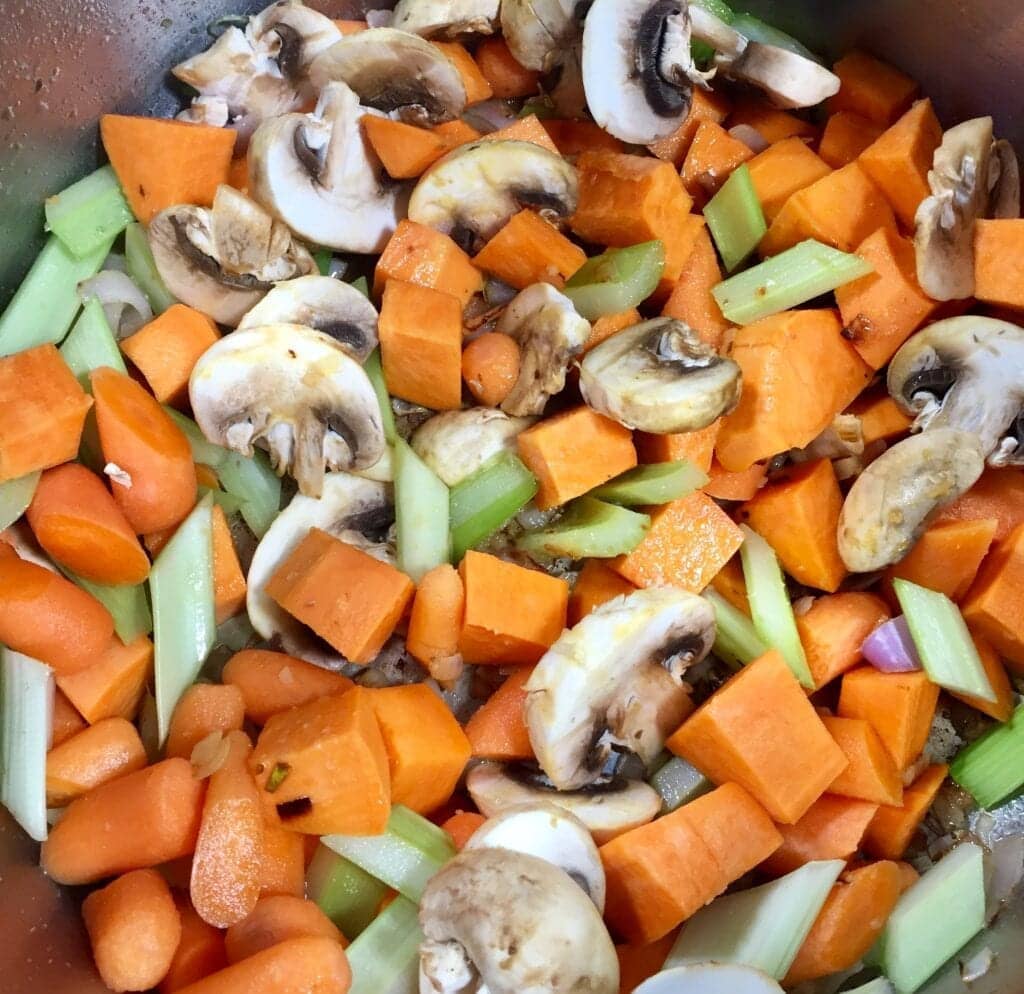 Then add in the chicken, the uncooked rice, chicken broth and the spices. 
Salt and pepper go without saying, but the thyme and the bay leaf really add to the flavor.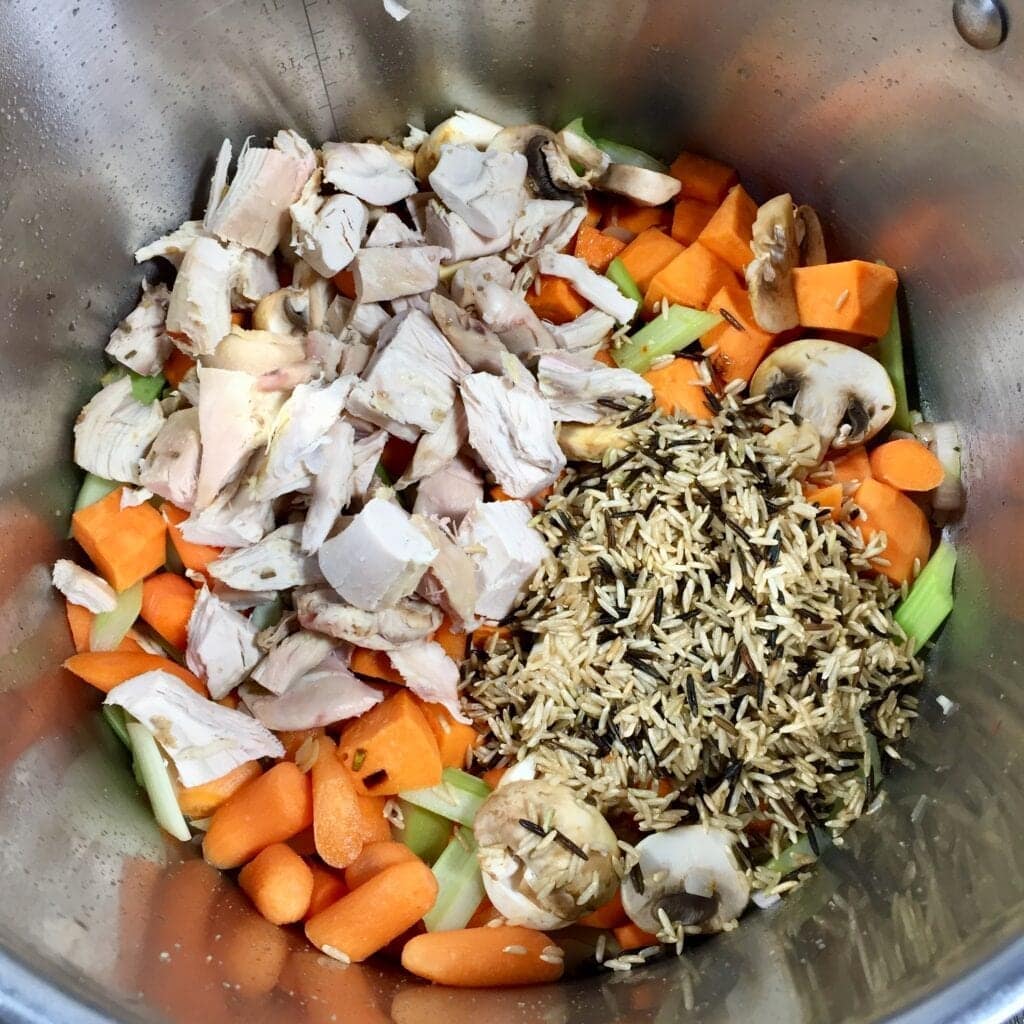 Now, turn the heat to low and let it simmer a bit, about 30 minutes.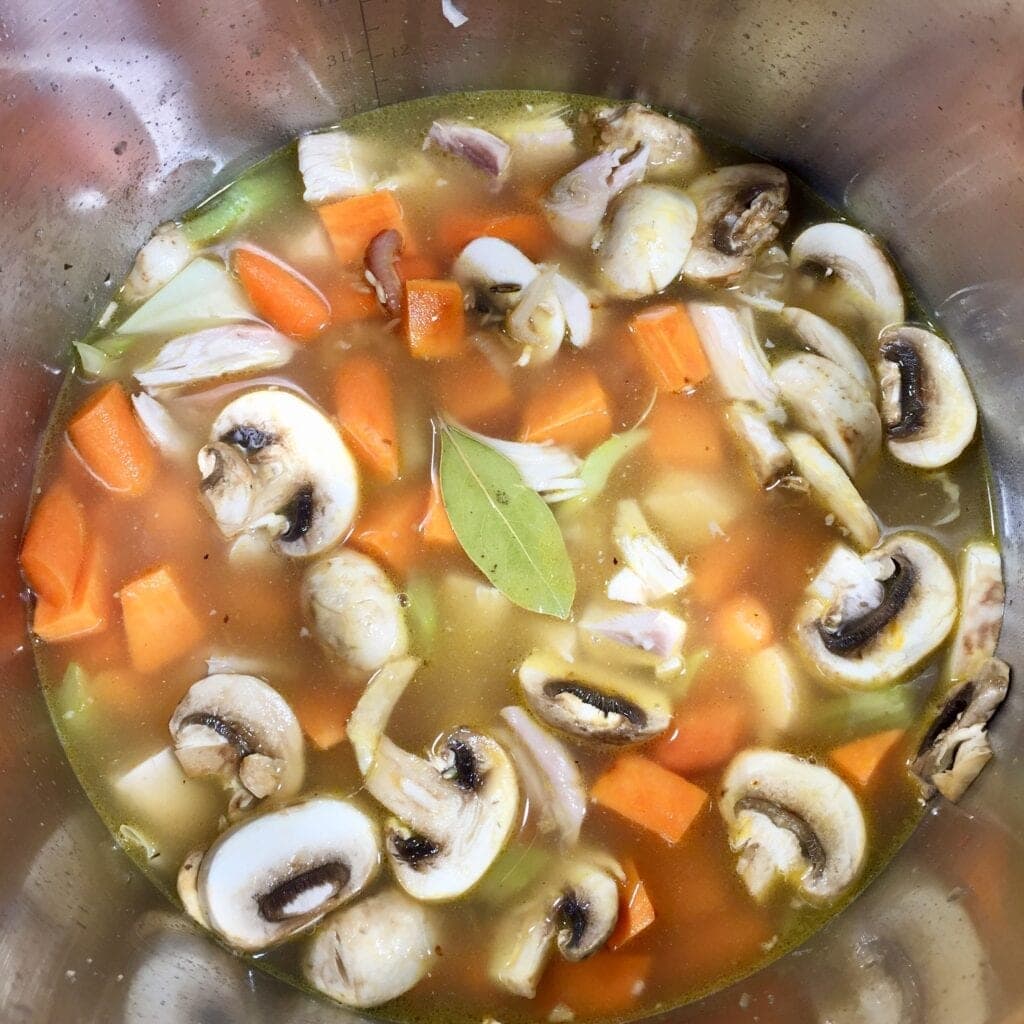 Then, in a sauce pan over medium high heat, add butter and stir until it begins to foam. Add the flour.  Keep stirring to be sure the flour doesn't burn, then add in the milk. As you stir, the cream sauce will thicken.  
At this point, remove the bay leaf from the simmering soup and stir in the cream sauce.  
The final step is to add in the spinach and stir it just until it wilts. It will be beautifully bright green and the perfect texture.  
After ladling it into serving bowls, I like to finish this soup with a little chopped parsley and a sprinkle of Parmesan cheese.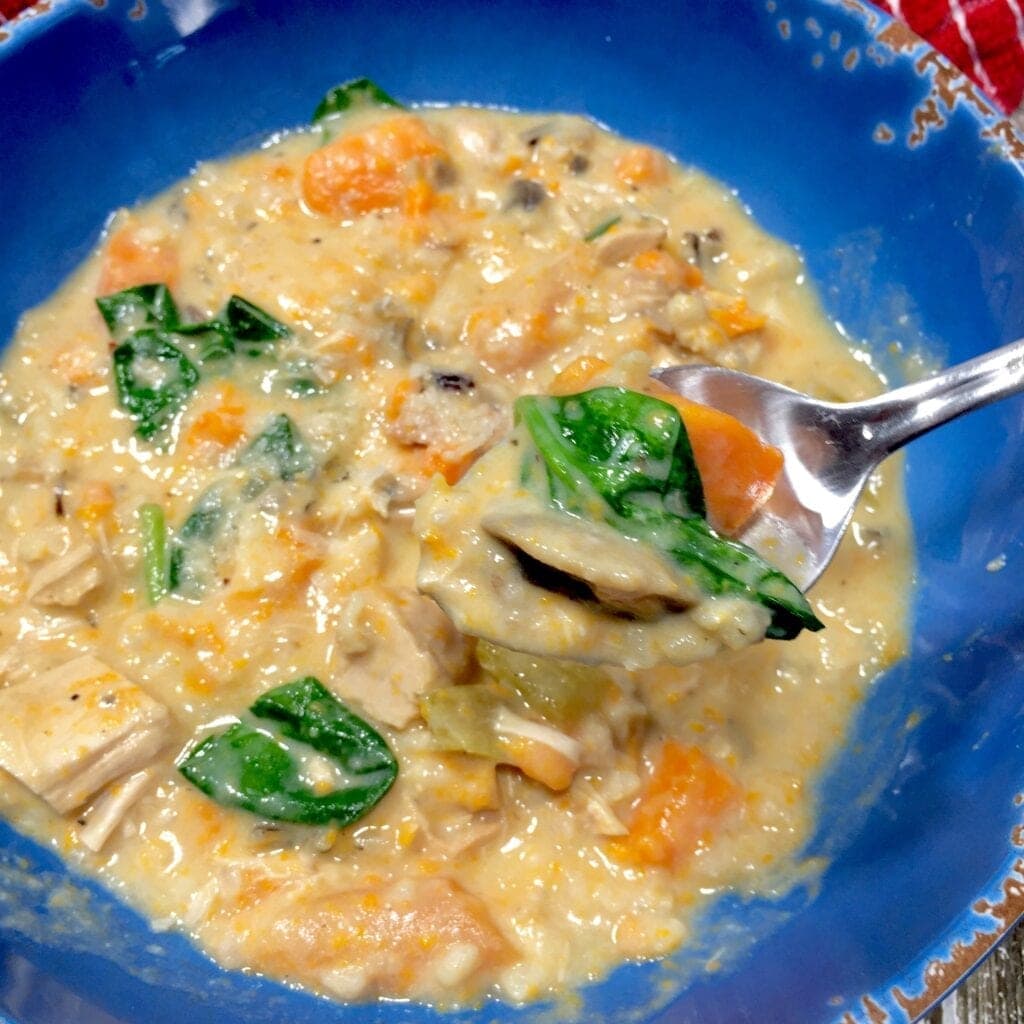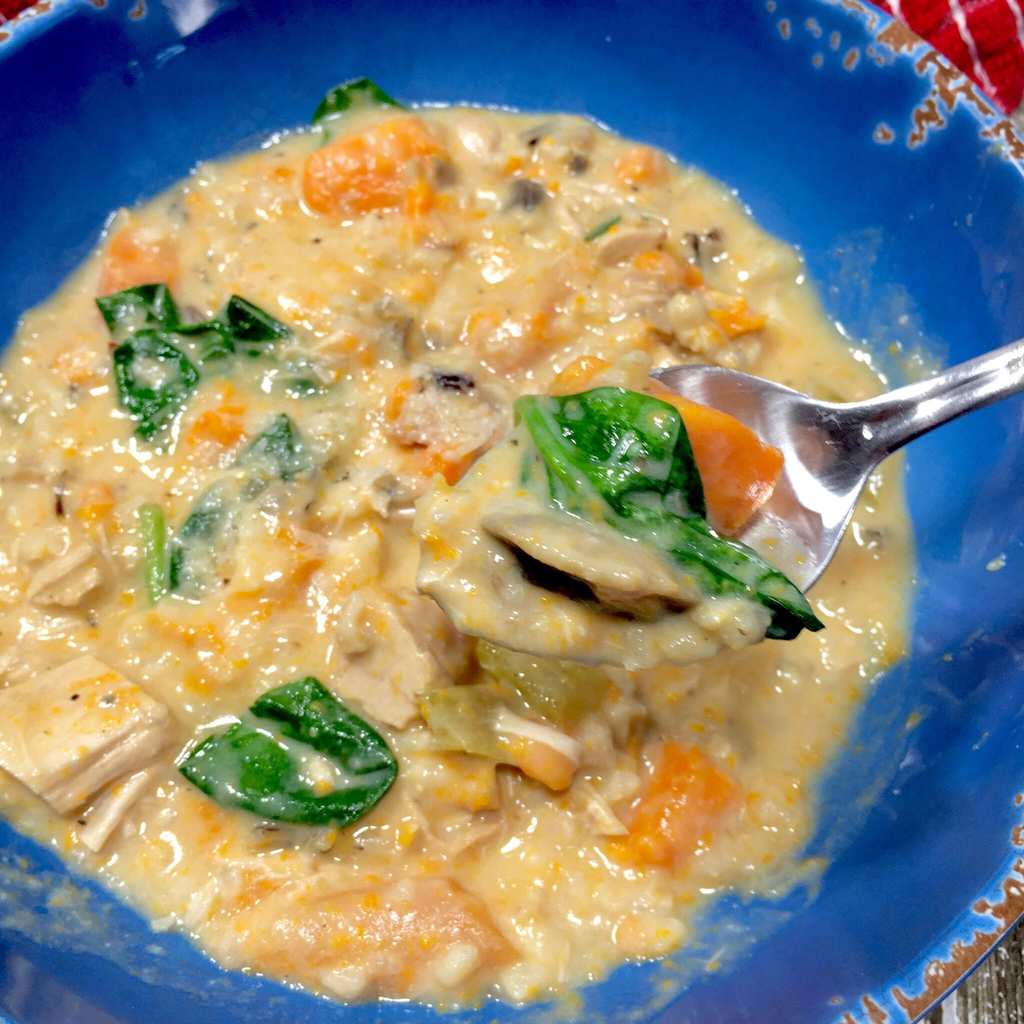 A Note About the Ingredients
Great soups almost always start with a Mirepoix – a wonderful combination of onions, celery and carrots  that combine for perfect flavor.
I've tasted a lot of different of packaged chicken broths and I have to say Manischewitz Low Sodium Chicken Broth stands out as the closest I've found to homemade taste. 
Finally, the health information on these ingredients comes from my book Natural Healing Foods.  This was a 2 year research project from universities throughout the world and it was truly eye-opening on how food and herbs are beneficial to fight various illnesses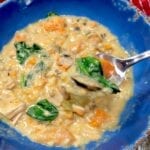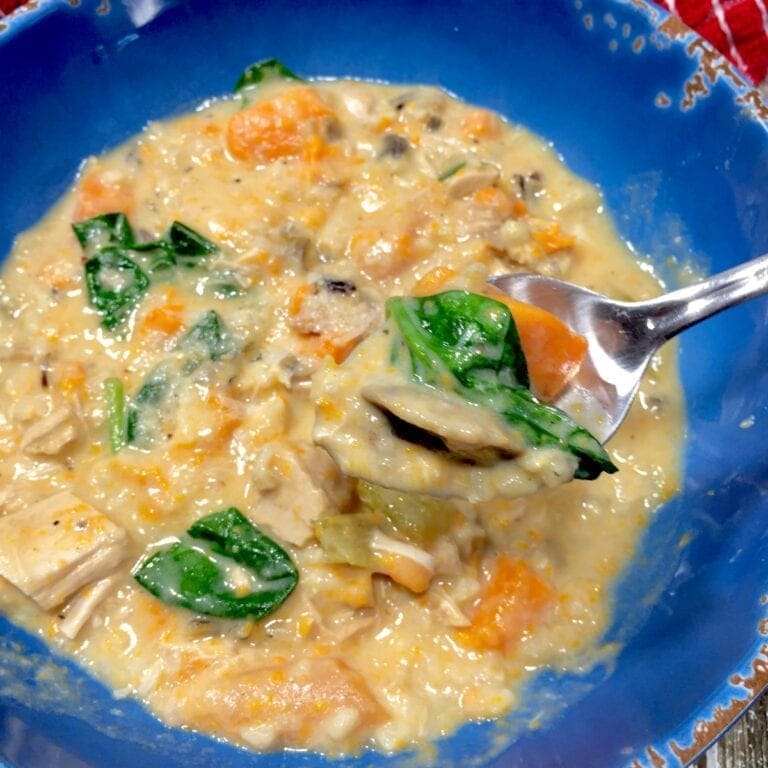 Print Recipe
Creamy Chicken Soup
This Creamy Chicken Soup recipe is a total meal in a bowl packed with healthy vegetables and wild rice. Rich, decadent and totally delicious.
Ingredients
1

Tbsp

Olive oil

2

Med

Shallots

Diced

2

Cloves

Garlic

Minced

2

Medium

Carrots

Peeled and diced

3

Celery stalks

Diced

8

Large

Mushrooms

Sliced

1

Medium

Sweet Potato

Peeled and diced

1

Cup

Cooked chicken

Diced

1/2

Cup

Wild rice brown rice mixture

4

Cups

Low Sodium Chicken Broth

Prefer Manischewitz

1/2

Tsp

Salt

1/2

Tsp

Pepper

1/2

Tsp

Thyme, dried

1

Bay leaf

2

Tbsp

Flour

Prefer Wondra

3/4

Cup

Milk

Low fat

2

Cups

Baby spinach
Instructions
In a large soup pot over medium high heat add olive oil, onions and garlic. Allow to cook 1-2 minutes.

Then add celery, carrots, mushrooms, sweet potatoes, chicken and rice. Add in chicken broth, salt, pepper, thyme and the whole bay leaf.

Reduce heat, cover and allow to simmer 30 minutes.

Add butter to a saute pan over medium heat. Stir in flour and allow to cook 1-2 minutes. Then add milk and continue to stir until sauce thickens. At this point, this will be a thick white sauce.

Remove bay leaf from soup and add the white sauce. Stir until incorporated.

Finally add the spinach and stir until wilted.

Serve immediately. Optional top with chopped parsley and a sprinkle of grated Parmesan cheese.
Nutrition
Calories:
176
kcal
|
Carbohydrates:
27
g
|
Protein:
8
g
|
Fat:
4
g
|
Saturated Fat:
1
g
|
Cholesterol:
3
mg
|
Sodium:
315
mg
|
Potassium:
629
mg
|
Fiber:
3
g
|
Sugar:
5
g
|
Vitamin A:
9820
IU
|
Vitamin C:
6.5
mg
|
Calcium:
81
mg
|
Iron:
1.6
mg
If you liked this recipe, please send me a photo and be sure and pin this on Pinterest!
For Similar Recipes:
Mediterranean Lemon Chicken Soup
Chicken Udon Soup with Vegetables
Want Easy, Delicious Recipes Delivered Fresh to your Inbox?