This comforting Chicken Dumpling Soup, packed with flavor, is such an easy soup to make and it absolutely beats take-out!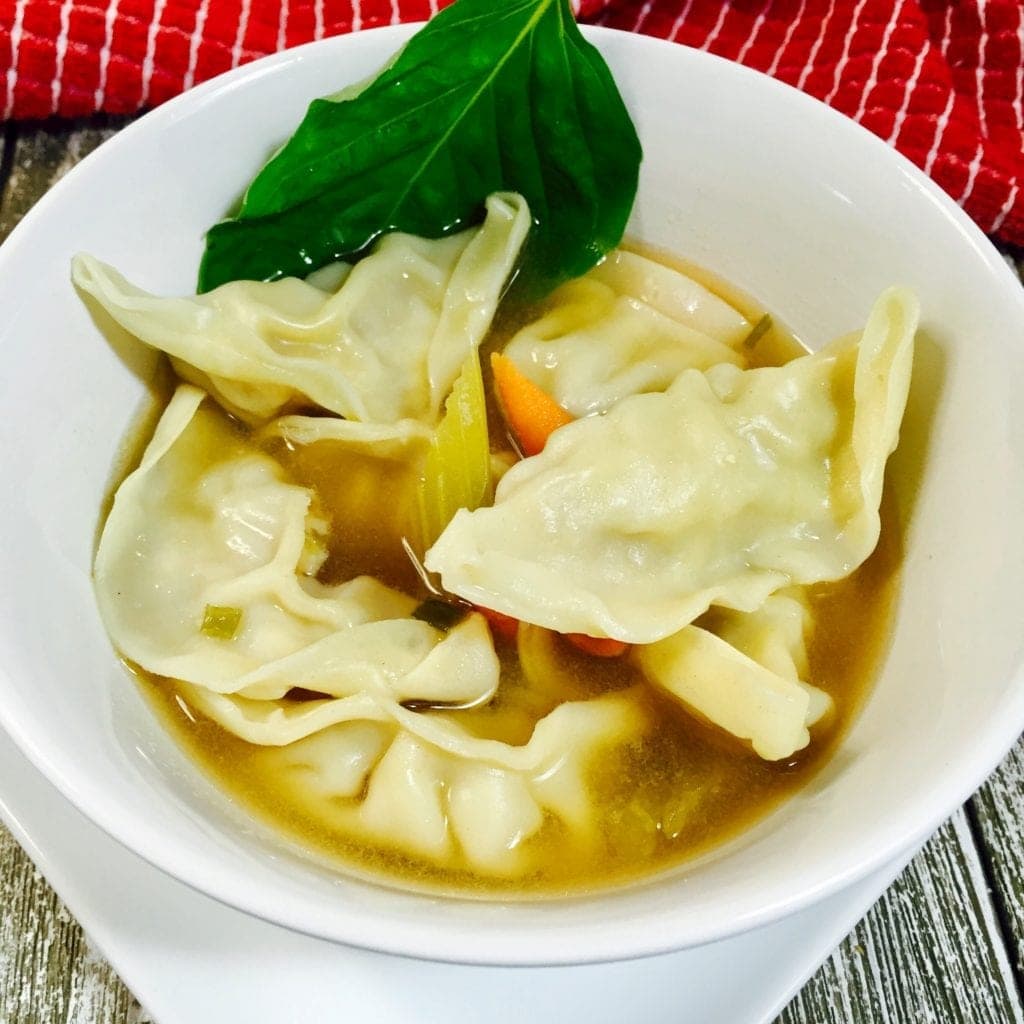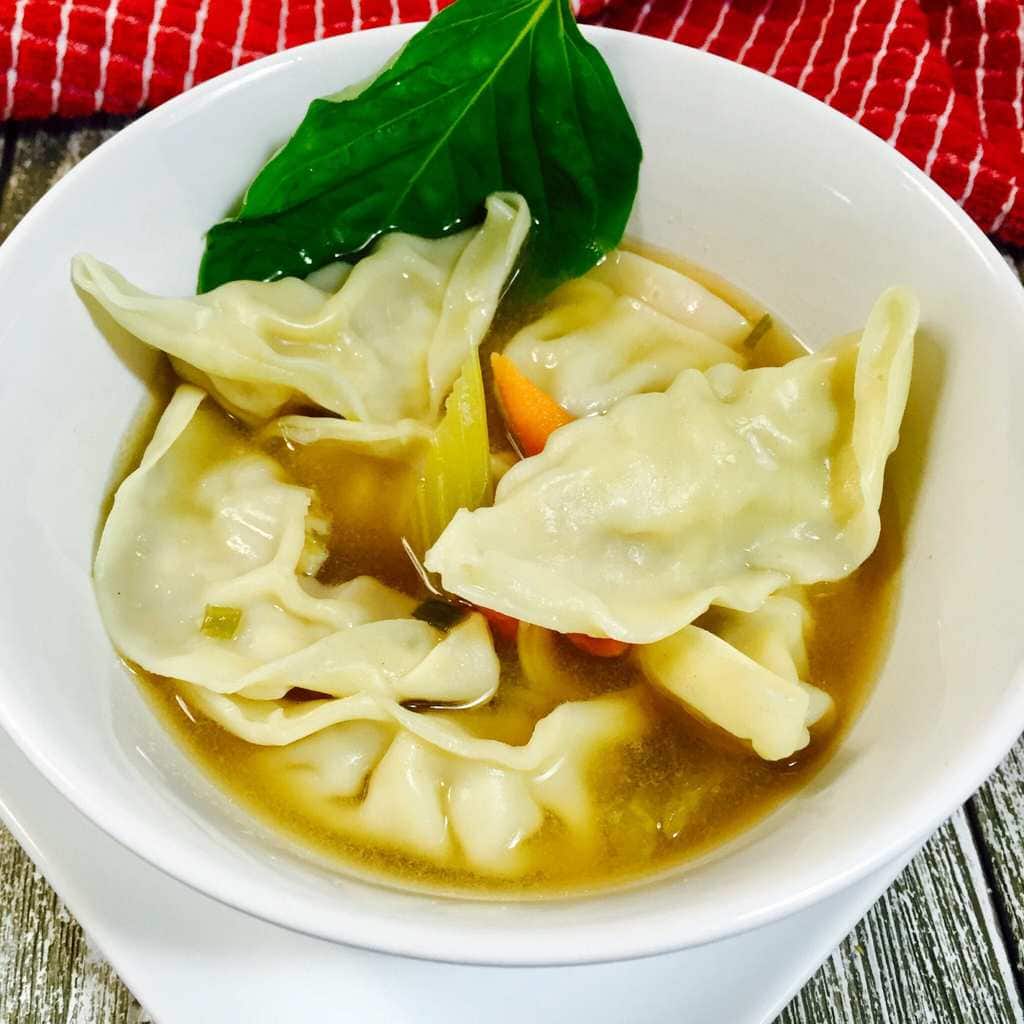 About Chicken Dumpling Soup
When it's cold and rainy my first thoughts turn to comfy warm sweaters, a warm fire and total comfort food. 
Like soup. 
And to me there's no better comfort soup than this chicken soup. 
I think we were all raised on it. But I wanted to kick it up a touch to make it more interesting, so I thought of Chicken Dumpling Soup.
It's hearty and light at the same time.  Plus the flavor is fabulous.  
In this super easy soup I took a shortcut and used frozen dumplings from Trader Joe's.  They're actually really good.  
Not quite the flavor of home made, but still totally delicious.  
And by the way, if you've never made your own dumplings you really should try it sometime. 
It's actually fun. 
Even my husband joined me when we made Easy Pork Dumplings. 
There's a special technique of folding the wonton wrappers and he mastered it even better than I did.  So, when you have more time and would like to make your own, they'll substitute wonderfully.  
But today is the quick version of this easy soup.
Some of the links below may contain affiliate links, meaning, at no additional cost to you, I will earn a commission if you click through and make a purchase.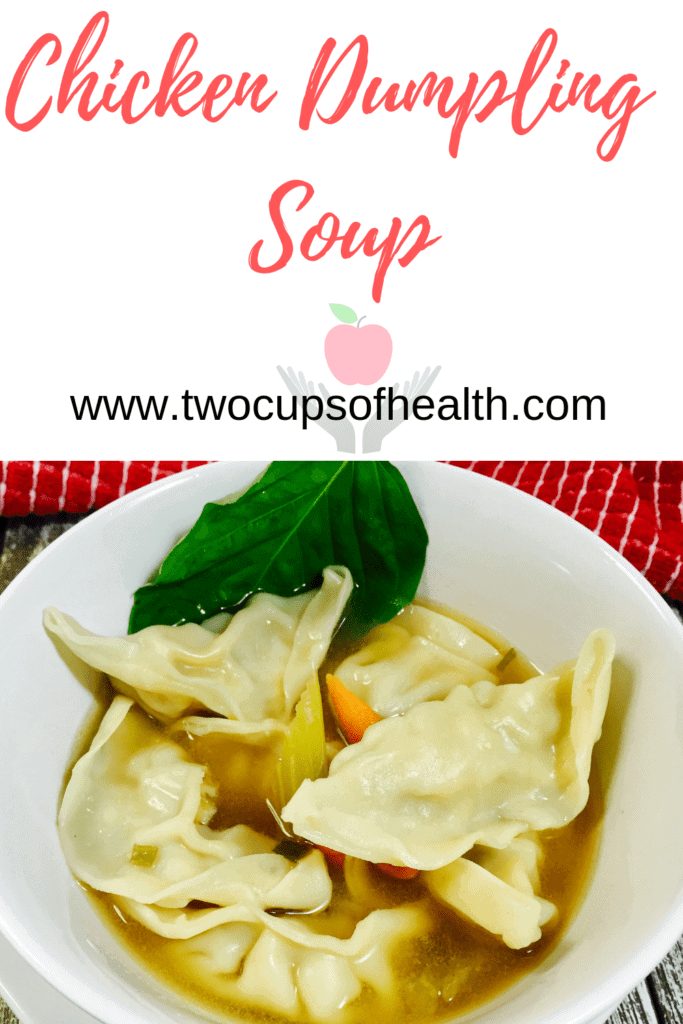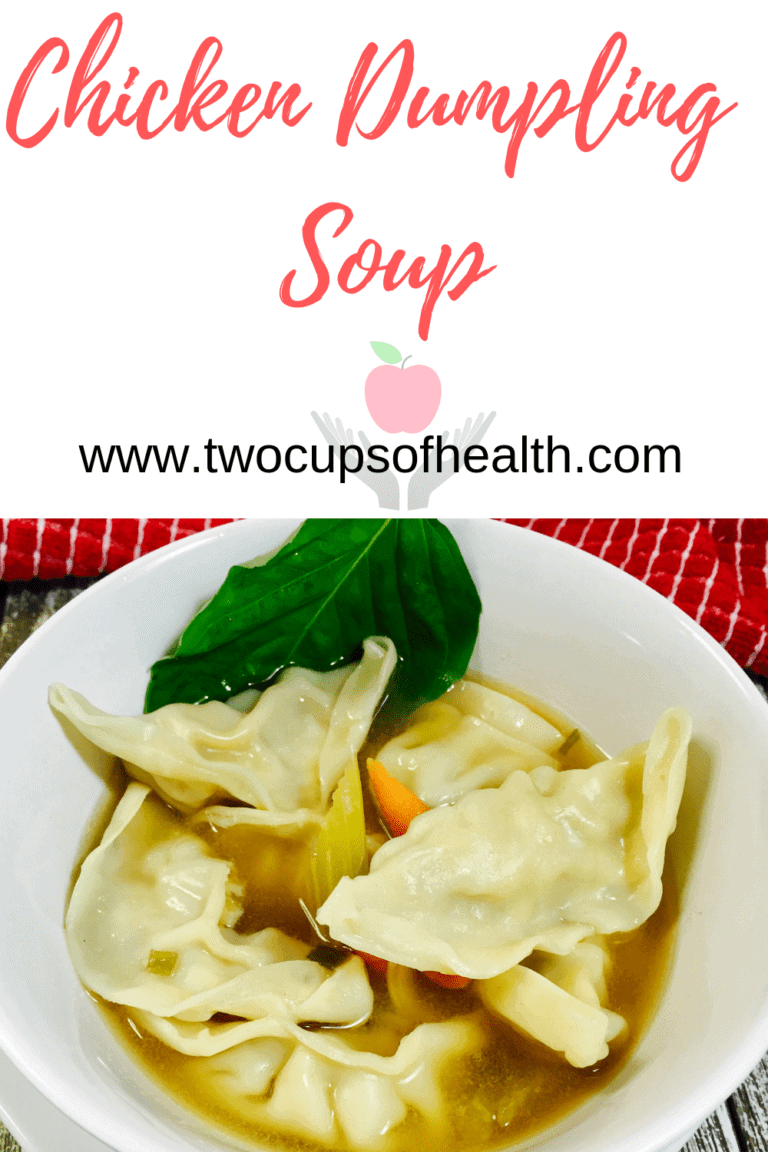 Ingredients:
Olive oil: For Health
Onions: The first step of a Mirepoix. This is the foundation for great soups and sauces.
Celery:

 

The second step of a Mirepoix
Carrots: The third step of a Mirepoix
Ginger:

 

For a fresh tang
Chicken broth: I love and use only Manischewitz Low Sodium

 

Soy Sauce:

 

For the touch of full flavored salt
Mirin: This Japanese rice wine adds just a touch of sweetness
Chinese Black Vinegar: This vinegar is richer, almost malt like
Sesame oil:

 

For a rich nutty flavor

 

Miso: For that Umami richness
Chicken and Vegetable Gzoya Dumplings: Thank you Trader Joe's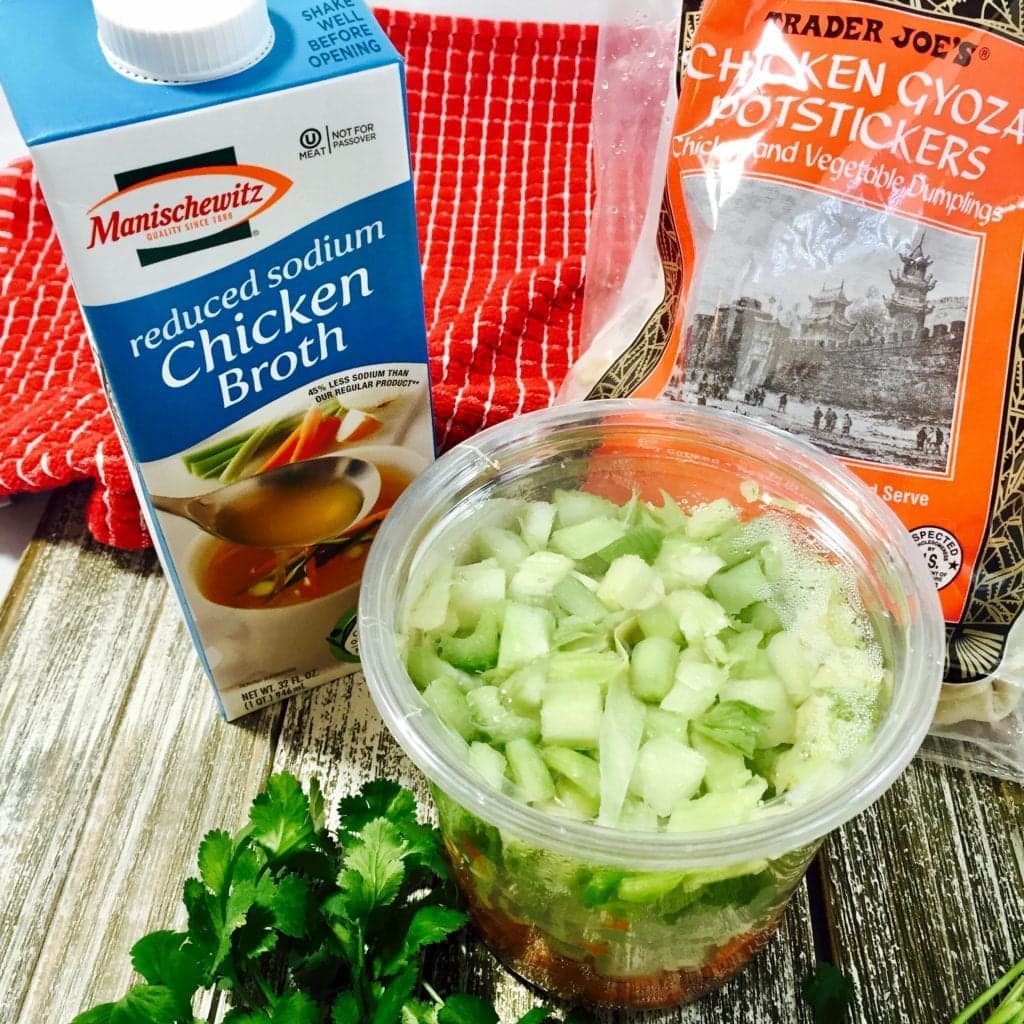 How to Make Chicken Dumpling Soup
Start by adding a little olive oil to a soup pot over medium high heat.  Then add the Mirepoix combination of chopped onions, celery and carrots.  
This recipe calls for 1/3 cup of each but if you want to save even more time while you're at Trader Joe's, pick up their Mirepoix already chopped for you.  
No, I have no affiliation with Trader Joe's, I just love them.  The groceries are great and I have no idea how they do it but they always seem to hire the friendliest people in the world. 
Just cook that Mirepoix until the vegetables begin to caramelize, about 3-4 minutes.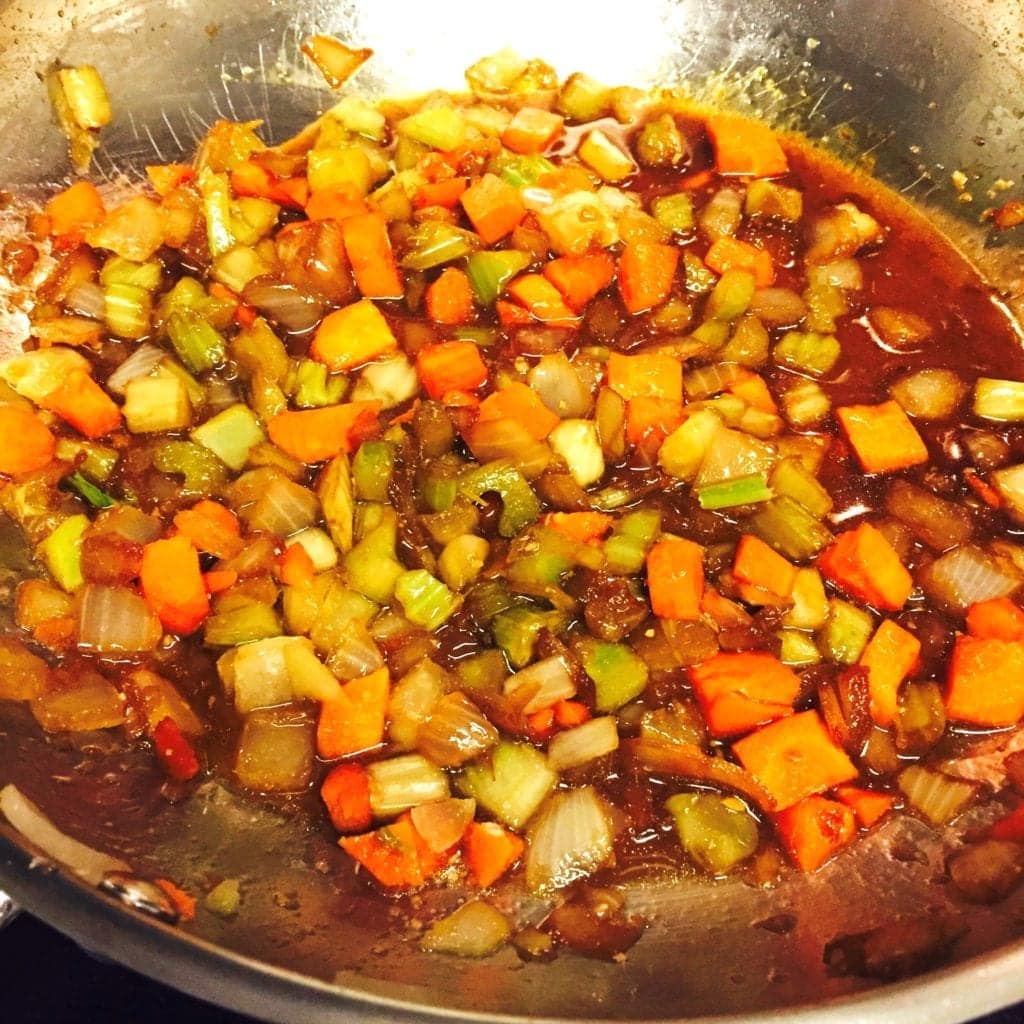 Then add in the chicken broth along with the Mirin, Sesame oil, Miso and Chinese Black Vinegar.  By the way, if you don't have Chinese Black Vinegar, you can substitute Balsamic Vinegar.  The Black Vinegar just has a different richer taste.  
At this point, just allow the soup to keep cooking to blend  the flavors about 5 minutes.  
Then it's time to add in the Gzoya Dumplings.  Cooking them from frozen is fine, just cook another 5 minutes.  
And your super easy soup is finished.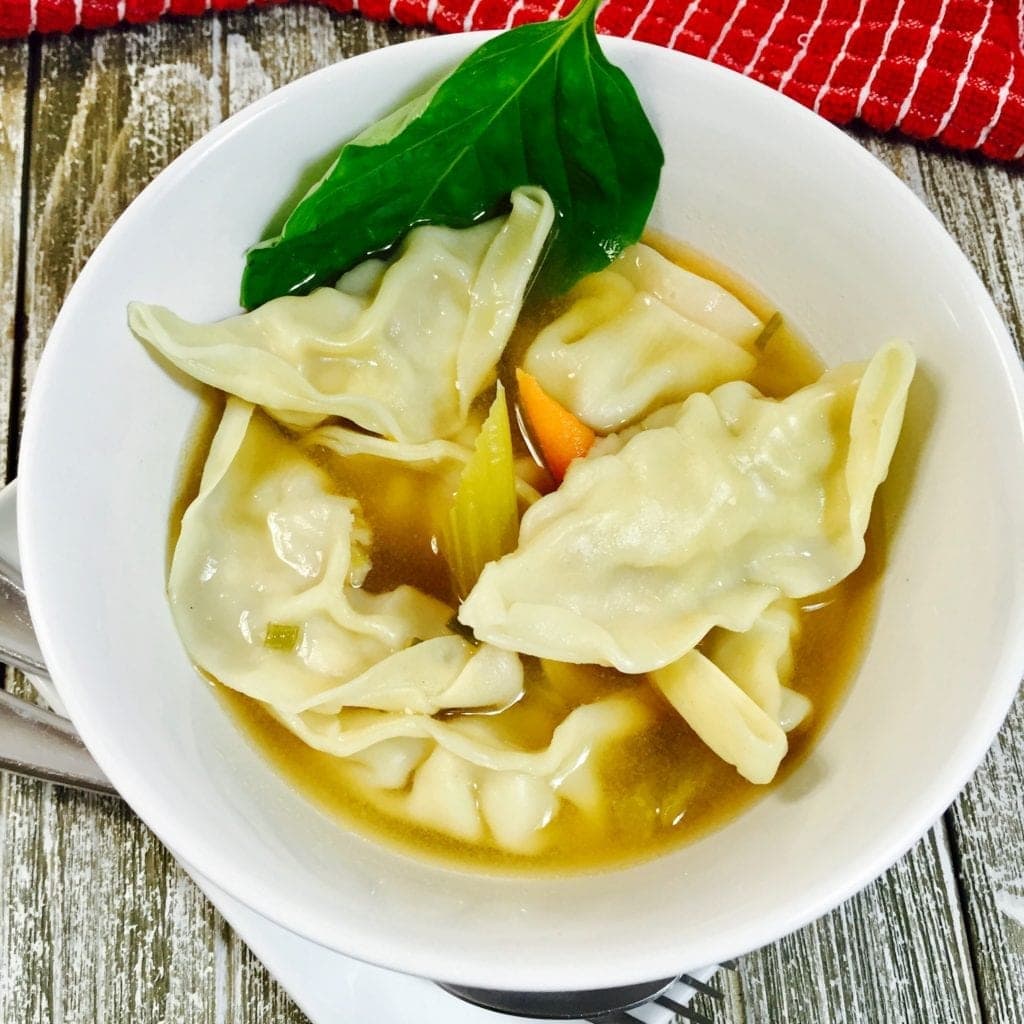 Ladle into bowls and serve.  
If you like this recipe please leave a comment below and be sure and pin this on Pinterest!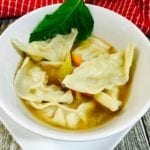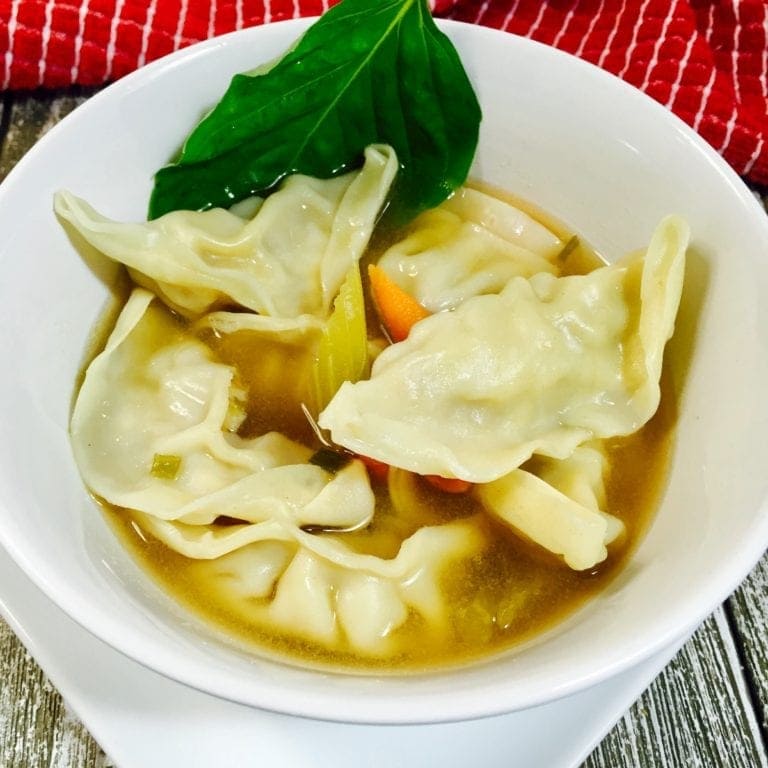 Print Recipe
Chicken Dumpling Soup
This comforting Chicken Dumpling Soup, packed with flavor, is such an easy soup to make and it absolutely beats take-out!
Ingredients
2

tsp

Olive oil

1/3

Cup

Onions

Chopped

1/3

Cup

Celery

Chopped

1/3

Cup

Carrots

Chopped

1

tsp

Minced ginger

8

Cups

Low Sodium Chicken Broth

Prefer Manischewitz

2

tsp

Light sodium soy sauce

2

Tbsp

Mirin

1

Tbsp

Black Chinese vinegar

Balsamic vinegar can substitute

1

tsp

Sesame oil

1

tsp

White miso

24

Frozen chicken dumplings

Trader Joe's Gzoya
Instructions
Add olive oil in a soup pot and turn heat up to medium high. Add in the chopped onions, celery, carrots and ginger and saute for 3-4 minutes until lightly caramelized.

Add in chicken broth, Mirin, sesame oil and Miso. Allow to cook for about 5 minutes.

Ladle into bowls and serve.
Nutrition
Calories:
426
kcal
|
Carbohydrates:
61
g
|
Protein:
17
g
|
Fat:
14
g
|
Saturated Fat:
2
g
|
Cholesterol:
5
mg
|
Sodium:
923
mg
|
Potassium:
481
mg
|
Fiber:
3
g
|
Sugar:
9
g
|
Vitamin A:
1820
IU
|
Vitamin C:
14.8
mg
|
Calcium:
72
mg
|
Iron:
3
mg
For similar recipes:
Chicken Udon Soup with Vegetables