Sauteed Scallops with Mango Slaw is a perfect dish for anytime of the year.  It's light, the texture is creamy and crunchy and it's absolutely delicious.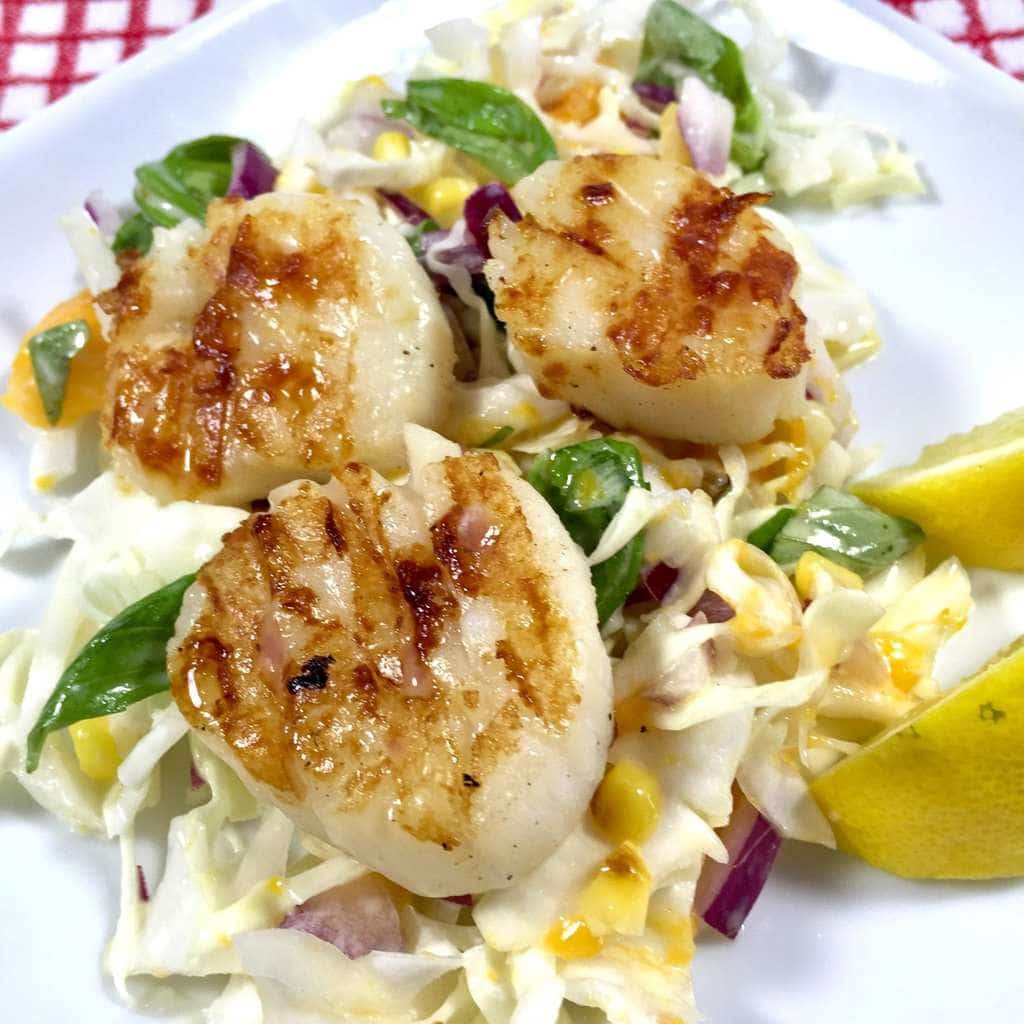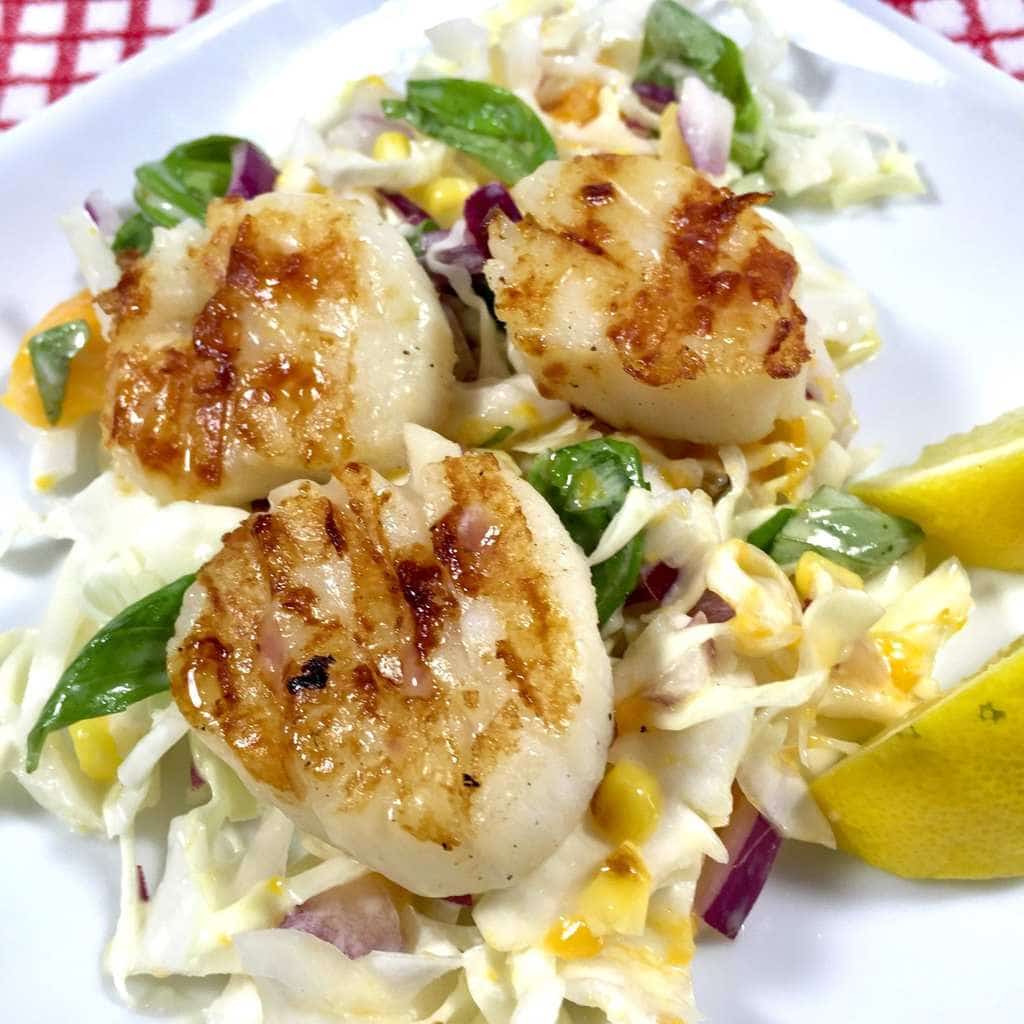 How to Make Sautéed Scallops With Mango Slaw
The secret to Sautéed Scallops with Mango Slaw is to be sure the mango ripens to just the perfect stage. Too early and it really doesn't have much flavor. Too late and the mango turns to browned mush. Not attractive at all. But just at the right stage, it's deeply golden, soft, sweet,  juicy and well…perfect.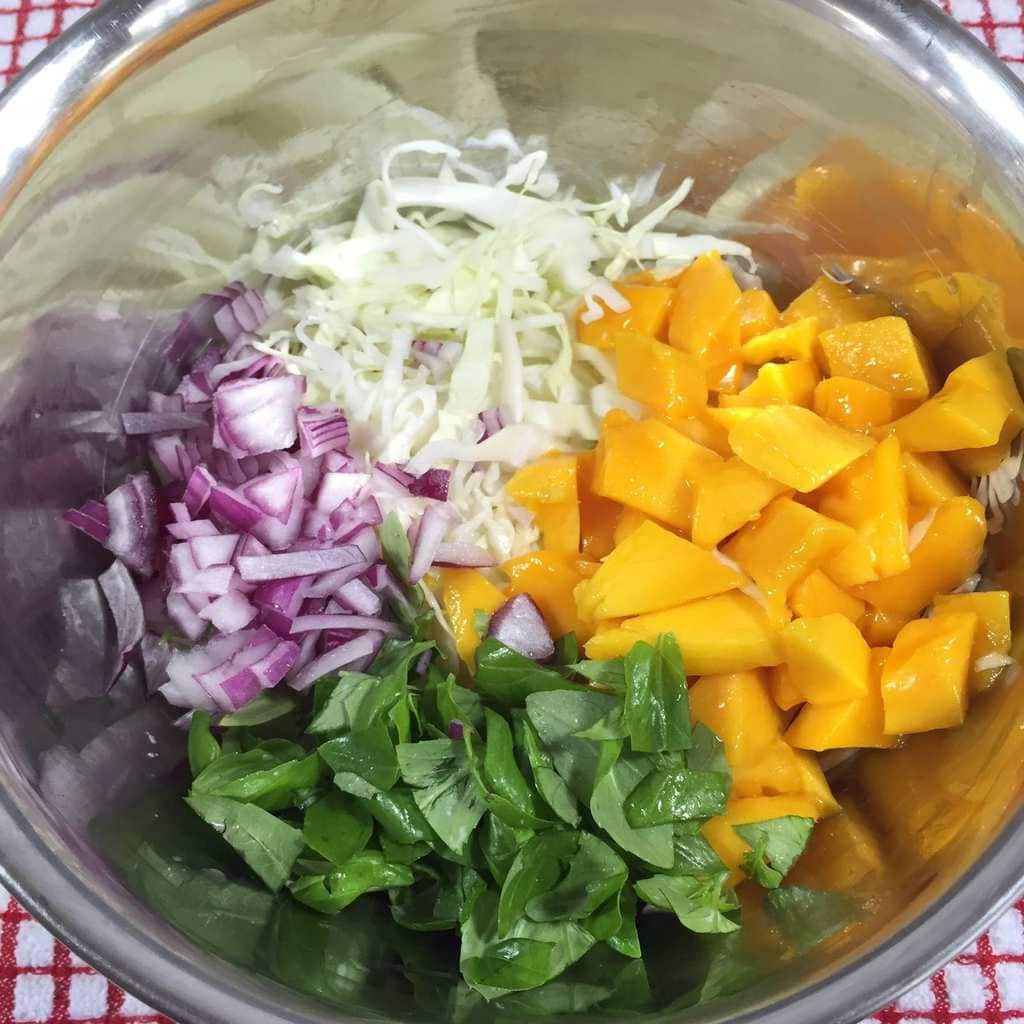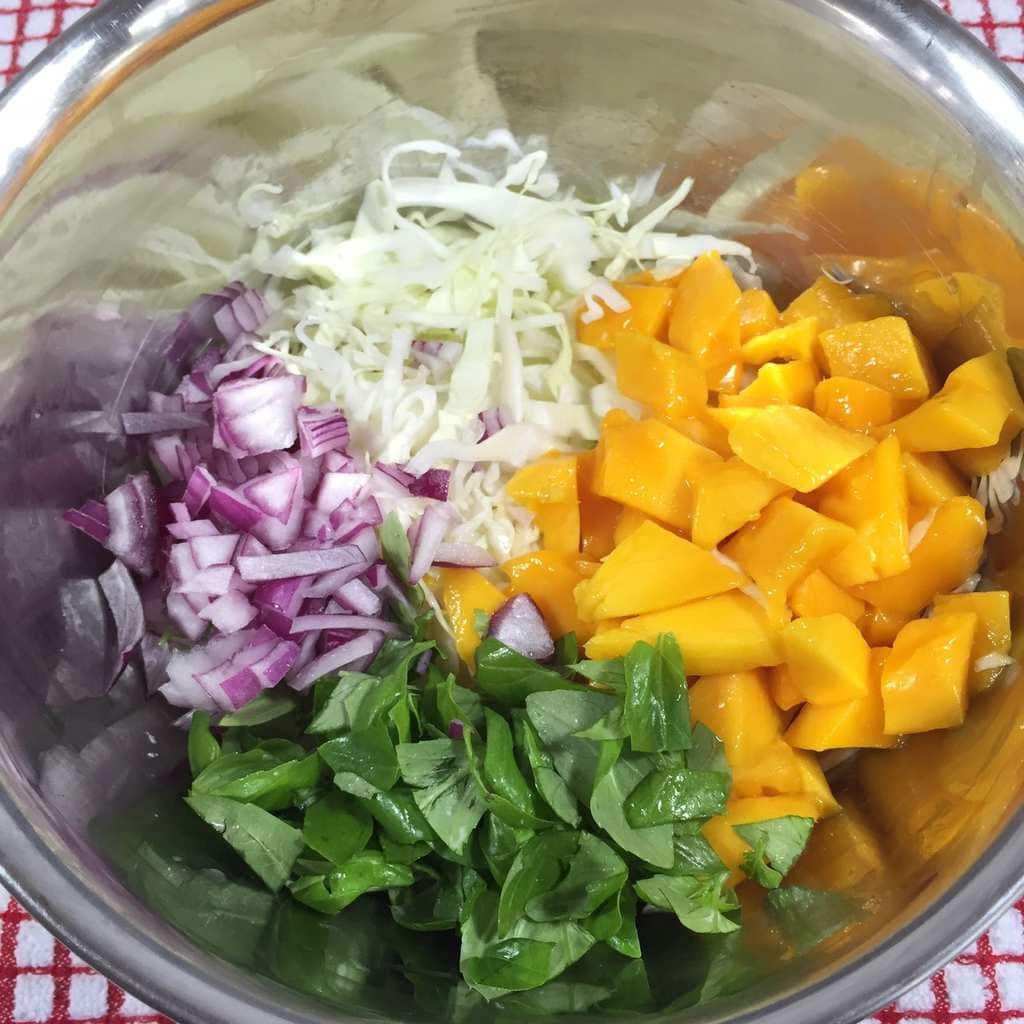 Coleslaw by itself can be terrible or great. Terrible…. when the chopped cabbage is so slathered in sauce that it's mushy and all you taste is the sauce, which is often way over sweetened. Great… when the cabbage is crispy and crunchy and is just lightly sauced. Plus, more than just cabbage, great coleslaw needs some interesting ingredients.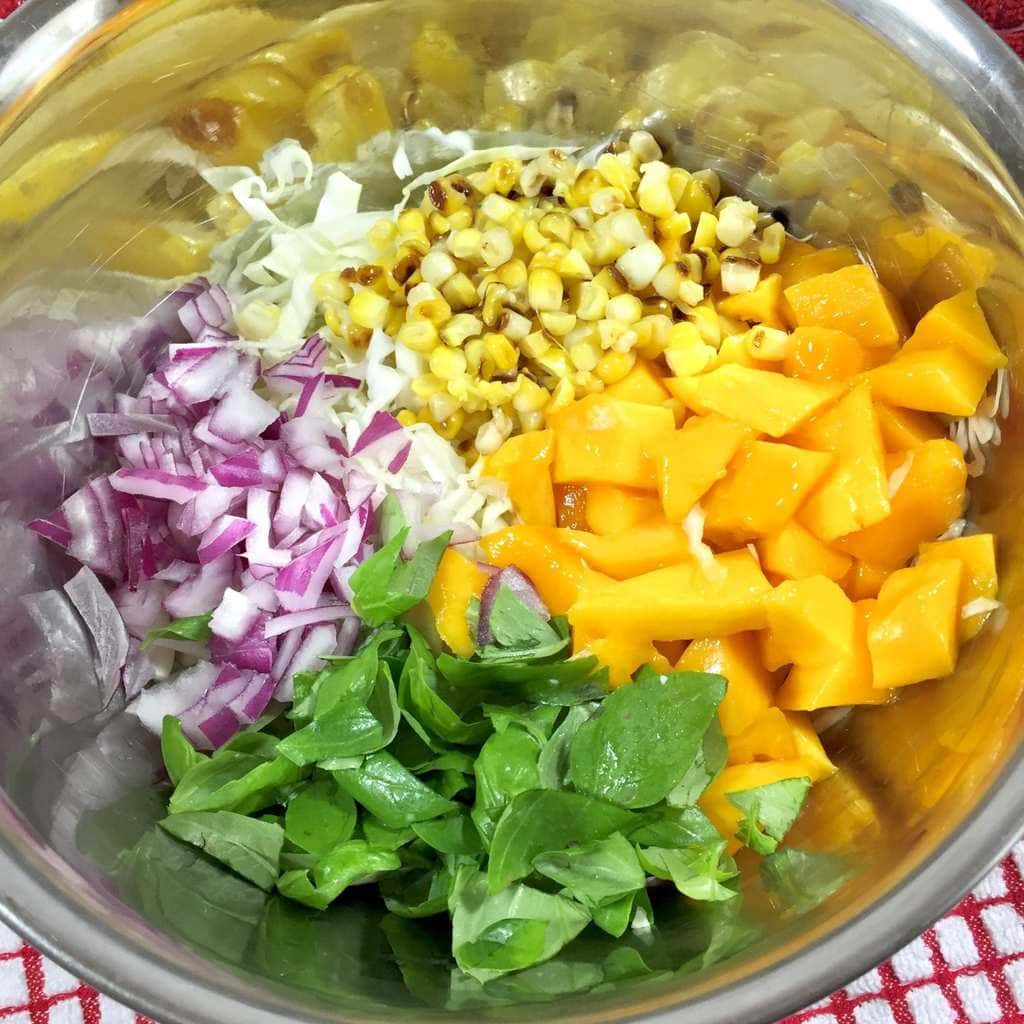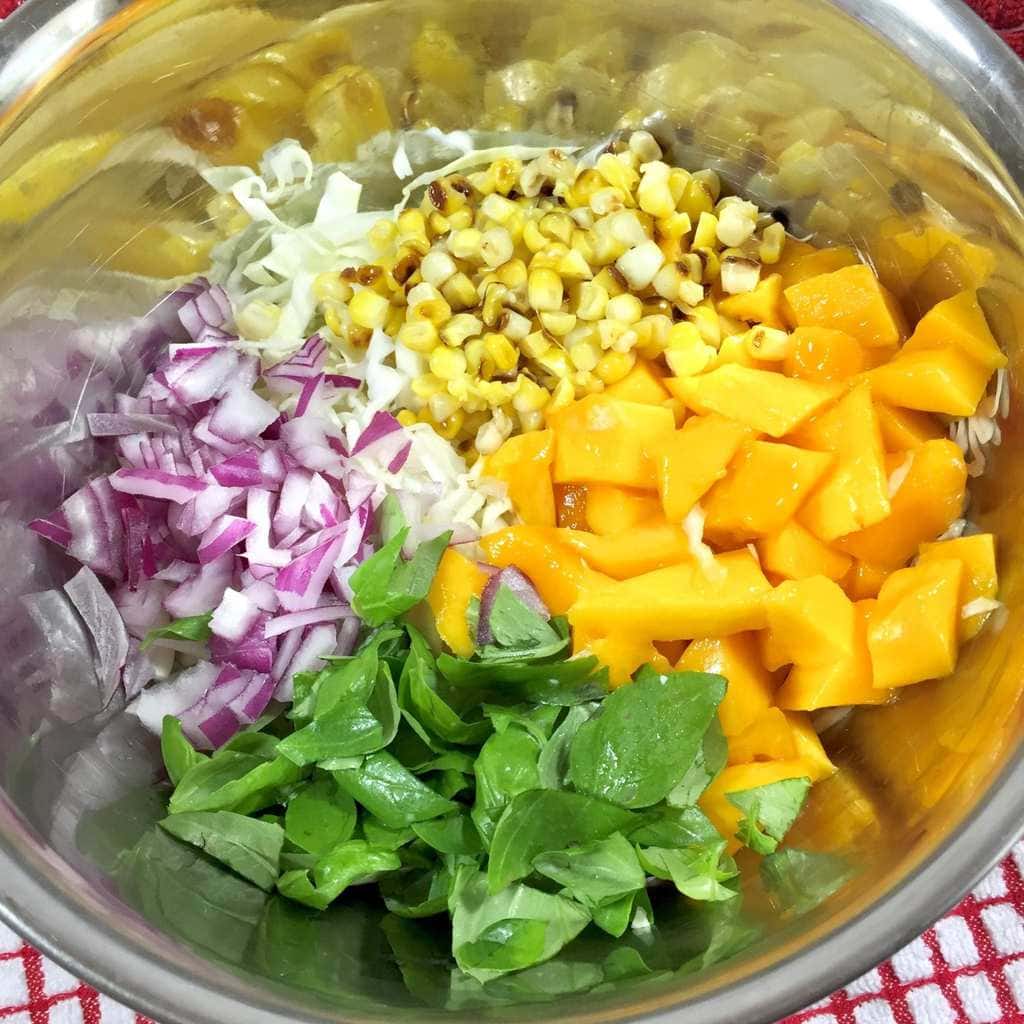 The mango of course is a perfect addition. Crunchy cabbage with soft, sweet mango. But it also needs a little zing and that means some red onion. Then because of the roasted, smoky flavor and the color, I thought roasted corn kernels would be perfect, as well as the fresh taste of basil.
And finally the sauce. A creamy sauce that's well balanced. Creamy often means mayonnaise so I started with that. Not much but just enough. Then I added some honey because they go perfectly together. But it also needed a balance of tang, so some vinegar was added, as well as some lemon juice.
Now to finish this dish, the sea scallops are sautéed. Jumbo sea scallops are so easy to make. All they need is a little salt and pepper on each side and they only take about 4-6 minutes on medium high heat until they beautifully browned and perfectly done. Sautéed Scallops with Mango Slaw.
By the way, mangos are easy to find in the winter. Check this post by the
mango
board.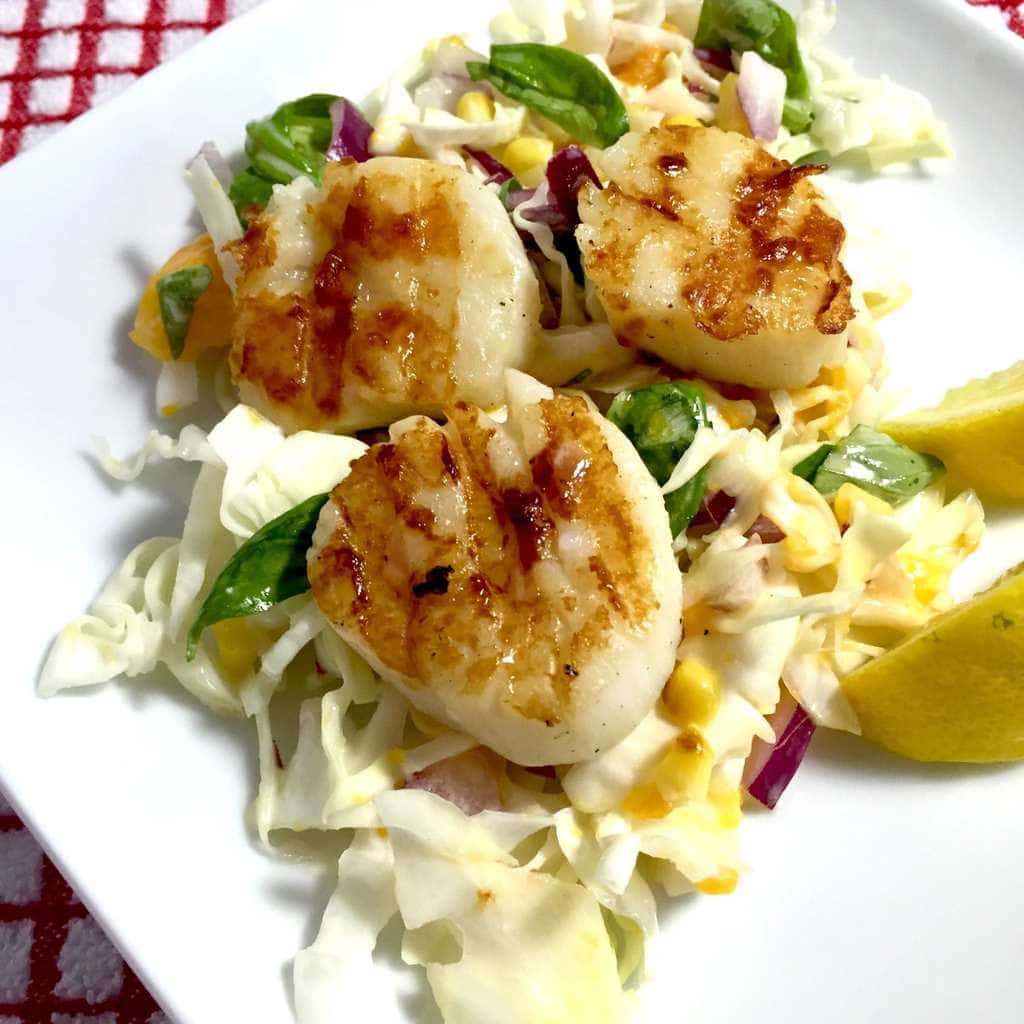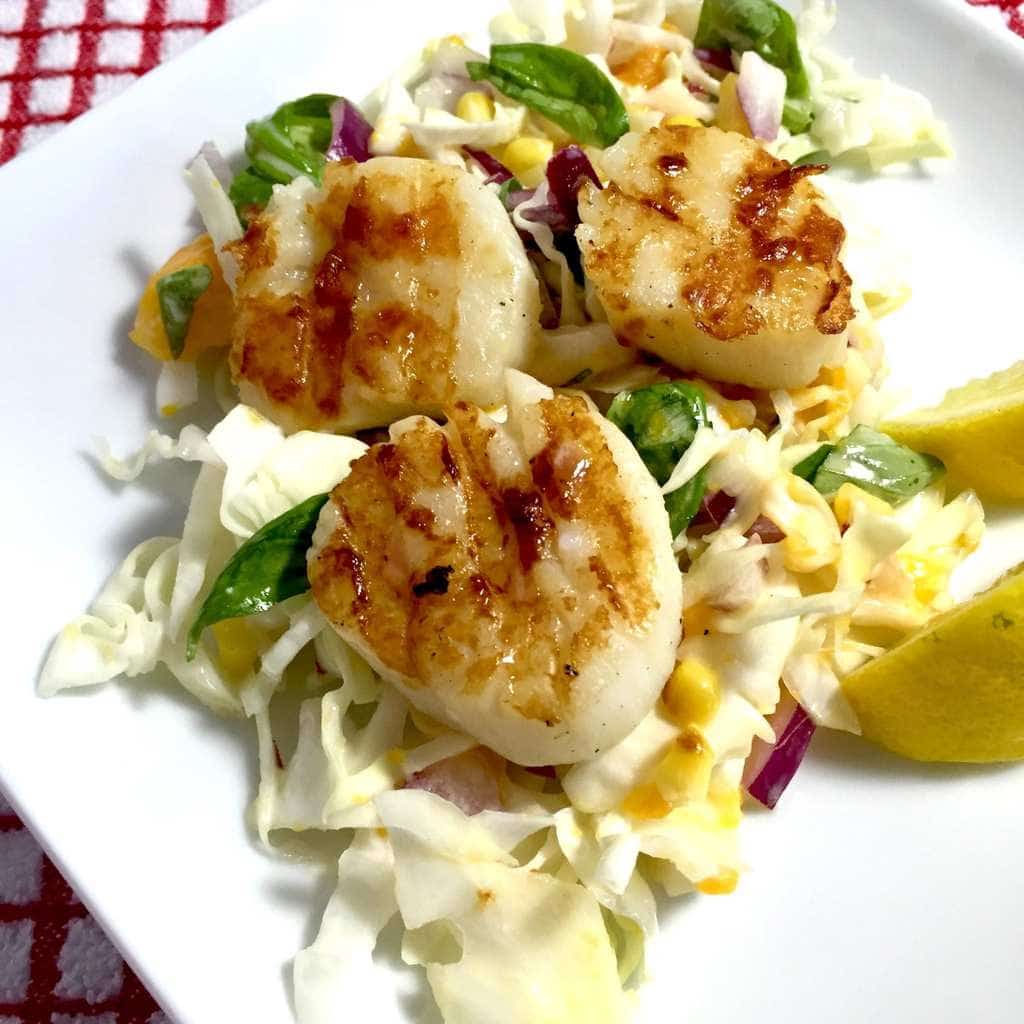 If you like this recipe, please leave a comment below and pin us on Pinterest!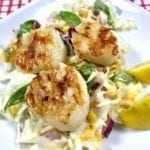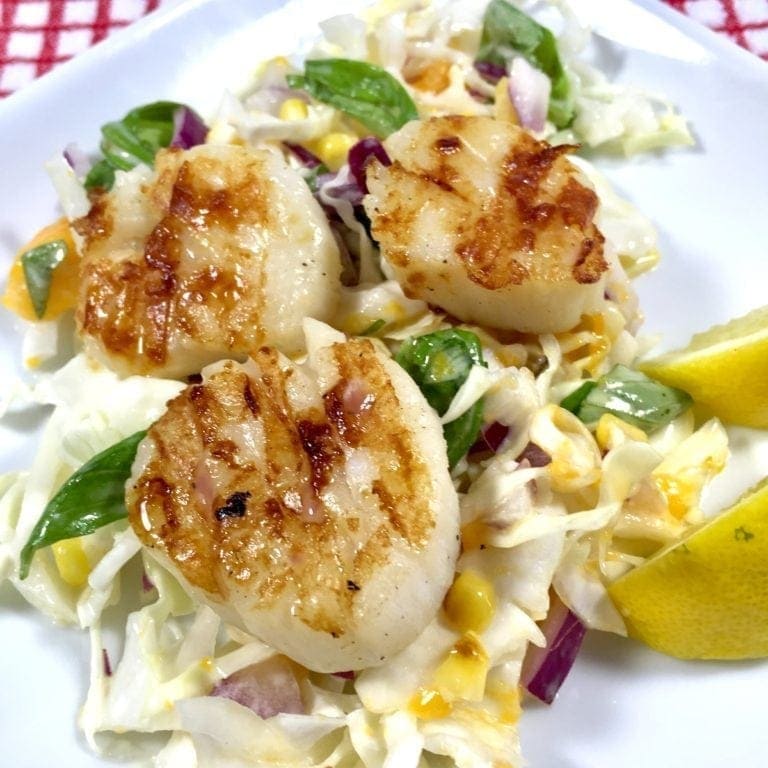 Print Recipe
Sauteed Scallops with Mango Slaw
Sauteed Scallops with Mango Slaw is the perfect Summer dish. The tangy crisp texture of the coleslaw combines wonderfully with the rich taste of the scallops.
Ingredients
2

Tbsp

Mayonnaise

Light

1

Tsp

Vinegar

1

Tsp

Honey

1/2

Lemon

Juiced

1/4

Tsp

Salt

2

Cups

Cabbage

Shredded

1

Mango

Diced

1/2

Cup

Roasted corn kernels

To save time I used Trader Joe's Roasted corn kernels.

1/2

Small

Red onion

Diced

1/4

Cup

Basil leaves

1 1/2

Tsp

Olive oil

1/8

Tsp

Pepper

6

Jumbo sea scallops
Instructions
In a large bowl add mayonnaise, vinegar, honey, lemon and 1/8 tsp salt. Stir to combine.

To same bowl add shredded cabbage, diced mango, corn kernels, diced red onion and basil leaves. Lightly stir to combine sauce with ingredients.

Sprinkle remaining 1/8 salt and pepper over both sides of sea scallops.

In a large frypan over medium high heat add olive oil and place scallops in pan. Leave them undisturbed for 2-3 minutes until browned. Turn scallops over and continue cooking 2-3 minutes longer.

Place half of the Mango Slaw on each serving plate and top each with 3 scallops.
Nutrition
Calories:
210
kcal
|
Carbohydrates:
22
g
|
Protein:
2
g
|
Fat:
14
g
|
Saturated Fat:
2
g
|
Cholesterol:
5
mg
|
Sodium:
392
mg
|
Potassium:
294
mg
|
Fiber:
3
g
|
Sugar:
17
g
|
Vitamin A:
1120
IU
|
Vitamin C:
70.5
mg
|
Calcium:
49
mg
|
Iron:
0.7
mg