Moorea, an island just off Tahiti, is definitely a jewel in the Pacific. We went there because we were in a quest for vanilla, specifically to see how it's grown. Finding our way around this beautiful island  we thought we had taken the wrong turn to find the vanilla plantation, but then there it was. Tahitian Vanilla beans growing on the vine. The pods were long and really gorgeous.
Tahitian Vanilla
Our concern was that perhaps it was closed because there was no one there but us. We could see the vanilla beans growing, so we got out of the car for a closer look when this lovely Tahitian girl came out and welcomed us. We told her we came to see vanilla growing and she said, "Let me show you." She escorted us around her house and into the back yard where the vanilla vines, some with flowers, were growing tall and beautiful on trellises.
I found out later that these flowers were actually orchids, that the flowers only stay open for one day and need to be carefully hand pollinated within 12 hours of blooming. Then, after pollination, it takes another nine months before the seed pods are mature enough to harvest. After harvest it takes another three months for the seed pod to cure. There's no rushing the production of vanilla.
On other vines were clusters of long green vanilla beans. She told us these vines don't even begin to produce beans until after three years and said her vines have been growing for many years. Although there are many countries that grow vanilla, Tahitian Vanilla is unique because of its outstanding flavor. It has a floral, fruity, cherry-like flavor and some people even say chocolate. She then asked if we would be interested in purchasing some beans or vanilla. Of course, we said, and followed her back to a shed near her house that held bags of dried, chocolate colored vanilla beans that were fresh and flexible.
There were also bottles of Tahitian Vanilla extract. We bought as much as we would be able to pack into our suitcases. Yeah, this was before TSA.
What a find, not just for the lovely vanilla, but for the whole island. The friendly people, the unbelievable food and the amazing beauty that can hardly be described.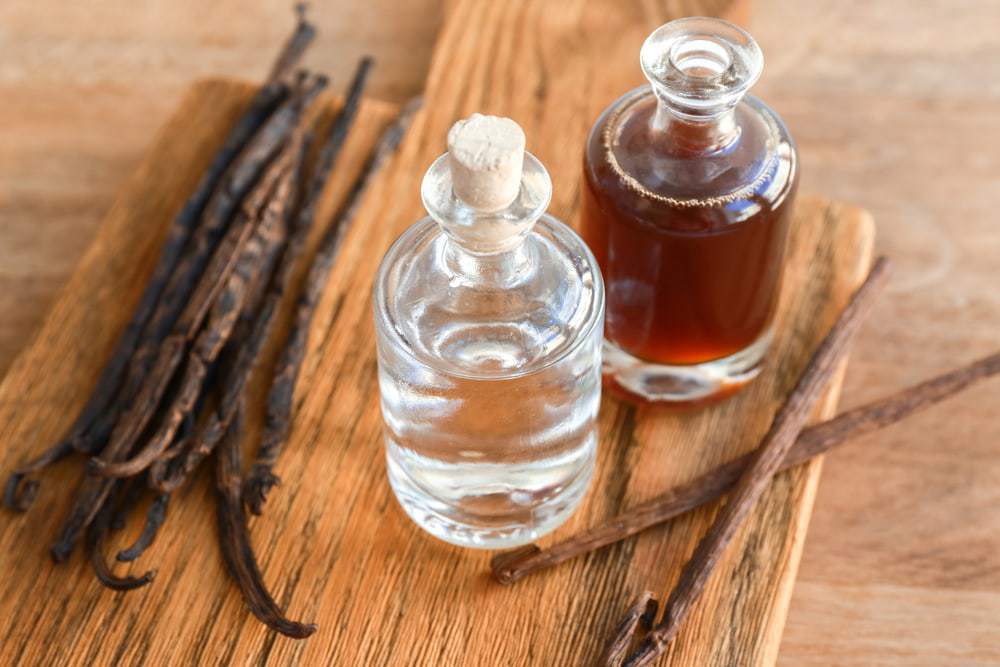 By the way, if you want to be sure that the vanilla you bake with is absolutely 100% pure, gluten free and sugar free, you can easily make your own. All you need is vanilla beans, vodka and patience.
You'll need 5-6 vanilla beans. I prefer Tahitian beans because of the flavor. With a sharp knife split each bean in half lengthwise to expose the beans.
Next comes the vodka. Plan on buying a 750 ml bottle and be sure to buy a good quality vodka like Tito's, which is gluten free.
Insert the split beans into the vodka bottle and be sure the beans are immersed completely and seal the bottle tightly. Place bottle in  cool, dark place.
Next give the bottle a good shake.
Repeat the shaking process at least once or even twice a week for the next 8 weeks. That's where the patience comes in.
When vanilla is a rich, dark brown, you're good to go. At this point there will be seeds in the bottom of the bottle, which can be removed easily by straining through a sieve.
And that's all there is to it. The beauty is that this vanilla will last indefinitely as long as you have it in a tightly sealed bottle. And if you pour the vanilla into sterilized smaller bottles with tightly sealing lids, and tie each with a bow, you will have instant Christmas presents that any of your baking friends would love.