Light Fried Okra is a healthier way to cook this favorite Southern dish. 

About Light Fried Okra
Even though okra is chock full of vitamins, there are really two schools of thought on okra.
First, are those who hate it. They can't imagine how anybody could possibly like this vegetable that they consider a slimy mess.
And then there are those who Really Love it.
I'm in the second camp.
I was raised on fried okra and I'm not even from the South.
In fact, my family was from California, but whenever we found okra in the store, my Mom would buy a bunch.
Bless her.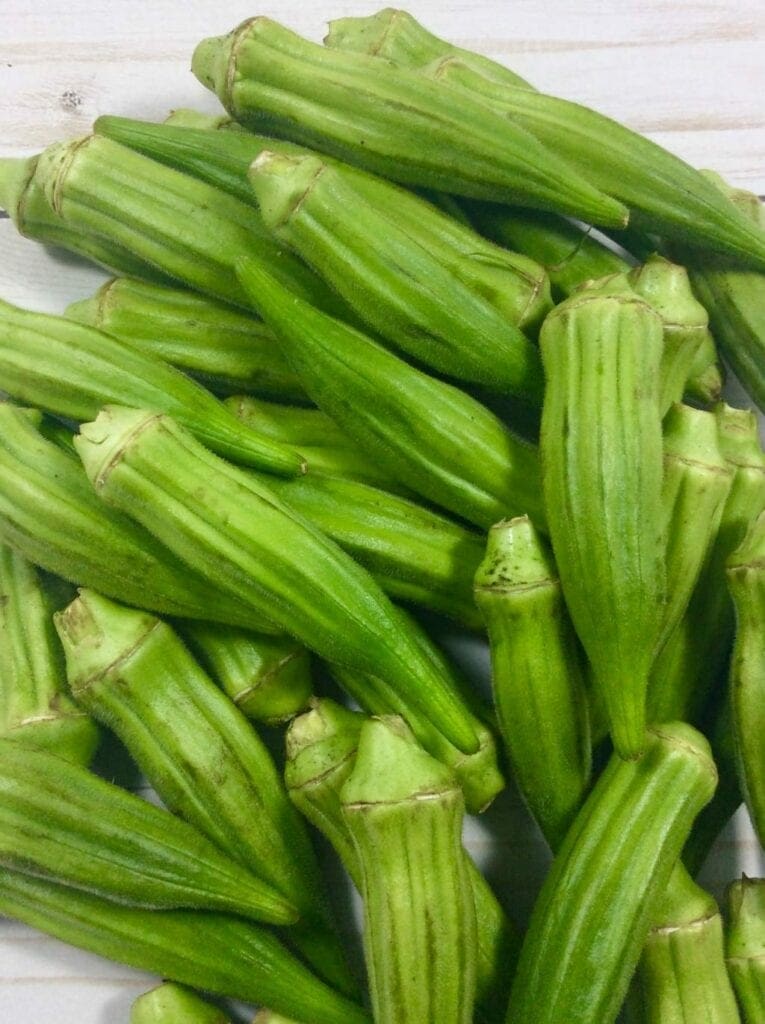 Then she would bring it home, trim it, cut it up in slices, roll it in flour and deep fry it until it was very, very brown and crispy.
Very, very brown and crispy.
Then she drained it on paper towels, salted it heavily and served it in a huge serving bowl, where the five of us would immediately gobble it all down.
Still remember that fabulous greasy, crispy okra taste!
Southerners have their own method of frying okra and it's also fabulous.
Yes they prepare it the same way and yes they deep fry it but instead of just flour, they add cornmeal for an extra crunch and some recipes even call for dipping the okra in buttermilk first, then rolling it in the flour-cornmeal, mixture which is seasoned with lots of salt and pepper.
And really both ways are delicious.
Unfortunately, both ways also have lots of extra fat, calories and sodium that we don't need.
So with much trial and error I tried cooking it in just a bit of oil, but it lacked flavor.
Then I tried using Panko and baking it. It was crispy, but still, it wasn't like I remembered.
Finally, as I was waiting for an appointment the other day, I picked up a magazine they had on their table.
It was a Southern Living magazine and bingo, there it was – a light version of fried okra.
How to Make Light Fried Okra
Unfortunately, this was not my magazine, and I don't like people who rip things out of other people's magazines, so I left without the recipe.
But that recipe haunted me. (That's what happens when you're a Foodie).
And on my way home I stopped by the store to buy some fresh okra.
Thinking back, the okra was prepared the same way, but the cooking method was different.
There wasn't much oil and she only used cornmeal.
So trying to remember her recipe, I first washed and cut the okra into 1/2" slices.
Then, I got out my trusty frying pan and added 2 Tb of oil and brought the heat up.
I added my prepared okra (without flour or cornmeal) and let it cook a bit until it was tender.
And then I added some cornmeal to it as I stirred, not a lot of cornmeal, but enough to coat it lightly as I kept stirring.
Because  the oil was going away, I added another tablespoon of oil and continued to cook, until it was browned and crispy.
It was perfect.
Same flavor as Mom's without the grease.
It was a miracle.
Thank you Southern Living.
And yep, I'm a new subscriber. How could I not be?
And a huge thank you to that wonderful woman who came up with the recipe.
Health Note
Okra is really a nutritional powerhouse and is particularly helpful in the treatment of diabetic nephropathy, a kidney disease that can follow diabetes.
Liu Ke-hu of China's First Hospital of Jilin University reports that eating okra can reduce the risk of diabetic nephropathy.
According to a study published in the October 2095 issue of Jilin Medical Journal, Liu and her colleagues split a group of 70 diabetic patients into two groups.
One group received traditional diabetic treatment while the other received the same treatment while eating okra every day.
The group that ate the okra had better kidney health over six months compared to the control group.
Also try: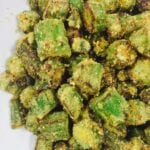 Print Recipe
Light Fried Okra
Light Fried Okra is a healthier way to cook this favorite Southern dish. Instead of deep fat frying and batter, this method uses a small amount oil and cornmeal for crispness. Healthier, yes. Does it compromise on flavor? Never.
Ingredients
1

Pound

Okra

3

Tbsp

Olive oil

1

Tsp

Salt

1/3

Cup

Cornmeal
Instructions
In a frypan over medium high heat, add 1 1/2 Tbsp olive oil.

When hot add Okra and sauté 10 minutes.

Add salt and sprinkle with cornmeal. Drizzle 1 1/2 Tbsp olive oil over okra and stir to coat. Continue cooking until browned and slightly crispy, about 6 minutes more.
Nutrition
Calories:
181
kcal
|
Carbohydrates:
18
g
|
Protein:
3
g
|
Fat:
11
g
|
Saturated Fat:
1
g
|
Sodium:
590
mg
|
Potassium:
381
mg
|
Fiber:
4
g
|
Sugar:
1
g
|
Vitamin A:
810
IU
|
Vitamin C:
26.1
mg
|
Calcium:
93
mg
|
Iron:
1.2
mg