Lemon  Chicken with Capers is a soul satisfying, melt-in-your-mouth recipe that you will make again.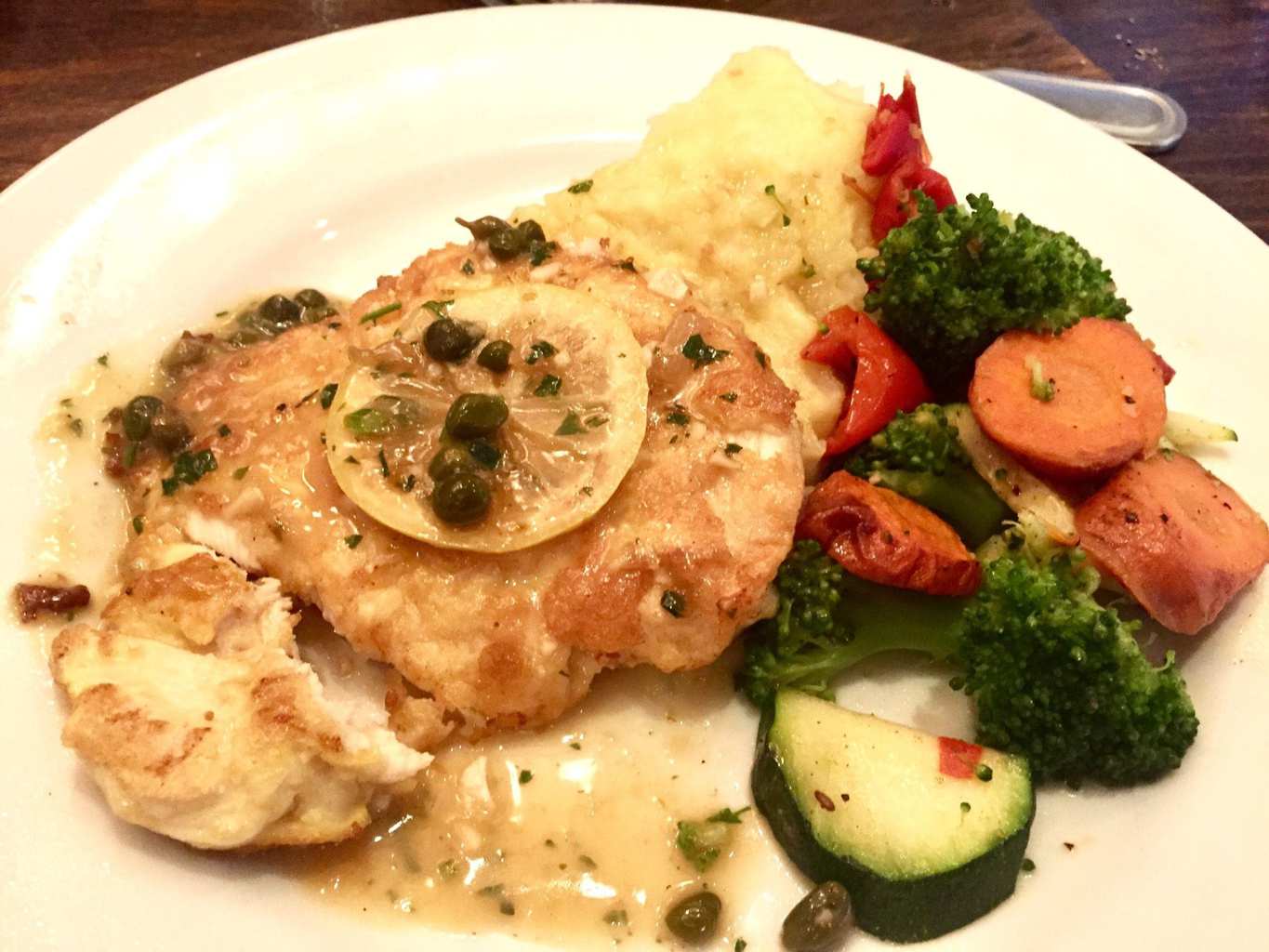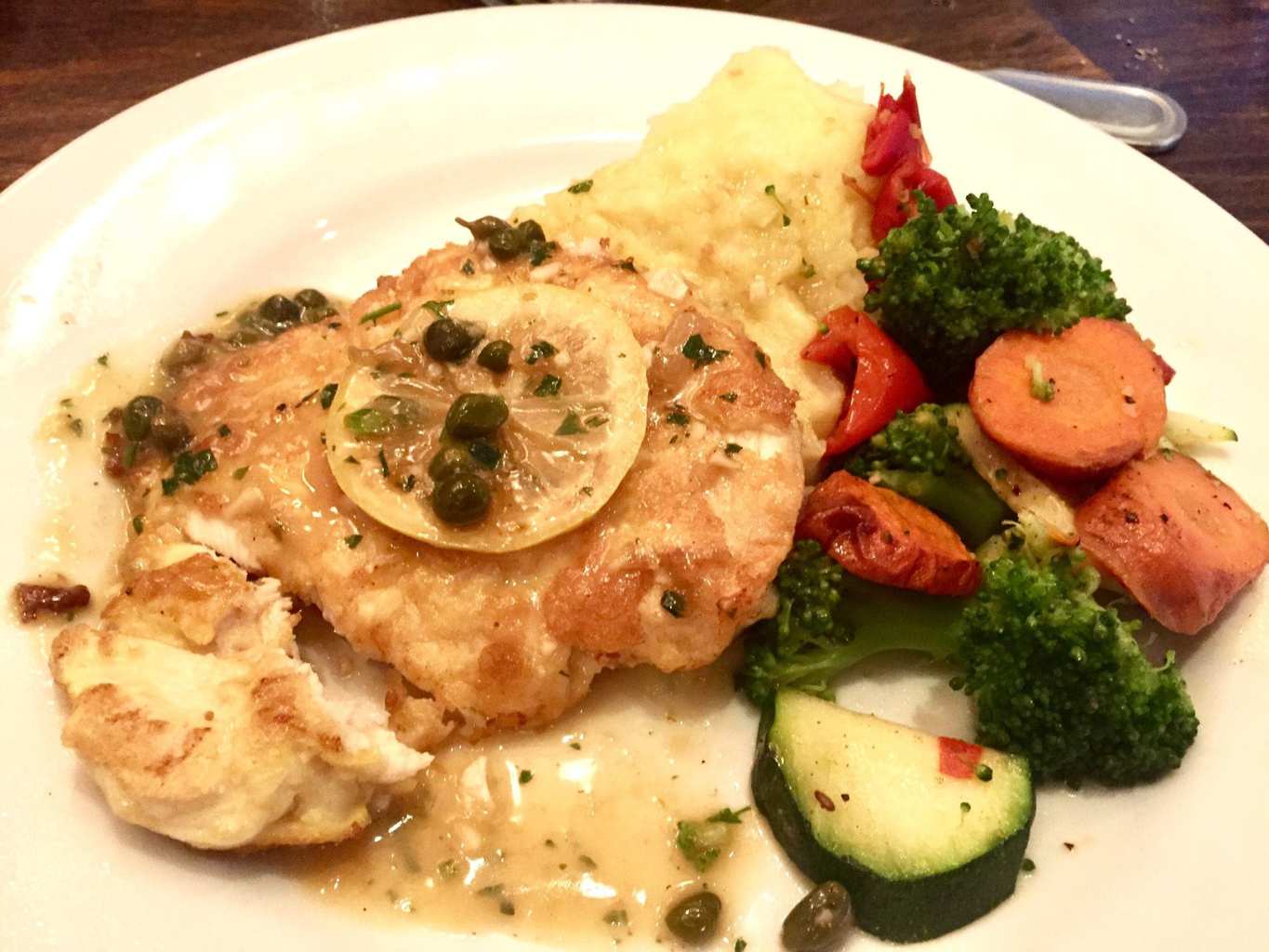 Lemon Chicken with Capers
Have you ever been to a Brio Tuscan Grille?
If you have I'm sure you have returned many times, just as I have.
Their food is both innovative and delicious.
And everything I've ordered has been a winner.
But I'm a creature of habit and if I find something that I absolutely love, I'll order it again and again…and again.
Like the Chicken Limone dish.
It's fabulous and probably the reason I keep ordering it is that I'm trying to really understand the preparation for this melt in your mouth dish so I can duplicate it in my kitchen.
I did ask our server if they might share the recipe, but she replied unfortunately no, it's proprietary.
I can't blame them especially with this dish, since it's one of the most popular items on their menu.
She did say that she believed it was marinated first.
So it was back to the kitchen for me.
My marinade experiment failed.
Way too lemony.
But the egg wash I did seemed to be the right texture.
On a recent trip into Brio's, I saw the Head Chef as I was leaving and told him how much I enjoyed all of the dishes especially the Chicken Limone.
Then I asked him if was marinated first, he said, "No".
I then I said, "So it's just an egg wash?" He smiled and said, "That's right."
I was on the right track so when I came home, I gave it another try.
And it finally worked out. Tender, savory, tangy, juicy and buttery.
Lemon Chicken with Capers was finally perfected.
I know it was at least close when I had a wonderful review from a chef.
He said, "I'm a chef at Eatzi's and I used to run Brio. The recipe you have is very good. Nice job!" M. Collins
Trust me, I was beyond happy when I read that.
So let's make it.
Ingredients of Lemon Chicken with Capers
Chicken breasts
Salt
Pepper
Wondra Flour
Egg
Water
Olive Oil
Butter
Shallot
Lemon
White Wine
Chicken Broth
Lemon Juice
Capers
How to Make Lemon Chicken with Capers
First, cut each breast in half horizontally and place in a zip lock bag.
Pound the chicken until it is roughly 1/4" thick.
Set up a plate with flour.
Then set up a large bowl with an egg and whisk.
With a frypan over medium high heat add olive oil.
Then salt and pepper each side of the chicken breasts.
Dredge in flour and dip both sides in egg wash.
Then add the chicken breasts to the the frypan.
Allow to brown about 2 minutes, then flip over and brown second side about 2 minutes.
Remove chicken to plate.
Add lemon slices to frypan and let them cook about 1 minute on each side.
Add the lemon slices to the chicken.
Then add chopped shallots to the pan.
Allow them to sauté about 1 minute.
Add wine, lemon juice and chicken broth.
Whisk to remove browned bits from the bottom of the pan.
Allow to reduce about 5 minutes.
Then turn heat to medium, then add lemon juice and capers.
Continue to whisk until sauce thickens.
Drizzle the sauce over the chicken and lemon slices and serve.
Notes
You may have noticed that I use a lot of lemons when I cook.
I love the freshness and life it gives to any dish, but I also love lemons for their healthiness.
Did you know that just 1 medium lemon contains 51% of your daily requirement of Vitamin C!
That's amazing!
If you like this recipe please leave a comment below and be sure to pin it on Pinterest!
Also try Mediterranean Lemon Butter Chicken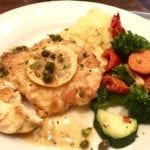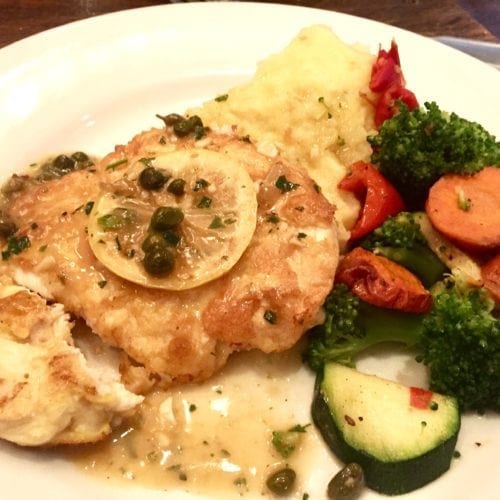 Print Recipe
Lemon Chicken with Capers
Lemon Chicken with Capers is juicy, tender, savory, tangy and buttery all in one bite.
Ingredients
2

Chicken breasts, boneless and skinless

Cut in half horizontally and pounded to 1/4"thick

1/2

Tsp

Salt

1/2

Tsp

Pepper

1/2

Cup

Flour

1

Large egg

1

Tbsp

Water

2

Tbsp

Olive oil

3

Tbsp

Butter

1

Shallot

Minced

1

Lemon

Sliced thin

1/4

Cup

White wine

1/2

Cup

Chicken broth

2

Tbsp

Lemon juce

1 1/2

Tbsp

Capers
Instructions
Season the chicken filets with salt and pepper. Place flour on plate. Add the egg and water in shallow bowl and mix well.

Dredge the chicken in the flour on both sides and lightly shake off the excess flour. Dip the floured chicken in the egg wash.

In a frypan over medium high heat add 2 Tbsp of olive oil, then add chicken to pan. Allow to cook until browned, about 2 minutes. Turn over and cook another 2 minutes and remove to a serving platter.

Add lemon slices to pan and allow to cook approximately 1 minute on each side. Add lemon slices to chicken.

Add 1 tbsp butter to pan and add the chopped shallots. Cook until softened about 1 minute. Then add w

ine, lemon juice and chicken broth. Whisking to to remove browned bits on bottom of the pan. Allow to reduce, about 5 minutes. Turn heat to medium and add 2 Tbsp of butter and the capers. Continue whisking until sauce thickens.

Drizzle the sauce over the chicken and lemon slices.
Nutrition
Calories:
236
kcal
|
Carbohydrates:
16
g
|
Protein:
3
g
|
Fat:
16
g
|
Saturated Fat:
6
g
|
Cholesterol:
63
mg
|
Sodium:
474
mg
|
Potassium:
100
mg
|
Fiber:
1
g
|
Sugar:
1
g
|
Vitamin A:
325
IU
|
Vitamin C:
14.8
mg
|
Calcium:
16
mg
|
Iron:
1.2
mg