Ah, Thanksgiving. Family, friends, fun, football and Food. Lots and lots of food, for which we are very grateful. And a really great thing is next day's Coconut Mulligatawny Soup.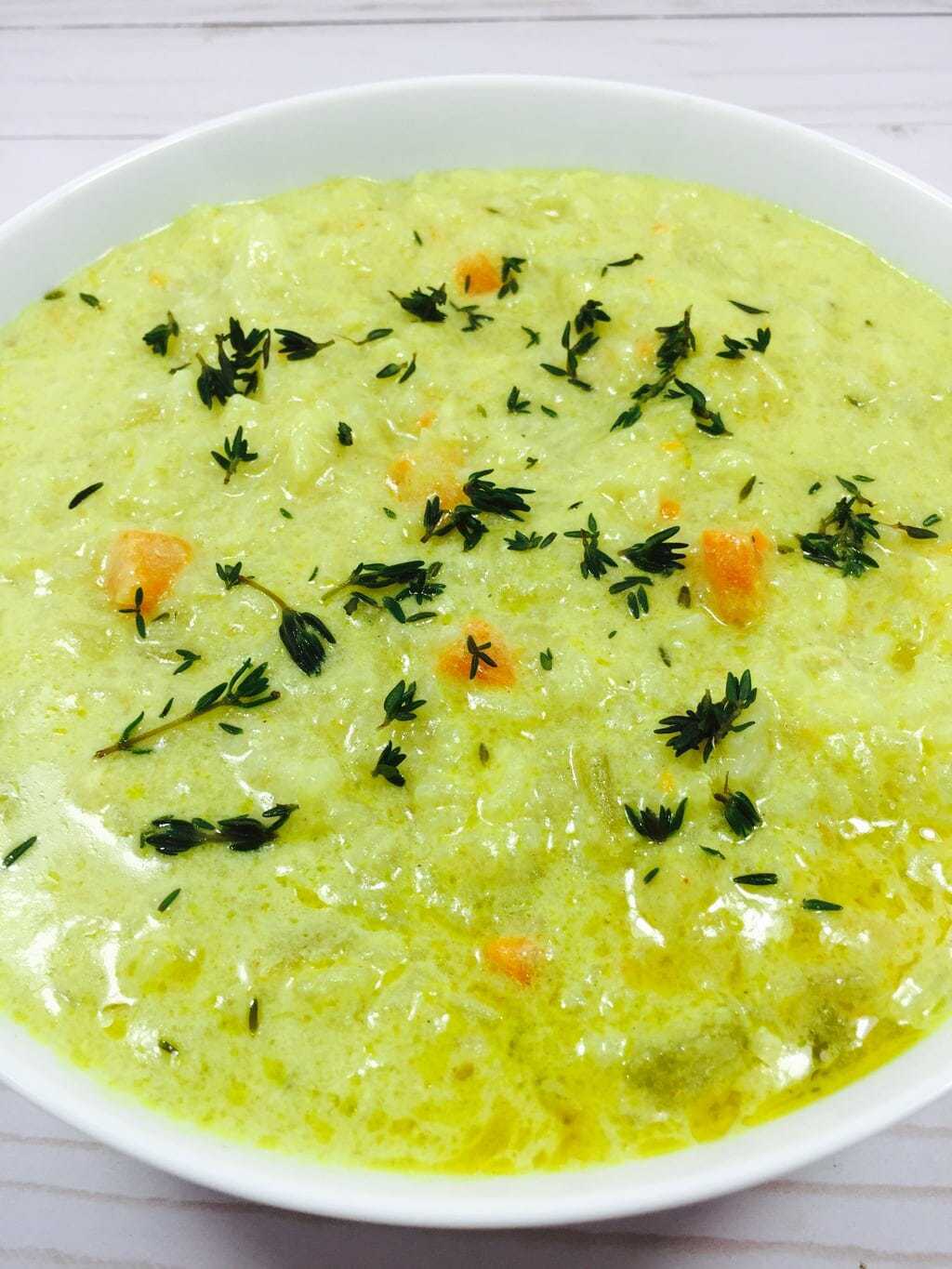 Coconut Mulligatawny Soup
Thanksgiving for friends and family was almost always at our house. A lot of the leftovers usually went home with my friends. But I also kept some for my family who were there with us the next few days. Mostly because I wanted to serve them something totally different than the normal Thanksgiving menu, like this Coconut Mulligatawny  Soup made with leftover turkey. It's  always a total surprise and totally welcome after the big meal and all the planning. It's so good that it's now become a staple year after year.
I know this is over the top, but I planned this meal weeks in advance and each year tried to top the year before. Took inspiration from Julia Child, of course, as well as her friend Chef Jacque Pepin, Paula Deen, Alton Brown, Ina Garten, and so many other wonderful cooks and chefs. Even wrote out the menu and put it on a stand for the guests to see what lies ahead.
To me the creativity of Thanksgiving dishes is only topped by Christmas. These holidays are where Chefs and "at home Chefs" really shine. From appetizers to soups to main dishes to sides to dessert, I always want to provide a bountiful dinner to those I love, because to me food Is love. My gift to them.
So after our wonderful day and big…ok huge…meal, I always planned ahead and purchased tons of plastic containers for my guests to take home whatever food they wanted, to enjoy leftovers the next day, along with a copy of the menu. No one left empty handed.
Still, there were always lots of leftovers for us as well and the thought of wasting food is terrible, so the question every year was and still is, what creative thing can you do with the leftovers? A new wonderful dish and not just a repeat of something.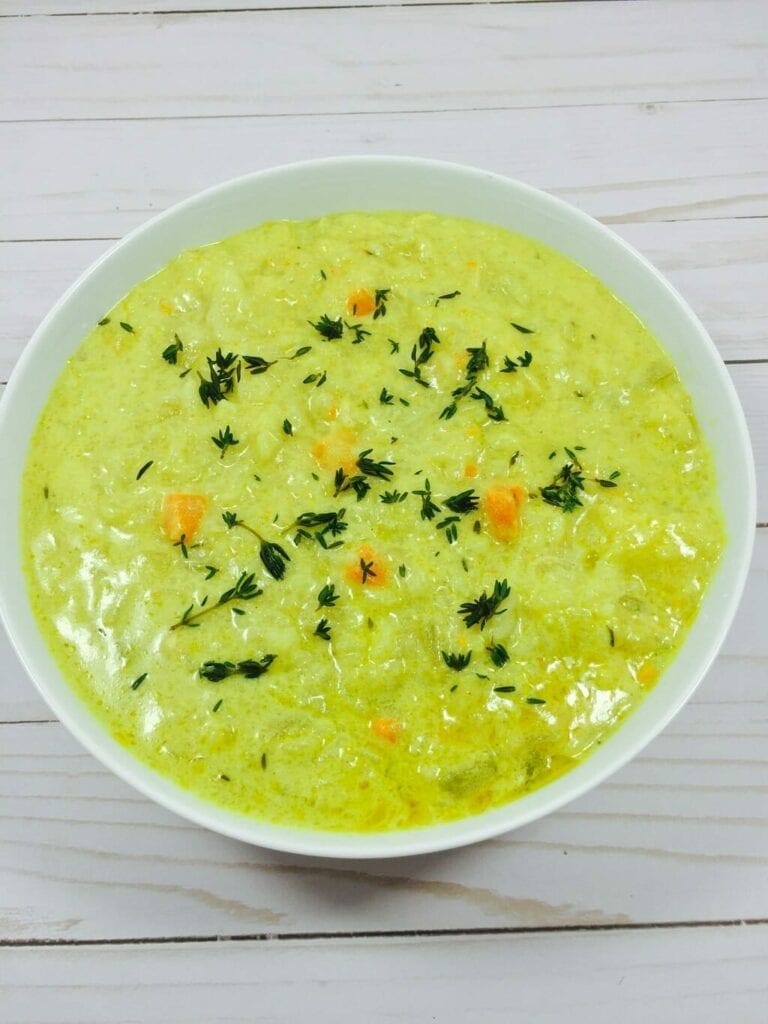 And I finally thought, at this time of the year with the trees putting on their fabulous fall show and a chill in the air, Soup is always a great idea. But, it needs to be a different soup, more than just broth and turkey. And then I remembered an absolutely decadent Mulligatawny soup that I had once. So Coconut Mulligatawny Soup was created. Only this one had turkey instead of chicken.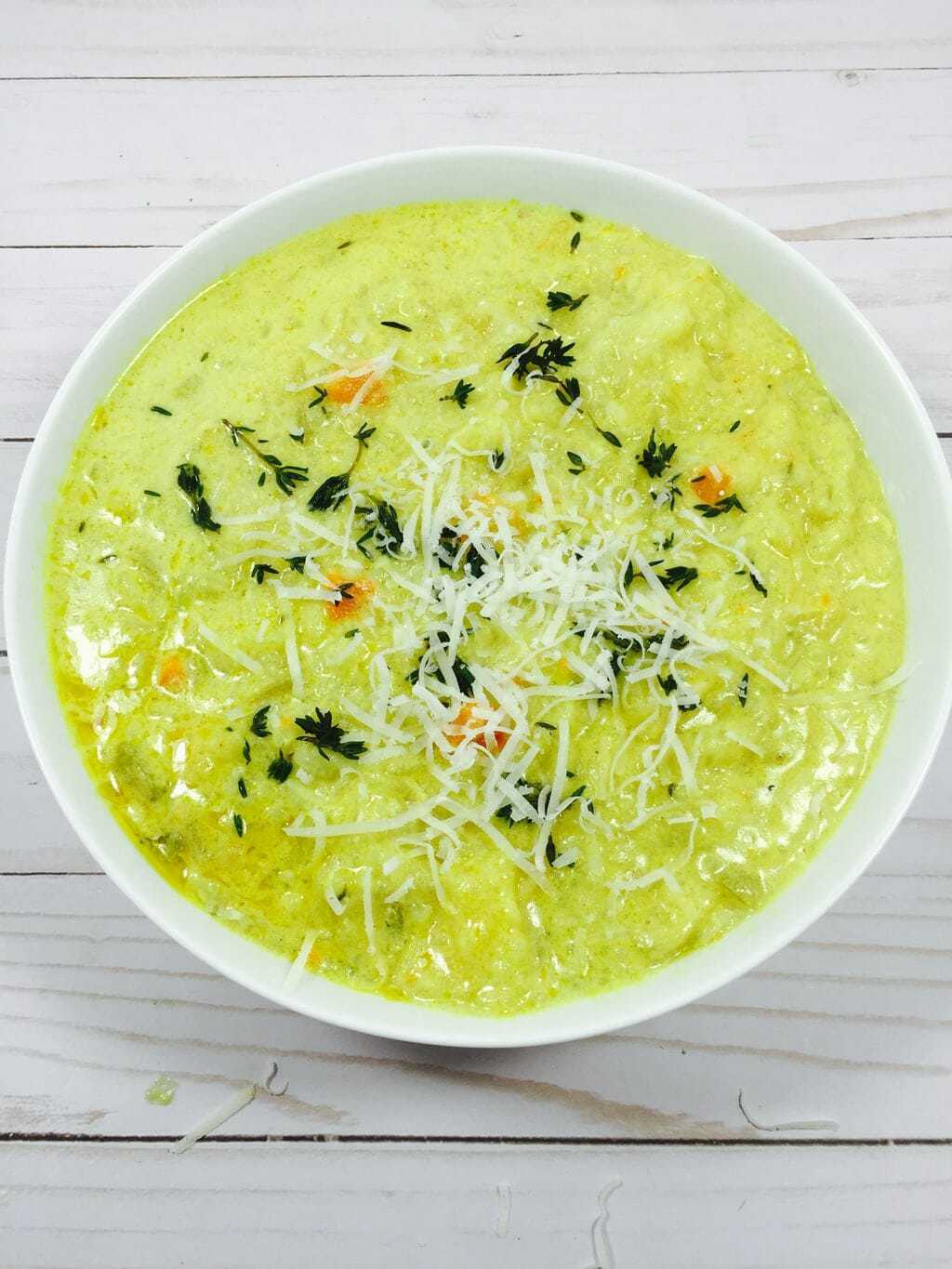 I also added in curry and cream, and vegetables and apples and rice and I thought yes, this is a perfect soup for leftover turkey. Something totally different that didn't scream Thanksgiving leftovers. I added Thai Coconut Curry to make it a bit richer, but really. regular curry would work as well. So after a bit of experimentation, adding this, deleting that, and making it really wonderful with more spices and coconut milk, it was perfect. Coconut Mulligatawny Soup. Give it a try.
Health note:   Can something as simple as coconut oil build your immune system? According to a study done by Dr. Conrado Dayrit, it certainly can be effective. He tested 14 HIV infected individuals by giving them a dose of 3 Tb of coconut oil daily. With no other antiviral used, within 6 months 60% of the participants showed noticible  improvement with increased CD4 count, lowered viral load and better overall health.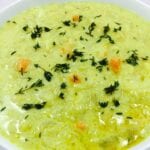 Print Recipe
Coconut Mulligatawny Soup
Coconut Mulligatawny Soup is not only rich, warm and decadent, but it's a perfect way to use Thanksgiving leftovers in a fabulous soup. Soup with substance I call it.
Ingredients
2

Tbsp

Butter

Unsalted

1/2

Cup

Onion

Chopped

2

Celery stalks

Chopped

2

Carrots

Chopped

1 1/2

Tbsp

Flour

2

Tsp

Curry powder

Fresh Jax Mild Thai Coconut Curry

1/2

Tsp

Turmeric

1/2

Tsp

Ginger, ground

1/2

Tsp

Cinnamon

4

Cups

Chicken broth

1

Apple

Peeled, cored and chopped

1/4

Cup

Rice

Uncooked

1

Cup

Turkey breast

Cooked and cut into bite size pieces

1/4

Tsp

Salt

1/4

Tsp

Pepper

2

Tsp

Thyme

Fresh. You can substitute 1/2 Tsp dried.

1

13.5 oz can

Coconut milk

Light
Instructions
Add butter to large soup pot and when melted, add onion, celery and carrots. Sauté 2 minutes and add flour, curry, turmeric, ginger, and cinnamon and continue cooking 5 more minutes.

Add chicken broth, stir well and bring to a boil. Turn heat to medium high and simmer 30 minutes.

Add apples, rice, turkey, salt, pepper and thyme. Simmer 15 minutes. Add coconut milk and simmer 5 more minutes.
Nutrition
Calories:
243
kcal
|
Carbohydrates:
16
g
|
Protein:
30
g
|
Fat:
10
g
|
Saturated Fat:
2
g
|
Cholesterol:
80
mg
|
Sodium:
998
mg
|
Potassium:
610
mg
|
Fiber:
2
g
|
Sugar:
5
g
|
Vitamin A:
3630
IU
|
Vitamin C:
15.4
mg
|
Calcium:
52
mg
|
Iron:
1.6
mg