Curry Vegetable Couscous is spicy and full of flavor from the roasted vegetables.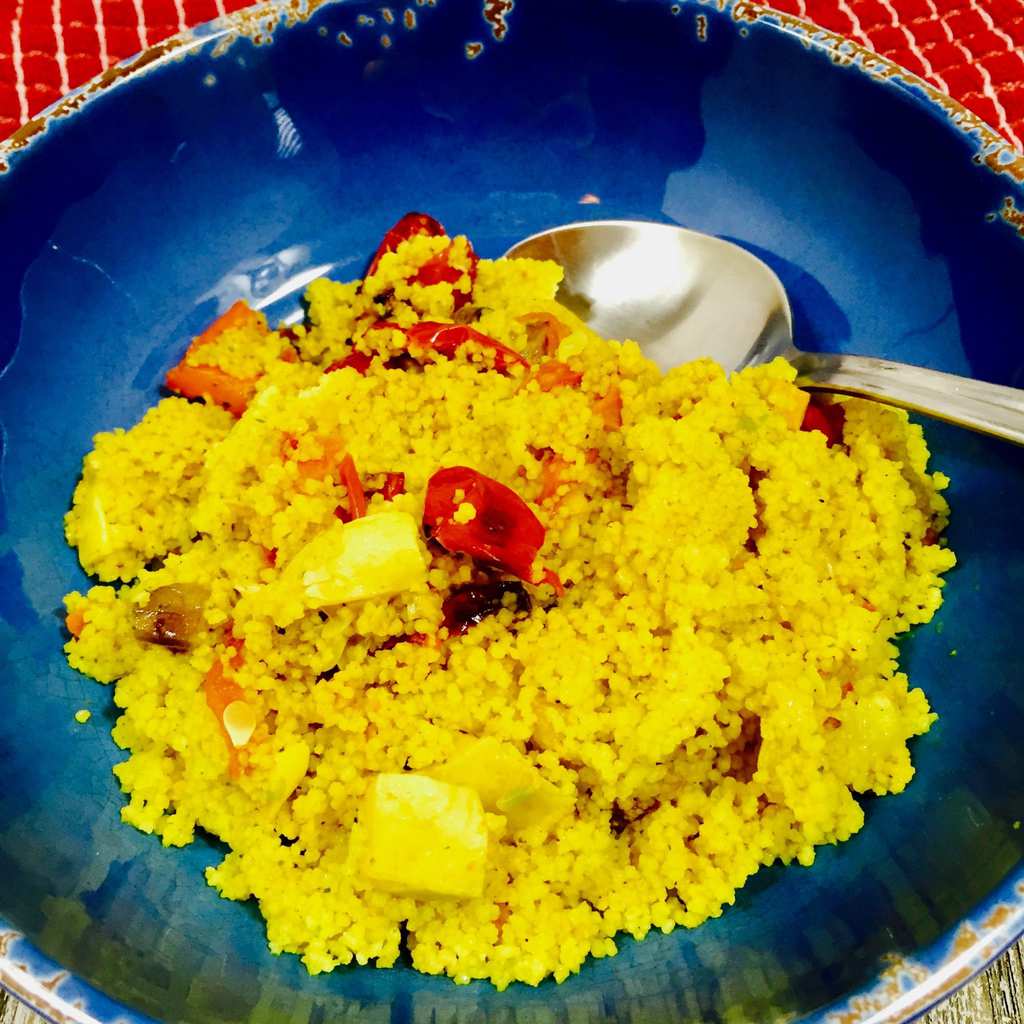 About Curry Vegetable Couscous
This Curry Vegetable Couscous is spicy and has a huge depth of flavor both from the caramelization of the vegetables to the spicy curry and lemon pepper blend.
I always thought couscous was a grain.  But I was wrong. 
It's actually a semolina pasta which people have been making and eating it since ancient times. 
Who knew?
In fact, back then making couscous was very labor intensive.  Cooking it took like, forever. I mean who has time for that?  
Today though life is better. 
Most couscous that you find in the store is processed first by steaming and then dried to so it can be resteamed very quickly.  
So all you do is bring that presteamed couscous to a boil, take it off the heat, cover it and then let it steam again for only 5 minutes and it's perfect.  
So, let's make it.
Ingredients for Curry Vegetable Couscous
Chicken broth
Couscous
Curry powder
Lemon Pepper
Zucchini
Yellow Squash
Onion
Red Peppers
Cherry tomatoes
Olive oil
Salt
Pepper
Lemon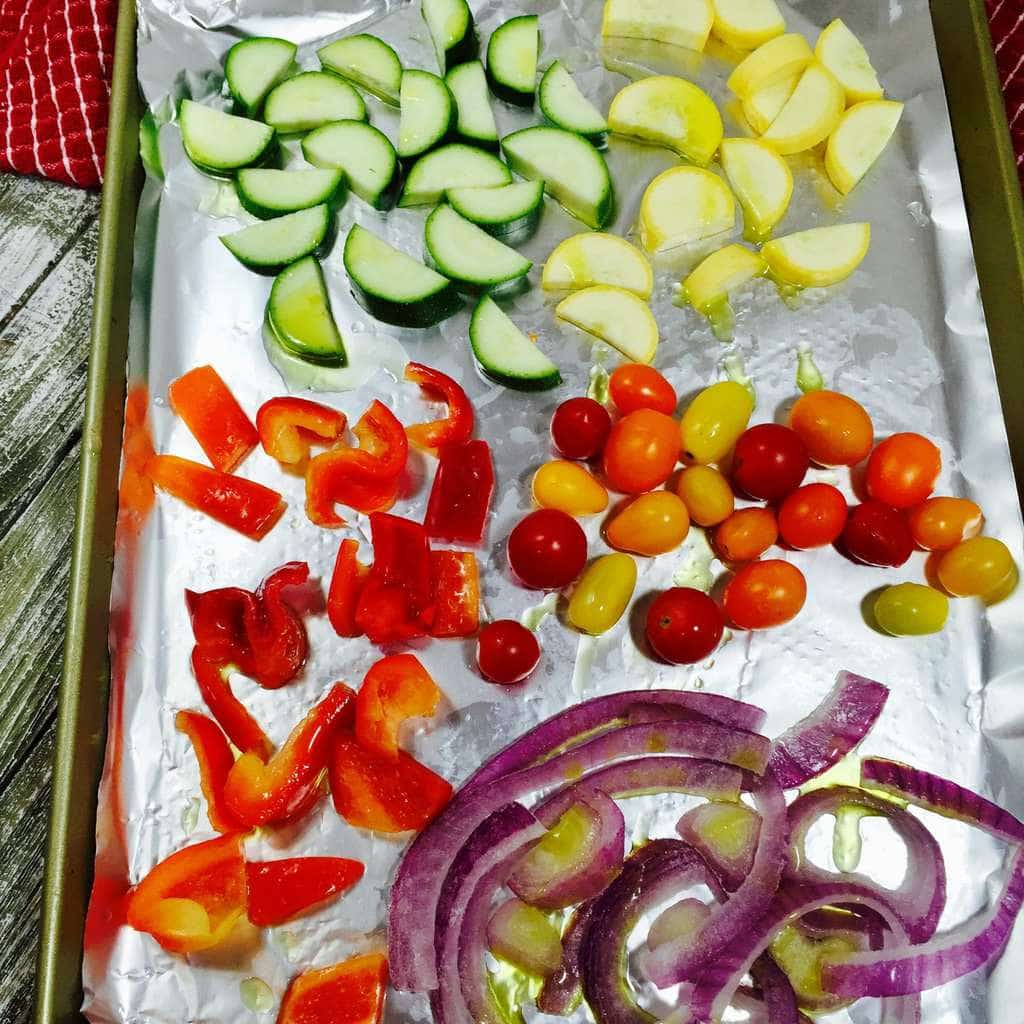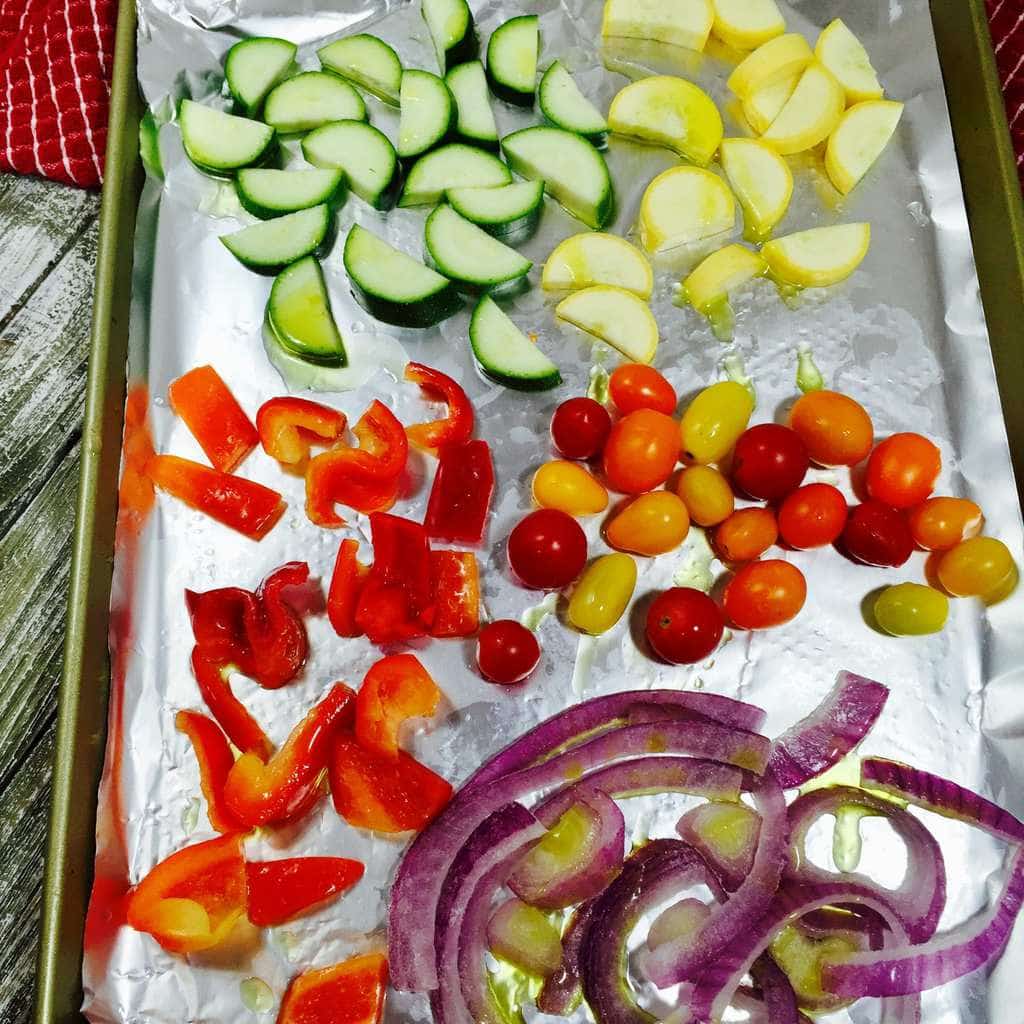 How to Make Curry Vegetable Couscous
I started with the vegetables which I diced into bite sized pieces. 
If your cherry tomatoes are on the large size cut them in half.  Then add the vegetables to a sheet pan covered in foil and drizzle them with olive oil.  
Sprinkle salt, pepper evenly over the vegetables and place the pan in a preheated 475 degree oven and roast the vegetables about 25 minutes.  
When time is up, just turn off the oven and let the vegetables keep warm while you make the couscous.
Couscous is embarrassing easy to make.  You begin by adding chicken broth to a pot over medium high heat.
You can certainly use water instead of broth for this dish, but the chicken broth really gives this Couscous lots of extra flavor. 
I prefer using the reduced sodium type type of broth for the same reason I use unsalted butter in recipes.  You have a lot more control of the sodium and the overall  flavor of the dish when you add your own salt.
And you know if you've been following my blog, that my favorite brand of chicken broth is Manischewitz because it's the only brand I've found that tastes like it's been cooked from scratch.   
In fact, l love it so much that I buy it in large 32 oz cartons.  
And when I only need a small amount, I just freeze the leftover broth in ice cube trays and toss them in a zip lock bag.  
So easy….and no waste.
Then, when I only need a small amount, the ice cubes work wonderfully.  I would say 8 ice cubes roughly equals a half cup.
To the broth, just add the curry powder, lemon pepper and the lemon juice.
By the way, the lemon pepper is pretty amazing in itself.  It's not just lemon and pepper, it's actually a blend of so many flavors and spices:  lemon, pepper, oregano, thyme, rosemary cayenne, and so much more.  
When the seasoned broth comes to a full boil, just add the couscous and give it a quick stir.  
At that point turn the heat off, cover the pot with a lid and let it steam for 5 minutes.  
Easy right?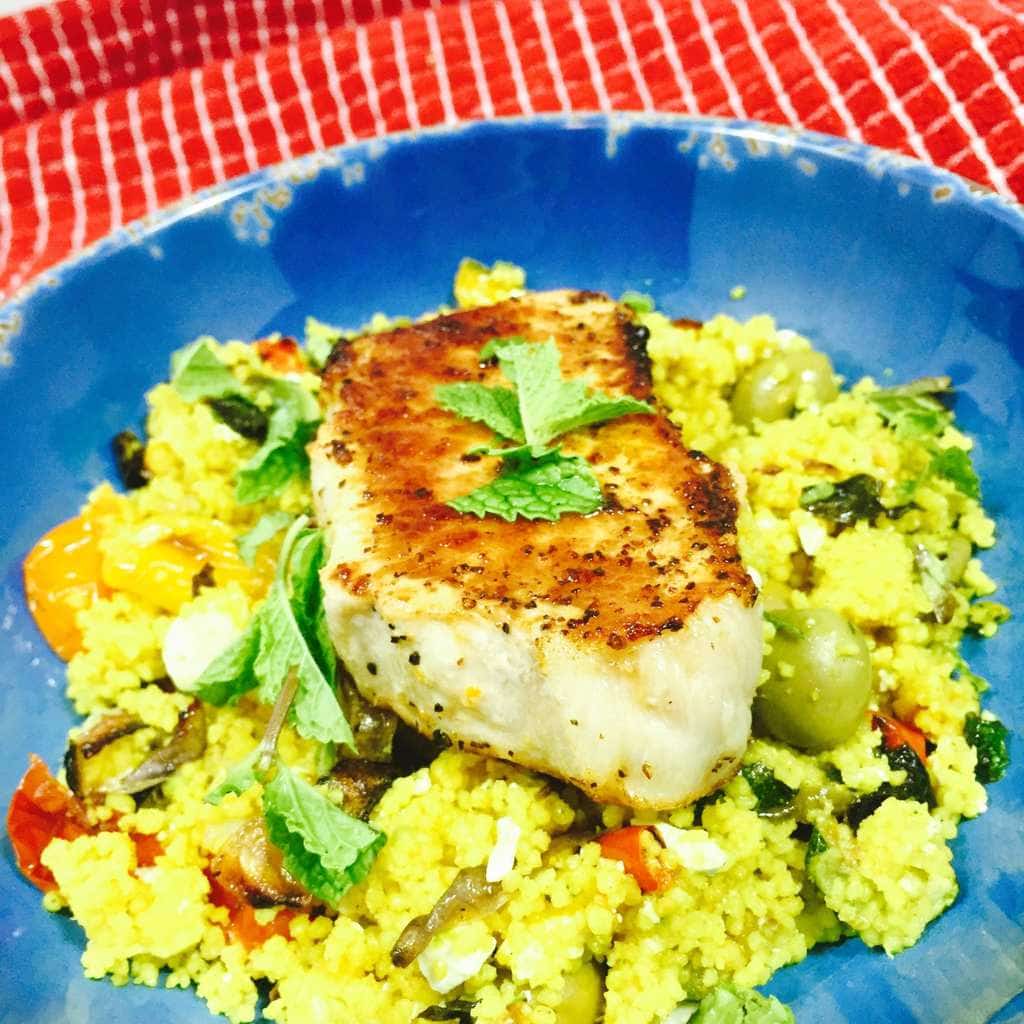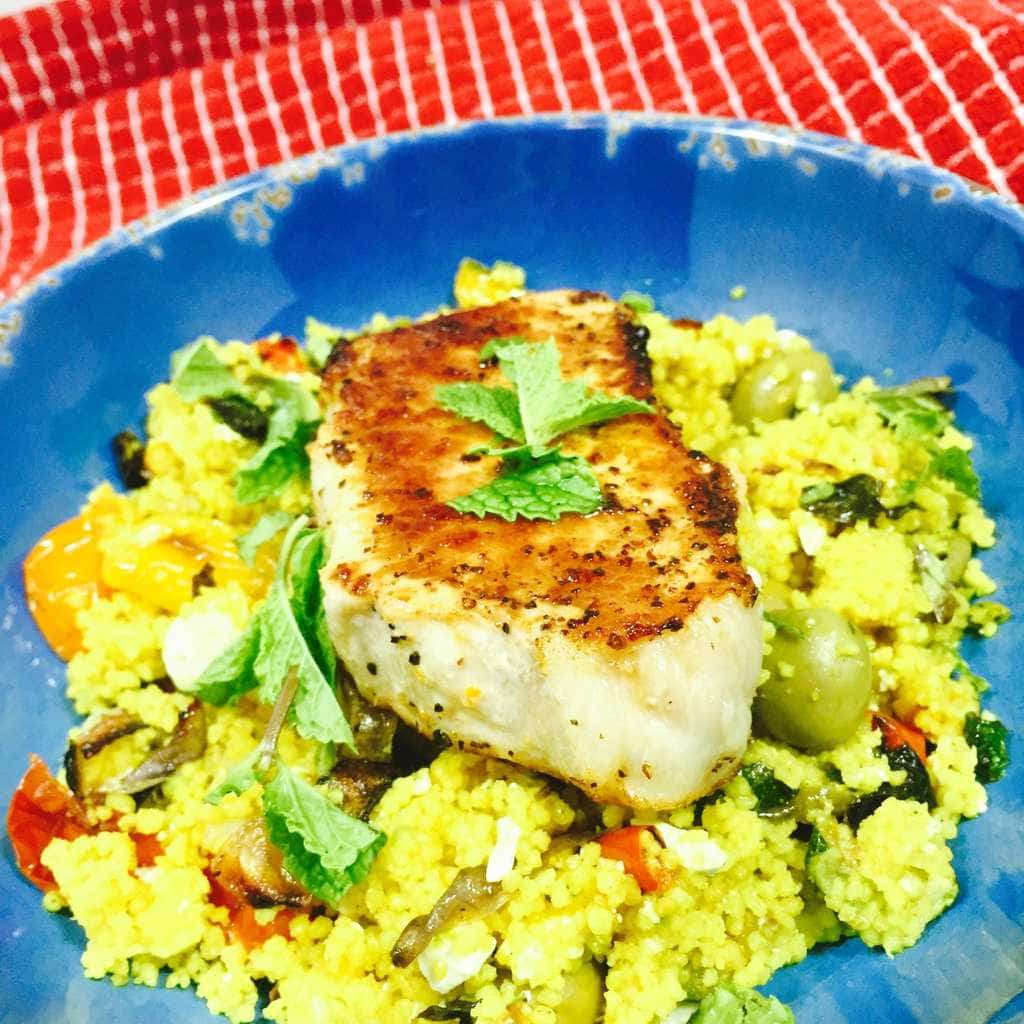 When it's finished steaming add  the couscous to a serving bowl and top with those wonderful vegetables and their juices. And you can serve this the way I did by topping with baked fish or Lemon Pepper Pork Chops as is shown here.
This healthy recipe has only 361 calories and 6 grams of fat per serving.
And if you decide that you need more couscous ideas,  Food Network can help you out with their 20 Best Couscous Recipes.
If you like this recipe, please leave us a comment below and be sure to pin it on Pinterest!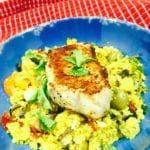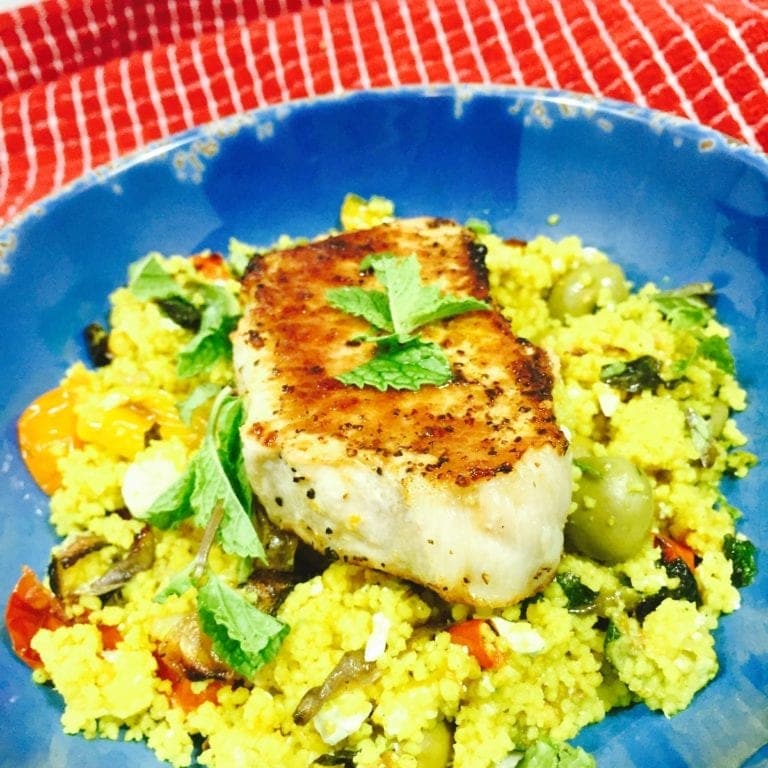 Print Recipe
Curry Vegetable Couscous
This Curry Vegetable Couscous is spicy and filled with flavor from the roasted vegetables
Ingredients
1

Cup

Reduced Sodium Chicken Broth

Prefer Manischewitz

3/4

Cup

Couscous

1

Tsp

Curry powder

3/4

Tsp

Lemon Pepper

Prefer Mrs. Dash

1

Small

Zucchini

Diced

1

Small

Yellow Squash

Diced

1/2

Cup

Red onion

Sliced

1/2

Cup

Red peppers

Diced

1/2

Cup

Cherry Tomatoes

I used mixed colors

2

Tsp

Olive oil

1/4

Tsp

Sea Salt

Prefer Himalayan Pink

1

Small

Lemon

Juiced
Instructions
Preheat oven to 475 degrees F

In a medium pot over medium high heat add chicken broth. When it comes to a full boil, add couscous, curry powder and lemon pepper. Stir and remove from heat. Cover with a lid and allow to steam.

On a foil lined sheet pan add zucchini, squash, onion, peppers and tomatoes. Drizzle with olive oil and sprinkle with salt.

Place pan in oven and roast vegetables for 25 minutes.

Add steamed couscous to serving bowl and pour vegetable mixture, including juices, over the top. Lightly mix together and serve.
Nutrition
Calories:
361
kcal
|
Carbohydrates:
64
g
|
Protein:
13
g
|
Fat:
6
g
|
Saturated Fat:
1
g
|
Sodium:
346
mg
|
Potassium:
735
mg
|
Fiber:
6
g
|
Sugar:
7
g
|
Vitamin A:
1585
IU
|
Vitamin C:
79.6
mg
|
Calcium:
43
mg
|
Iron:
2.1
mg