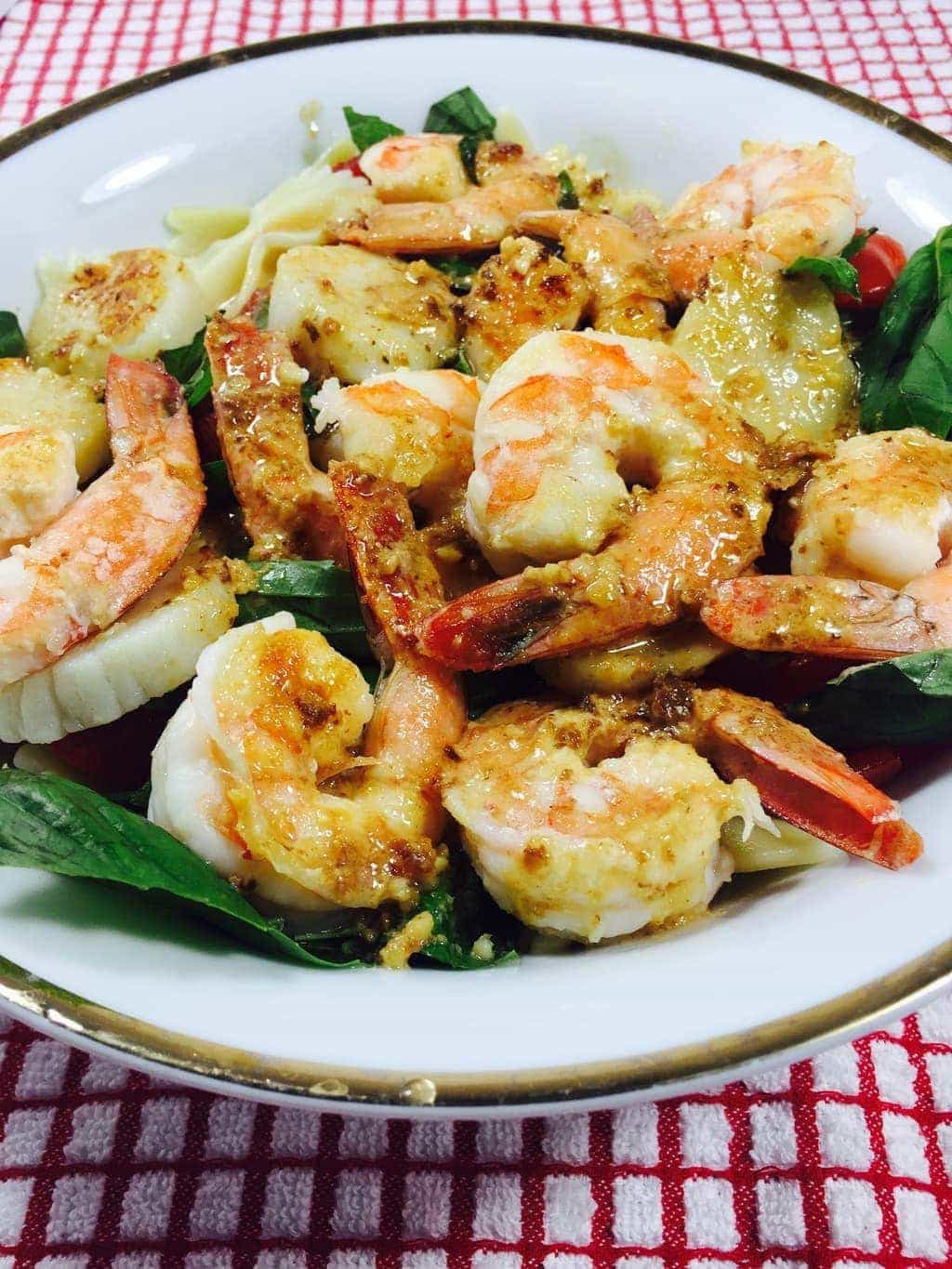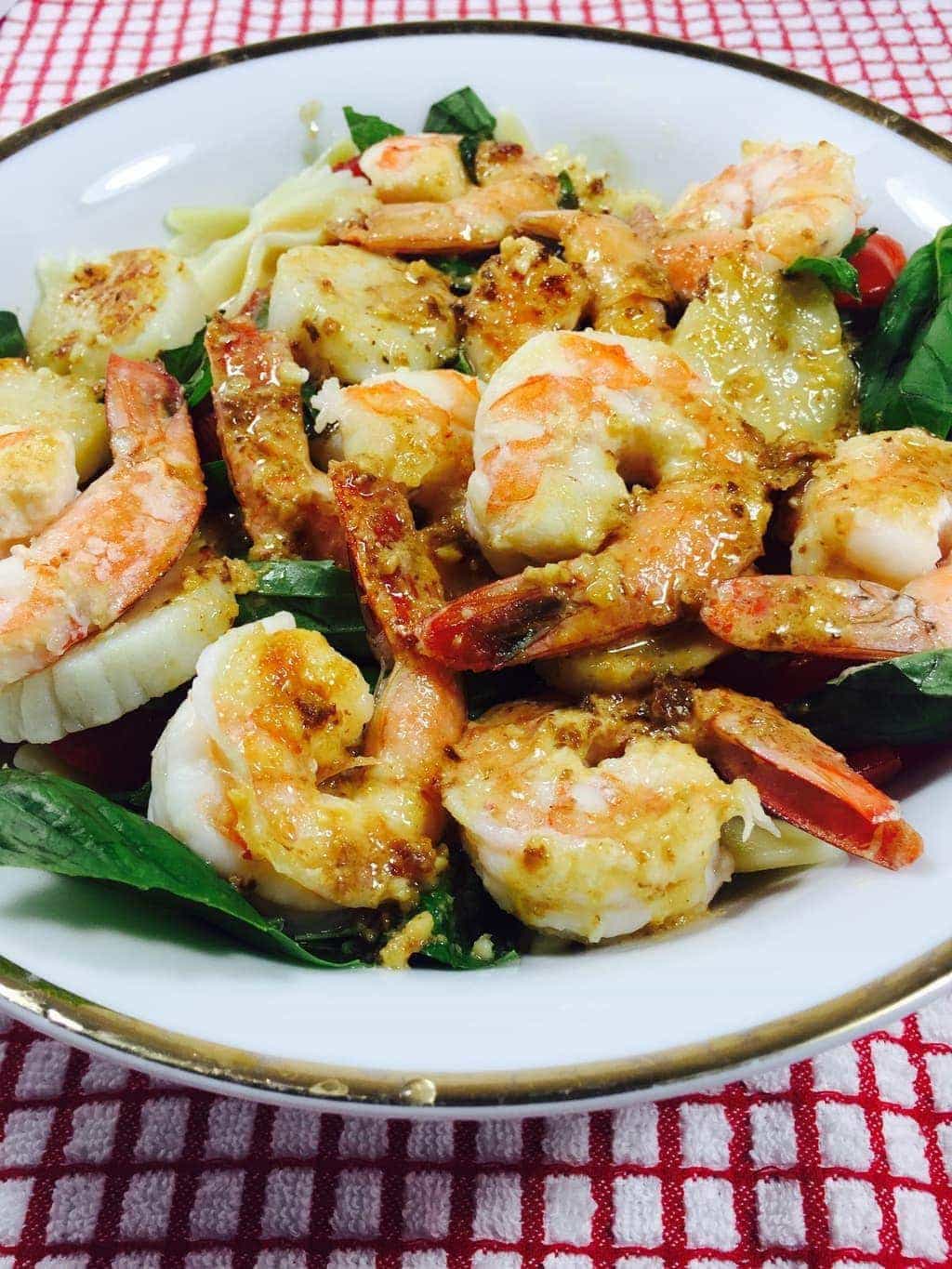 About Bow-ties with Seafood, Halifax Style
I ran across a photo the other day from a memorable trip that we took to Halifax, Nova Scotia.
This picture wasn't of the wharf, or the museum or the beautiful churches.
It was a photo of a fabulous lunch.
This may not be surprising to you, since you know how much I love food – especially healthy food and food from the source. But this dish was really over the top.
It was a Seafood Salad called Bow-ties with Seafood, Halifax style.
When I think of the seafood salads I've had, they've ranged from poor to excellent.
Poor, where you get a few bay shrimp over wilted lettuce soaked in salad dressing to excellent, where the greens were fresh and crunchy with just a light dressing and the seafood, whether large sea scallops or jumbo shrimp was plentiful, fresh and sweet.
However, sometimes you're fortunate to have a creative chef who really knows what perfection is. His dish went beyond excellent.
So what's the word to describe this? Todiefor!
Yep, to die for!
His plate included shrimp and scallops over greens with an incredible sauce and the plate was surrounded with mussels and lemon wedges.
Unfortunately I don't live in Halifax with their abundance of super fresh seafood, so I had to do the next best thing.
Headed off to my favorite Central Market where the seafood is so fresh, you feel you're right at the shore and I bought the freshest sea scallops and jumbo shrimp they had.
The key is absolutely no odor but freshness.
So I brought these treasures home and went to work.
Thought, instead of over greens, I'd put this wonderful seafood over bow-tie pasta that was dressed lightly with a garlic butter wine sauce.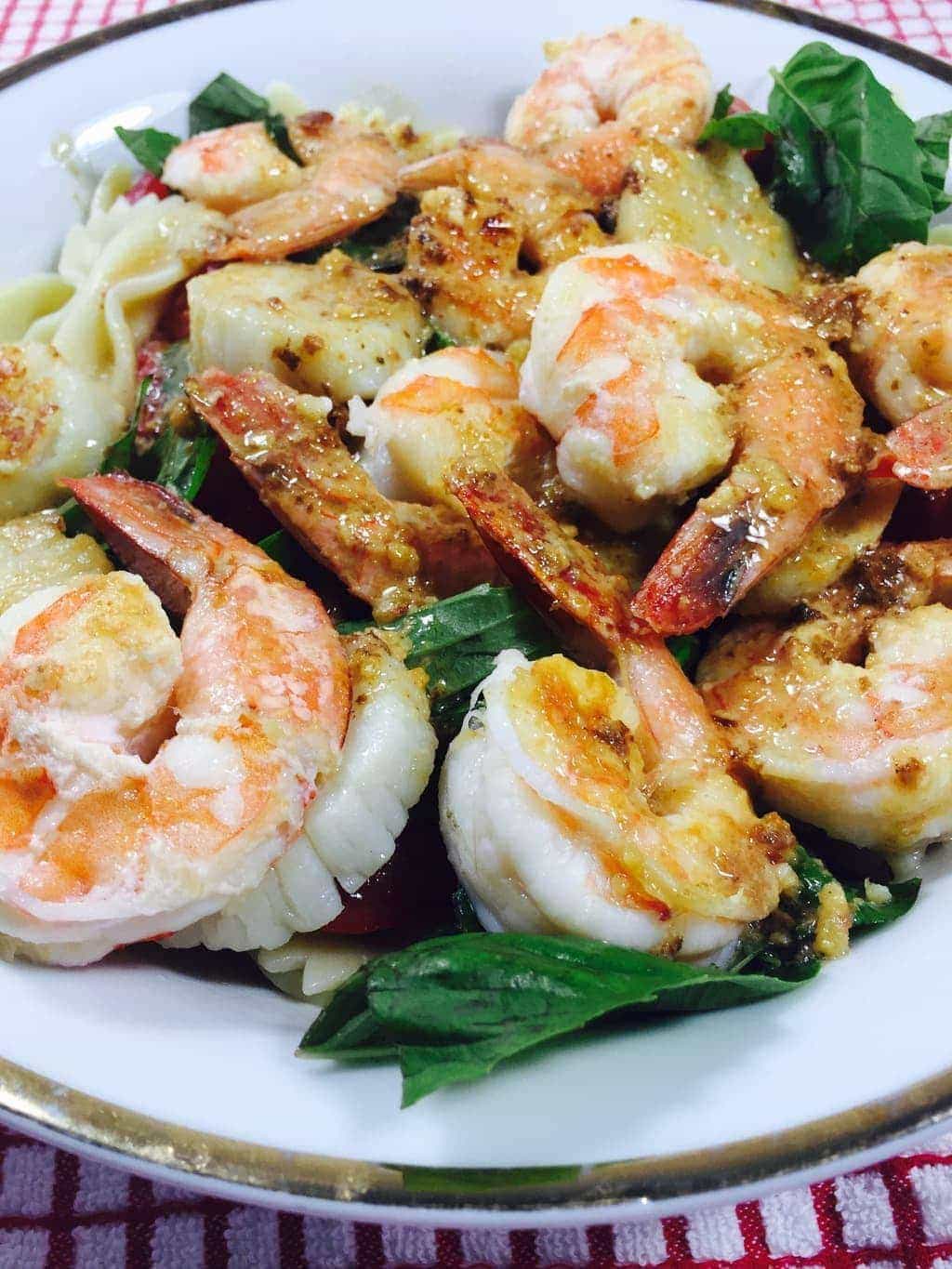 Ingredients of Seafood Salad, Halifax Style
Health note: Although shrimp and Scallops are relatively high in nutrients and low in mercury levels,  always be careful about where the shellfish you buy comes from. Farm raised shellfish, as well as all farm raised fish, is known to have high levels of toxins. Shop for wild caught instead.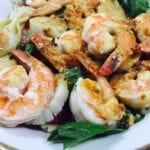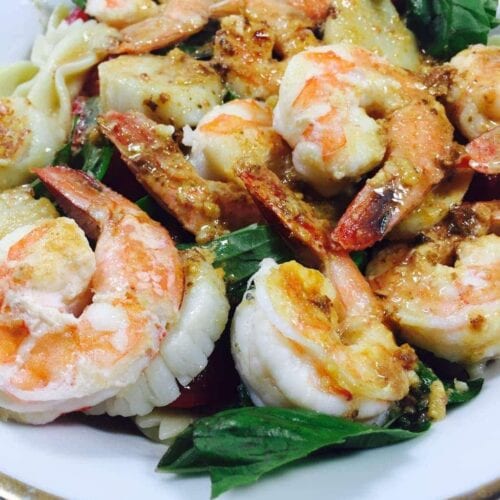 Print Recipe
Bow-Ties with Seafood, Halifax Style
Bow-Ties with Seafood, Halifax Style is a nod to wonderfully fresh seafood in Nova Scotia. This dish is lightly dressed with buttery garlic wine sauce that makes the seafood really even more delicious.
Ingredients
1 1/2

Cups

Bow-Tie Pasta, farfalle

3

Tbsp

Butter

Unsalted

3

Cloves

Garlic

Minced

3

Sea Scallops

8

Jumbo Shrimp

Shelled and deveined

1/4

White Wine

Chicken broth could be substituted

1/4

Tsp

Salt

1/4

Tsp

Pepper

1/2

Cup

Basil Leaves

Coarsely chopped

1/2

Cup

Tomatoes

Chopped
Instructions
In a large pot of water boil pasta until just al dente, about 12 minutes.

Trim hard muscle from Scallops, then cut each in half crossways.

While pasta is cooking, add 1 Tbsp butter to frypan over medium high heat. Add scallops, shrimp, salt and pepper and sauté 2 minutes. Turn Scallops and Shrimp and sauté an additional 2 minutes. Remove Scallops and Shrimp to a plate.

Sauce:

Add 1 Tbsp butter to frypan and add garlic. Sauté 1-2 minutes until garlic is soft. Add wine and 1 Tbsp butter and allow to reduce 3-4 minutes.

Drain pasta and add to serving bowl. Mix in basil and tomatoes. Arrange Scallops and Shrimp over top of pasta and pour sauce over seafood and pasta.
Nutrition
Calories:
269
kcal
|
Carbohydrates:
5
g
|
Protein:
5
g
|
Fat:
17
g
|
Saturated Fat:
11
g
|
Cholesterol:
106
mg
|
Sodium:
636
mg
|
Potassium:
209
mg
|
Sugar:
1
g
|
Vitamin A:
1160
IU
|
Vitamin C:
8.6
mg
|
Calcium:
67
mg
|
Iron:
1.1
mg