As with all of you, it's been extremely busy around here lately. Decorating the house, sending cards, shopping for gifts and then wrapping all of them up. So I thought the best idea was just let the dinner cook itself. Well, almost. I love cooking chicken in the slow cooker, and my Bowties with Shredded Chicken and Creamy Pesto Sauce always comes out great!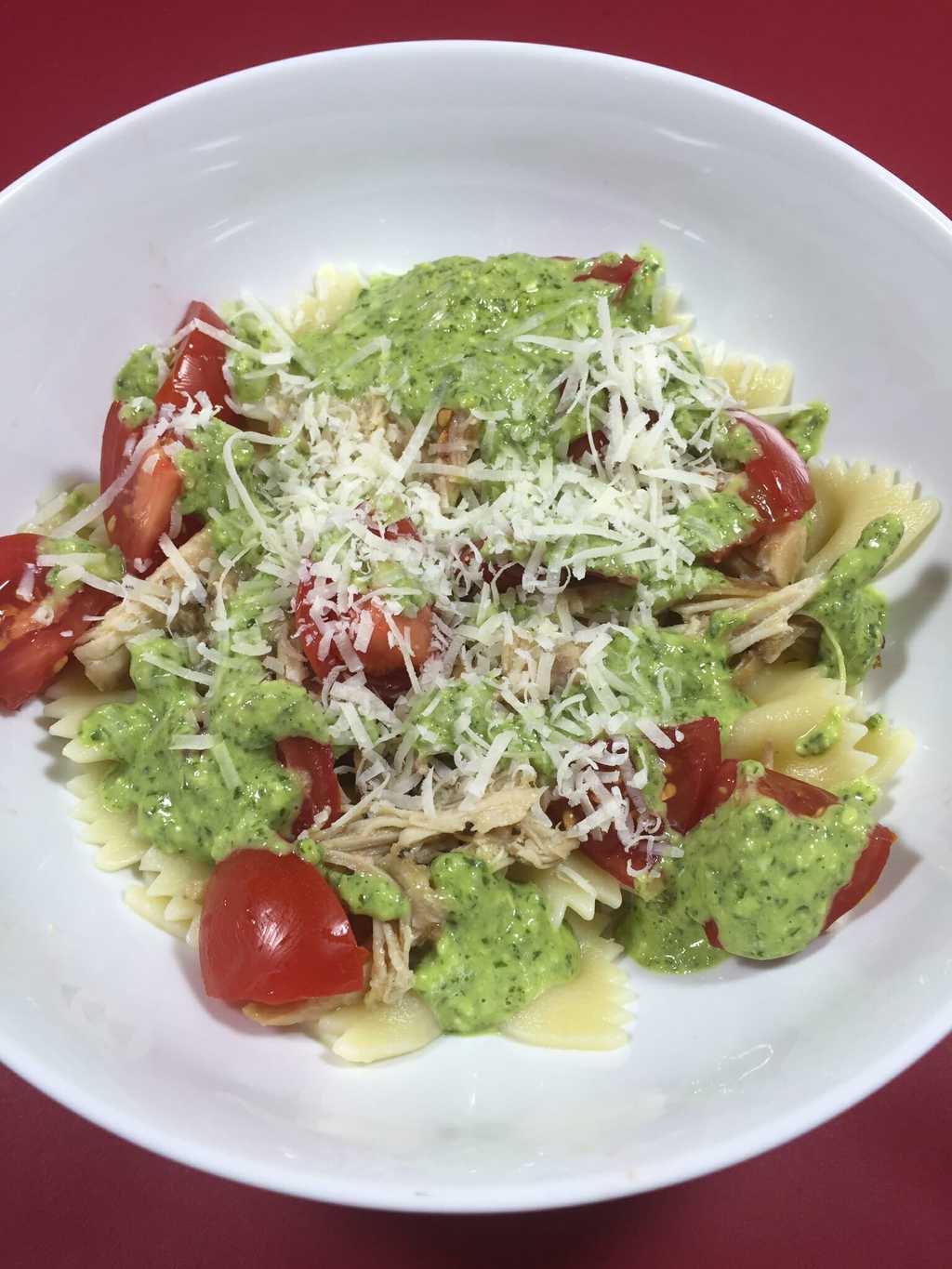 Bowties with Shredded Chicken & Creamy Pesto Sauce
A perfect dinner for when you are on the go all day and still want great comfort food for when you arrive home. This is why slow cookers were made. For busy people.
In the morning simply season the chicken with spices, dredge it with flour and brown it first to sear the flavors in. Then add it to the Slow Cooker without any extra liquid, because it makes its own juice. Not only is it easy, but the flavor of slowly cooked chicken is just better. It's richer and juicier and has that melt in your mouth goodness and after it's been cooking all day it shreds easily with two forks.
Next, mix some pesto with Creme Fraiche, olive oil and lemon juice. You can use prepared Pesto or if your make your own, pesto freezes beautifully. For this recipe I had some pesto that I had frozen last week in a cupcake pan and after freezing I put the individual portions in a zip lock bag. I learned a long time ago that with pesto in the freezer, all kinds of last minute magic can happen. Pesto and appetizers, absolutely. Perfect for a party. Pesto and fish, you betcha. And, of course, pesto and chicken.
So, two things down. The chicken was finished and the Creamy Pesto Sauce was done.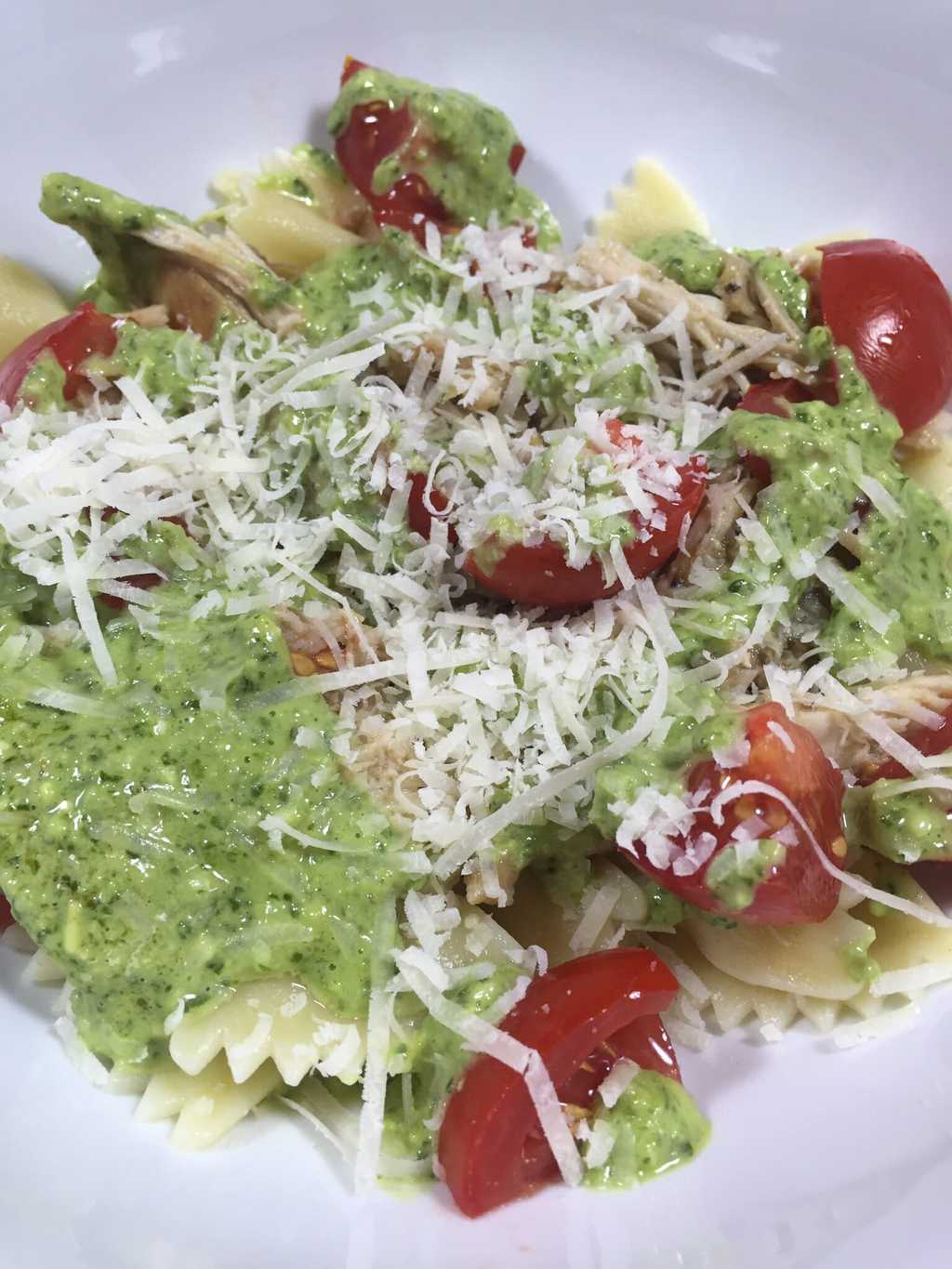 Now to tie it altogether and what's better than pasta? Bowtie pasta. I just like the look of it. Once the pasta was done to an al dente stage I added tomatoes and the chicken and topped it with that great creamy pesto sauce.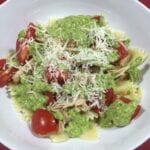 Print Recipe
Bowties with Shredded Chicken and Creamy Pesto Sauce
Bowties with Shredded Chicken and Creamy Pesto Sauce is not only easy to put together at the last minute but it is also absolutely delicious.
Ingredients
2

Tbsp

Flour

2

Tsp

Chicken thighs

2

Tsp

Olive oil

1/2

Tsp

Lemon pepper

1/4

Tsp

Garlic salt

1/4

Tsp

Oregano

1 1/2

Cup

Bowtie Pasta

2

Tbsp

Basil Pesto

Prepared

2

Tbsp

Creme Fraiche

1

Tbsp

Olive oil

1/2

Lemon

Juiced

1/2

Cup

Tomatoes

Chopped
Instructions
Add flour to plate and set aside.

Lightly brush 1/2 tsp olive oil over both sides of chicken. Sprinkle with lemon pepper, garlic salt and oregano and dredge in flour.

Add remaining 1 1/2 tsp olive oil to frying pan over medium high heat. Brown prepared 2 minutes in each side. This step of browning sears in the juices.

Add browned chicken to slow cooker and set on low. Cook 6-7 hours.

Mix pesto, creme fraiche, olive oil and lemon juice in a small bowl.

Bring 2 quarts of water to a rolling boil. Add pasta and boil 11 minutes, stirring occasionally. Drain and add to serving bowls. Top the pasta with tomatoes.

When chicken is tender remove to a plate and shred with two forks. Add chicken to pasta. Top with Pesto Cream.
Nutrition
Calories:
380
kcal
|
Carbohydrates:
44
g
|
Protein:
8
g
|
Fat:
18
g
|
Saturated Fat:
2
g
|
Cholesterol:
6
mg
|
Sodium:
440
mg
|
Potassium:
225
mg
|
Fiber:
3
g
|
Sugar:
3
g
|
Vitamin A:
615
IU
|
Vitamin C:
19.4
mg
|
Calcium:
41
mg
|
Iron:
1.2
mg