There is a restaurant in Cave Creek, Arizona that is an epicurean delight. It really is that good. It's called Binkleys, and the owner was actually trained under Chef Thomas Keller. Chef Keller owns many restaurants, but the the most famous one is in Napa, the French Laundry. Chef Kevin Binkley has said that working at the French Landry taught him to experiment and to focus on food without compromise. Like the French Laundry, Binkleys serves one menu a night, with many wonderful courses, and one memorable night we were lucky enough to enjoy bacon wrapped Halibut over spinach with Caprese Salad. 
Bacon Wrapped Halibut over Spinach
His Halibut was different though. Beyond being cooked to tender perfection, this Halibut was carefully wrapped in thin slices of potato which was served perfectly browned.
I thought at the time how could both the fish and the potato casing be cooked at the same time? Halibut takes perhaps 10 minutes in the oven and Potatoes much longer. I did experiment to try to duplicate this dish, but failed miserably. Not only could I get the potatoes to stick on the fish without curling, but I couldn't get the timing down to have both cooked perfectly.
So I decided that some things are not meant to be tampered with, but must be purely enjoyed. Since Chef Binkleys Potato Encased Halibut, a lot of restaurants are now serving this dish, but maybe none as well as he did.
So I was thinking about Halibut and how this beautiful white fish could be even better (without tampering with it too much.) I had often served beef filets wrapped in bacon and I thought why not Halibut the same way?
Still, the problem of different cooking times came up once again. Decided the only way around it is to partially cook the bacon first. Then wrap the Halibut in the cooled bacon, secure it with toothpicks, sear it and finish baking it in the oven. It worked. But then comes the thought of what to serve with it. The bacon wrapped Halibut would look lovely nestled on top of sautéed spinach and the plus is that the bacony flavor would drip down to the greens.
And last, maybe it's just the decorator in me, the dish needed more color. Red, yes red. How about a Caprese Salad?
And one final thought, (sorry that's the way my mind goes), what If Chef Binkley partially cooked the potatoes first (for pliability) wrapped the Halibut perfectly, then refrigerated it to hold it in place until he was ready to cook? Dunno. Just sayin'
Health note:  All fat is bad for you, right? Wrong. There's bad fat such as Omega 6 that clogs up your arteries, and then there's good fat, Omega 3 fatty acids, that actually prevent heart disease. Halibut contain high levels of Omega 3 plus it also very low in cholesterol.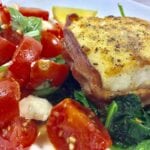 Print Recipe
Backn Wrapped Halibut over Spinach
Bacon Wrapped Halibut over Spinach combines Mediterranean spices to create a smoky, flavorful dish. The bacon seasons the spinach perfectly.
Ingredients
2

Slices

Bacon

Smoky

2

Filets

Halibut

6-8 oz each

1/4

Tsp

Lemon Pepper

1

Tbsp

Butter

Unsalted

2

Cloves

Garlic

Minced

3

Cups

Spinach

Baby spinach is best
Instructions
Preheat oven to 350 degrees F

In an ovenproof frypan partially cook bacon over medium high heat, about 4-5 minutes in each side, depending on how thick your bacon is. Allow to cool.

Sprinkle lemon pepper on both sides of Halibut. Wrap one strip of bacon around outside edge and secure with toothpicks.

Pour half of bacon fat out of frypan and bring heat to medium high. Add Halibut and sauté until browned on one side. Turn Halibut over and place in oven to finish cooking approximately 8 minutes until bacon is brown. With potholder remove frypan from oven and add Halibut to plate.

Bring frypan up to medium high heat and add butter and garlic, sauté 1 minute and add Spinach. Stir to coat until just wilted.

Add Spinach to serving plate and top with Halibut.
Nutrition
Calories:
159
kcal
|
Carbohydrates:
3
g
|
Protein:
4
g
|
Fat:
14
g
|
Saturated Fat:
6
g
|
Cholesterol:
30
mg
|
Sodium:
233
mg
|
Potassium:
294
mg
|
Vitamin A:
4395
IU
|
Vitamin C:
13.6
mg
|
Calcium:
50
mg
|
Iron:
1.2
mg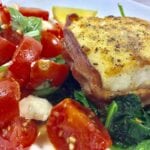 Print Recipe
Caprese Salad
Caprese Salad combines tomatoes, lemon, basil leaves. Olive oil and mozzarella cheese for a classic Mediterranean light and healthy salad.
Ingredients
2

Cups

Tomatoes

Chopped

1/4

Tsp

Salt

1/4

Tsp

Pepper

1/2

Lemon

Juiced

1

Tbsp

Olive oil

1/4

Cup

Basil leaves

Chopped

1

Oz

Mozzarella cheese

Cut in bite size pieces
Instructions
In a serving bowl combine tomatoes, salt, pepper, lemon juice, olive oil and mozzarella cheese and mix lightly.
Nutrition
Calories:
140
kcal
|
Carbohydrates:
8
g
|
Protein:
4
g
|
Fat:
10
g
|
Saturated Fat:
2
g
|
Cholesterol:
11
mg
|
Sodium:
387
mg
|
Potassium:
390
mg
|
Fiber:
2
g
|
Sugar:
4
g
|
Vitamin A:
1495
IU
|
Vitamin C:
35.2
mg
|
Calcium:
99
mg
|
Iron:
0.7
mg